FLU CLINICS HELP VULNERABLE PEOPLE IN FORMBY PREPARE FOR WINTER
A local warmth scheme are encouraging people in Formby to consider their winter wellbeing at a series of special flu clinics.

nPower Health Through Warmth will be at the events to raise awareness of the support available from the scheme, which helps vulnerable people in Formby to install or repair heating and insulation.

nPower will also be raising money for Macmillan Cancer Support at the flu clinics, which are being held at the Gild Hall, Church Road on 14 October and 15 October 2013.

Local co-ordinator, Robbie McAndrew, comments:- "The flu clinics are a great chance for vulnerable people in Formby to get advice on winter health and the help on hand from schemes such as Health Through Warmth. Visiting the flu clinics is one of the most important events of the year for us, as we are able to speak directly to people who could most benefit from the scheme. This is the eighth year we have attended the flu clinics and we will also be using the events as a chance to raise money for Macmillan Cancer Support as another way of supporting our local community."

npower Health Through Warmth is managed locally by Energy Projects Plus and offers help with the funding and installation of heating and insulation measures for vulnerable people. The scheme is available to homeowners who have a cold-related illness, a low income with little or no savings and who are unable to fully fund measures, such as a new boiler or heating system. You do not have to be, or become, an nPower customer to benefit from the scheme.

Since the scheme was founded in 2000, more than 6,800 vulnerable people in Merseyside have been referred to nPower Health Through Warmth for help with heating and insulation with almost £6milllion being levered to fund the work required.

For more information about nPower Health Through Warmth's eligibility criteria, or to apply for help, please visit:- healththroughwarmth.com or call:- 0800 043 0151.
CCTV IMAGE APPEAL - CROSBY ROAD SOUTH, SEAFORTH, SEFTON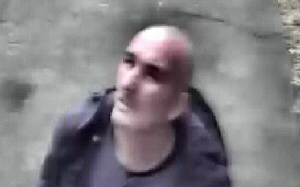 MERSEYSIDE Police Detectives have released CCTV of a man they want to speak to in relation to a burglary in Seaforth. The man was caught on camera at the front of a house in Crosby Road South that was burgled while the 44 year old homeowner was briefly out.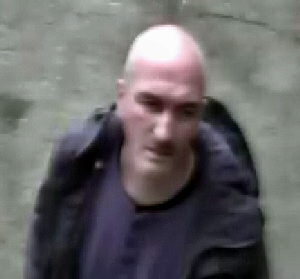 He returned home at 3pm, on Tuesday, 1 October 2013, to find his front door open and a Sony Viao laptop, a Nexus 7 netbook, and an old-style camcorder stolen from his kitchen and lounge.

Detectives believe the offender gained entry through an insecure back door but left by unlocking the front door and walking out.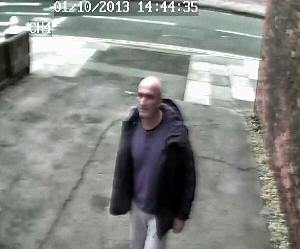 They are keen to speak to the man in the CCTV footage as he was filmed visiting the premises sometime between when the homeowner left at 2.45pm and when he returned at 3pm. Call Detective Constable Stephanie Rimmer at Marsh Lane CID on:- 0151 777 3807 or Crimestoppers anonymously on:- 0800 555 111.

Vikings take over Formby for a day!
Photographs by Patrick Trollope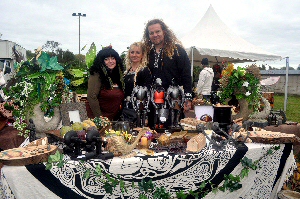 FORMBY village's rich history Viking history was again celebrated on Saturday, 5 October 2013, when The Viking Medieval Market Day was held at the Gild Hall. Combat demonstrations, BBC Time Team's Mark Olly and his 'entourage' that included Tony Higginson of Formby Books , along with volunteers from The Dove Trust were just a few of the many people involved in putting on what was a very interesting event. The event aimed not only at capturing a flavour of the Formby's ancient history, but also served to act as a reminder to visit shop locally. Formby was founded on commerce as the Vikings were in fact traders The event had a Living History 'camp' along with stalls, mixed in with demonstrations of Viking crafts and weapons, with weapons came an archery range and combat skills... In fact one brave chap was letting children fire specially made arrows at him! If all that was not enough the event also held a Fornebei Hnefatafl Tournament (a 1600 year old game that is like chess, just in case you did not know). If you missed Hnefatafl Tournament but would still like to participate, contact Formby Books for more information about taking part in local games... Taking to the stage in the Hall was a fantastic band, next to a book stall, with authors signing books... This was a truly lively event and bustling with activity and we hope as the organisers do, that it will be returning next year and will grow in strength. These are a few photographs we took on the day. Well done to all who took part and remember Formby is a Viking Market place, so please do not let local trade die out. Keep the tradition alive, by supporting the local small businesses all year round!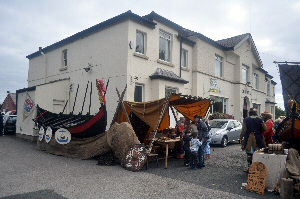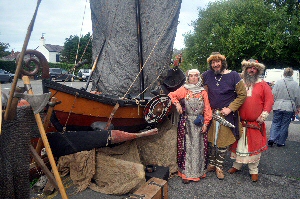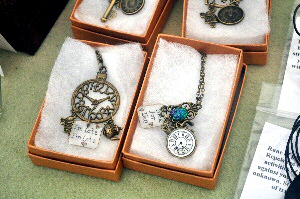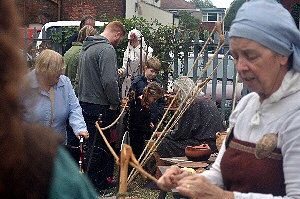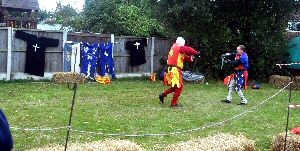 PAGE 1 OF 8

We hope you liked the photos, but please, don't copy them. Please help us to keep our copyright intact and to keep this site online. Click on here to find out how you can get you copy of these photos.