MEP backs call for better breast implant checks
SOUTHPORT MEP Chris Davies is backing calls for stricter EU regulation of silicone breast implants following the PIP scandal. French company PIP is accused of using industrial silicone more commonly used in the manufacture of industrial rubber tubing instead of a more expensive medical grade silicone.

The safety certificate for the implants was issued by a private company in Germany. Currently the EU is not allowed to perform further inspections to make sure medical implants are safe.

Over 7,000 women in the UK received the substandard implants, many of whom have since had them removed in a further operation.

Now MEPs will vote on regulations that would allow European regulators to conduct spot checks to ensure that product safety rules are being complied with.

Davies said:- "This is a sensible and proportional way forward for ensuring the safety of medical implants. National authorities will still be able to do their own safety checks but as products are sold all over the EU there needs to be an assurance that every certificate is accurate and every breast implant is fit for purpose. The EU shouldn't just be providing support to women who discover they have had industrial chemicals put inside their bodies, it should be making sure products are safe in the first place."
Royal recognition for signing choir
LIVERPOOL Signing Choir will be presented with the Queens Award for Voluntary Service at a special event at the Town Hall, on Friday, 11 October 2013.
The Choir, led by Catherine Hegarty performed at the Olympic Games Closing Ceremony where they gave a spellbounding performance of John Lennon's "Imagine" together with the Liverpool Philharmonic Youth Choir.

They also had the honour and privilege of performing the National Anthem at the opening Ceremony of the Paralympics in the presence of Her Majesty Queen Elizabeth II.

Liverpool's Lord Mayor, Councillor Gary Millar, who played a key role in supporting the organisation in attaining the award said:- "I am delighted and honoured to be hosting the presentation ceremony at the Town Hall for such a worthy group of recipients. The young people who make up The Liverpool Signing Choir are an inspiration to others. They captivate audiences wherever they perform whether locally, regionally or nationally. It is great to see local community groups being recognised for their hard work and dedication; I hope they continue inspire audiences in the future."

The award will be presented by Her Majesty's personal representative for the county of Merseyside, Lord Lieutenant Dame Lorna E.F. Muirhead DBE.

The Liverpool Signing Choir is a unique City wide, inclusive, diverse choir based in Liverpool. Its priority is to perform the beauty of sign language through the universal media of music whilst encouraging social inclusion. The young people of the choir come from all walks of life some of whom are profoundly deaf, and range in age from 7 to 24 year olds.

Volunteers accept patient invitation to Come Dine with Me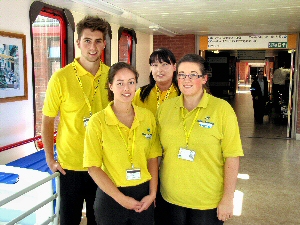 17 volunteers have accepted an invitation to "come dine with me" from patients at Southport and Formby District Hospital. Denise Lawless, of Formby, was one of the first volunteers to come forward. "I wanted to get experience on a hospital ward because I want to go to university to do nursing," she said.

Another volunteer Jeff Byrne, from Marshside, Southport, fits in his volunteering around a masters course in biomedical science at Keele University. "I want to go into medicine and I've found it really rewarding."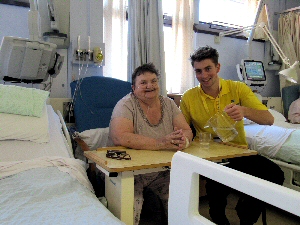 Angela Kelly, Deputy Director of Nursing, added:- "As well as helping with eating, the dining companion can chat, encourage patients to eat and help alleviate the boredom and loneliness that can be experienced while staying in hospital. This is vital support for some patients who don't receive any visitors and may be lonely or anxious or suffering from a form of dementia or Alzheimer's."

People interested in becoming a Come Dine with Me volunteer should contact Chris Pilkington on:- 01704 704955 or via an email. Training for the role is provided and volunteers must be available at meal times.
Take note!!! Messi, Ronaldo, Rooney, Gerrard & Baines to visit Southport on Saturday, 19 October 2013
OKAY well maybe not in person, but why not pop down to Southport Frag House on Saturday, 19 October 2013 and play as your favourite footballers in the Fifa 14 competition. Show of your skills on the most popular football game in the world, claim bragging rights and win a cash prize. The competition is open to all and starts at 2pm. For more information contact Southport Frag House on:- 01704 546950.