Lessons from Auschwitz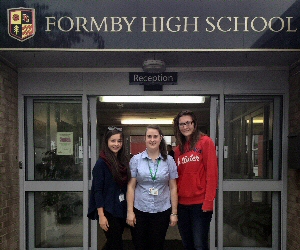 2 6th formers from Formby High School, Emily West and Faye Dolan, will be taking part in the 'Lessons from Auschwitz Project' run by the Holocaust Educational Trust this autumn.

The history students have both secured their places on the programme after successfully submitting a selection essay.

Emily and Faye will journey to Poland to see first-hand Auschwitz-Birkenau, the site where more than a million people died during the Second World War, they will also have the opportunity to meet a Holocaust survivor and visit a Jewish synagogue.

Emily said:- "When I started at Formby High School in Year 7 History immediately became my favourite subject. I studied it at GCSE and I am so enthused by it I chose to study both Modern History and Ancient History at A Level. I am hoping to study History at university as well."

Faye said:- "As well as studying History at A Level I also study Religious Studies. This combination has increased my curiosity of the subject of World War Two. In my opinion, in order to fully understand the events of World War Two, in particular the role of concentration camps, is with primary sources and from witness testimonies."

Ms Harrison, A Level history teacher at Formby High School said:- "After taking part in the Lessons from Auschwitz programme myself I believed that our students would benefit greatly from it. The trip to Auschwitz itself was one of the most thought provoking and eye opening experiences of my life. I felt it was necessary for our students to have the opportunity to take part in such an amazing, inspirational and life changing programme. It's something which will remain with them forever."

This innovative 4 part course was established in 1999 and is open to applications from students at all 6th forms and colleges in the country.

Karen Pollock MBE, chief executive of the Holocaust Educational Trust said:- "The Lessons From Auschwitz Project is such a vital part of our work because it gives students the chance to understand the dangers and potential effects of prejudice and racism today."

Emily and Faye will be keeping a diary of their experiences, further updates will be posted on the school's new website in the autumn.
MENSA OFFERS FREE PERSONALITY PROFILE WITH IQ TEST IN SOUTHPORT
MENSA are holding an IQ test session in Southport offering people the chance to discover their IQ score. Those interested in finding out their IQ score can attend a Mensa supervised IQ test session on Saturday, 12 October 2013, from 11.00am at the Southport Bridge Club, for just £22.50. Plus, Mensa are currently offering a FREE personality profile to all those that book.

To book visit:- mensa.org.uk/iq-tests; alternatively call:- +44(0)1902 772 771 (option 1) or email them for more information. Everyone who achieves an IQ score within the top 2% of the population will be invited to join Mensa.
The Chairman of British Mensa, Chris Tyler, said:- "If you are curious about IQ then a Mensa IQ test is an ideal way to discover your potential."

New members would join over 110,000 members of The High IQ Society based around the world; with 21,500 Mensans based in the British Isles. Members of Mensa receive a monthly magazine, can join Special Interest Groups and are invited to the society's excellent events programme. There are currently 25 Mensa members in Southport.

CHEMICAL FIRM SENTENCED OVER BURSCOUGH EXPLOSION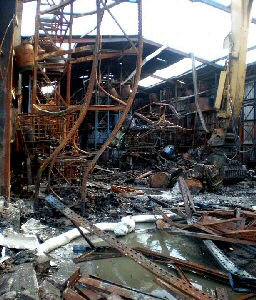 A chemical firm has been ordered to pay £150,000 in fines and costs over a major explosion at a waste management site in Lancashire that caused 3 workers to sustain serious burns.

Personnel Hygiene Services (PHS) Ltd was prosecuted by the Health and Safety Executive (HSE) following the blast at Burscough Industrial Estate in Burscough on 12 October 2010, which occurred when aerosol cans were put into an industrial shredder.

Liverpool Crown Court heard that 3 employees working near the shredder were caught in a fireball, and surrounding buildings had to be evacuated while firefighters dealt with the resulting blaze.

Nearly 60 police officers were deployed to oversee road closures and control a cordon around the site, and a thick cloud of smoke developed above the fire and was seen drifting from Burscough towards Southport. There was also extensive damage to the large warehouse that housed the shredder.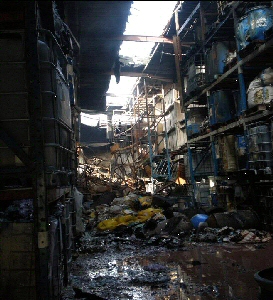 A joint investigation by HSE and the Environment Agency found the company had allowed around 150 cans containing extremely flammable substances to be put into a large shredder at the site on Tollgate Crescent.

The investigation found that PHS did not have a procedure for checking the contents of boxes of waste materials delivered to the site. The company also failed to ensure that a chemical specialist monitored the waste being put into the shredder to check for flammable substances.

Finally, a risk assessment carried out in April 2010 was found to be wholly inadequate after the company wrongly identified the risk of aerosols being added to the shredder as being 'very unlikely', and the consequences of this happening as 'moderate' meaning no action was taken as a result.
PHS Ltd, of Western Industrial Estate, Lon-Y-Llyn, Caerphilly, Wales, was fined £105,000 and ordered to pay prosecution costs of £45,000 after pleading guilty to a breach of the Health and Safety at Work etc Act 1974 on 3 October 2013.

Speaking after the hearing, HSE Principal Inspector Neil Rothwell said:- "The chemical waste industry has the potential to be extremely hazardous, and PHS could and should have done more to protect the lives of its employees and the public. The explosion and fire led to three workers being seriously injured and caused considerable disruption in the local area. The issue of waste materials being wrongly labelled is well known in the industry, so PHS shouldn't just have assumed it could add cardboard boxes to the industrial shredder without first checking what was in them. It could easily have made sure boxes were opened before they were put in the shredder. If it had, then the explosion and fire could have been avoided."

Details on how companies can reduce the risk of fires and explosions are available at:- hse.gov.uk/fireandexplosion.