Ricky's ready for emergencies
ACTOR Ricky Tomlinson's latest starring role could help save lives this winter. Ricky features in three short films which offer practical help and advice about what to do in emergencies including cold weather or flooding.

The films support the Let's Get Ready Liverpool campaign which urges people to be prepared for the unwanted disruptions of all types, such as power cuts to homes and having to be evacuated because of gas leaks.

They will also be used as part of the City's Winter Survival Campaign which aims to reduce the number of unnecessary deaths and illness during severe weather.

"I was pleased to be able to help with these films. They remind everybody of some very simple things they can do to look after themselves and, importantly look after those such as elderly neighbours who may need some help. It really is very easy to be prepared for emergencies such as having a grab bag ready to take with you in case you need to leave your home in a hurry, for example. In fact, it is so simple even Jim Royle would find it no trouble to do!"

Councillor Ann O'Byrne, the City Council's cabinet member for housing said;- "We are delighted that Ricky has helped making these films. We have got used to having a laugh with Ricky in many of his programmes, but it's no laughing matter when you are hit by an emergency. So, make sure you follow Ricky's advice and take simple and practical steps to be ready for emergencies."

The films are:- 'It's Cold Outside'; 'Ricky's Grab Bag' and 'Hold Back the Floods'.

More information about Let's Get Ready Liverpool is available on Liverpool Council's website.
Time for Clegg to stand up to Cameron on cars
LIBERAL Democrat MEP and environment spokesman Chris Davies has demanded that Nick Clegg stand up to David Cameron for the sake of the UK car industry. Davies was reacting to news that the UK sided with Germany in Brussels to delay formal approval of a deal that would make cars more fuel efficient by 2020. EU governments were due to rubber stamp a deal bringing the current emissions limit of 130g CO2 per km by 2015 down to 95g by 2020. Most car manufacturers in the UK are well on track to meet the new requirements but Germany is trying to protect its manufacturers who traditionally make much larger, heavier, and more polluting cars. Chris Davies represents the North West of England, home to a number of car and automotive parts manufacturers. Davies said:- "This is legislation that would require cars to do more miles to the gallon and it is good for the environment, good for drivers and good for the UK car industry. Thousands of jobs across the North West and the UK would be safer if this legislation went through and David Cameron is instead siding with a cosy deal with Germany to protect some of their most profitable firms. It is time that Nick Clegg stood up to Mr Cameron and said that enough is enough. Mr Cameron's home constituency of Witney may not be home to a lot of manufacturing industry but northern England depends on these jobs. Damage to the UK car industry is too high a price to pay for Mr Cameron to have good relations with Chancellor Merkel." The decision has now been passed to a meeting of EU environment Ministers on 14 October 2013. Davies, who is part of the European Parliament negotiating team on the legislation is also unhappy with the German tactics. "A deal was negotiated in good faith between the Parliament and Ministers and now Germany wants to wriggle out of it. Britain should not be going along with that sort of sharp practice."
New EU rules to ensure fracking safety - Davies
THE European Parliament this week has insisted on tough safety standards for fracking across the UK and Europe. Euro-MPs voting in Strasbourg insisted that shale gas developers should carry out a full environmental impact assessment before any fracking takes place But the Parliament struck a balance by saying that drilling for soil and rock samples would not have to meet such a standard. North West England, Liberal Democrat MEP Chris Davies helped negotiate the compromise intended to reassure residents close to potential shale gas operations. Speaking after the vote, Davies said:- "Gas is less damaging to the environment than coal when burned and we are going to be using it for many decades to come. As offshore supplies run out I would rather that Britain uses gas from deep beneath its soil than import it, potentially from Russia. It is important that communities sitting on shale gas see the economic benefits of extraction but it is essential that drilling is safe and well regulated. I have made very clear that I support the principle of shale gas development, but only subject to safeguards being in place to ensure that there is no harm to the environment." Negotiations between MEPs and representatives of EU governments will now take place to determine the final shape of the new environmental assessment law. So what do you think about this? Email your views to our news room email address:- news24@southportreporter.com.

Farther of 2 killed in crash on A565 Formby By-pass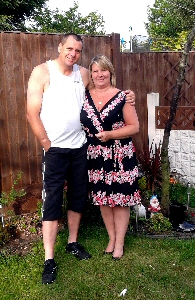 FOLLOWING a fatal road traffic collision, on Monday, 7 October 2013, that resulted in the death of father of 2, Jeffrey Graham Argent, aged 49, from Southport, the family have issued a tribute to the press. Speaking on behalf of the whole family 45 year old Debbie Argent, who has been with Jeff for 22 years and married to him for 19 years, said:- "I have lots of happy memories to look back on to help both myself and my children, Ryan and Jess - who Jeff called Molly for some unknown reason – through this difficult time. Who would have believed back then that when I saw those dopey blokes coming into the Kingsway club that I would spend the next 22 happiest years with one of them. Jeff was devoted to me and the children he would go out of his way to do anything for us, we were his life and he is ours, he was truly my soul mate and we did everything together. We would love escaping to our caravan where we would go on bike rides as Jeff was a keen cyclist and long walks with our two dogs which would usually start as an hour but often turn into four hour hikes. During his spare-time at work Jeff would repair pupils' bikes and as one of those people who could turn his hand to anything he would make things out of wood for the after school club for children to paint. He loved helping neighbours and friends repairing and updating their homes; there was nothing he couldn't do. Now and again I would step in and jokingly say our house needs some TLC too. He comes from a large, loving family and one of my fondest memories is of his 40th birthday. I hired four static caravans in Fleetwood near Blackpool for the weekend and pretended it was just me and the kids going with him to celebrate. I got one of his brothers to invite him along to the pub and whilst he was there I got all the family in place in the caravans and surprised him when they came back. He just opened the door and when he saw us his face was a picture! It was such a good night we did the same thing as a family the following year. Jeff was the life and soul of any party. He had a mischievous sense of humour and would make fun of people to make them laugh. He was a big man with a big personality and had a heart of gold. Once seen, never forgotten is how I describe him and we have been sincerely touched by the number of cards and messages of support from our neighbours, workmates and friends and he will be truly missed."

The crash happened on the A565 Formby By-pass at 11.30am, involving a silver car. Officers from Merseyside Police who attened the road traffic collision near Hightown, said that they "found a badly damaged car and the male driver trapped inside." Colleagues from Mersey Fire and Rescue Service freed the man but he was pronounced dead at scene by paramedics. At the time Merseyside Police said that:- "A red van is believed to have been on the same stretch of road when the collision occured and investogators are keen to hear from the driver of that vehicle, or any other motorists who witnessed the incident." The crash closed both sides of the A565 Formby By-pass from the roundabout where the By-pass meets Liverpool Road to North End Lane as investigations took place.

Merseyside Police have confirmed that Colin Scarisbrick, 39, of No Fixed Abode has been charged with:- "Causing death by dangerous driving." After appearing at South Sefton Magistrates' Court on Wednesday, 9 October 2013, he remains in custody. His next appearance is on Wednesday, 23 October 2013, at Liverpool Crown Court.

In another tribute Mark McQueen, Headteacher at Ursuline Catholic Primary School, said:- "Obviously this sad news has come as a huge shock to everyone at the School and within the local community. Everyone here thought the world of Jeff – children, staff, parents, governors and contractors. We all felt happier after meeting up with him. He was totally committed to the School and was an outstanding caretaker who took immense pride in his work. We now have a gaping hole to fill and we are going to miss him terribly. More than anything Jeff was a very proud husband and father and our thoughts and prayers are with his family as they try to come to terms with their tragic loss."

Anyone who witnessed the incident are still being asked to call Merseyside Police on:- 0151 777 5444 or Crimestoppers on:- 0800 555 111.