UNIQUE 'GIVING IN TO GIFT' FESTIVAL ANNOUNCED FOR LIVERPOOL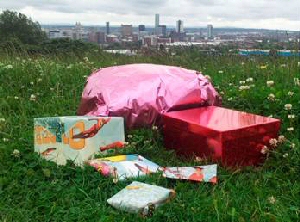 A truly unique arts festival will visit the Bluecoat, Liverpool this December. From smaller beginnings in 2011 and 2012, 'Giving In To Gift' returns for 2013 from 6 December to 8 December 2013, as a fully fledged festival with live theatre, audio performances and a symposium, all exploring attitudes to giving in today's society. Festival producer Tim Jeeves said:- "For a long time now, ideas of gift have featured in my art practice, not always consciously, and I often wonder how much this has to do with the bone marrow transplant I received 15 years ago. This work has felt even more relevant in the time since the financial crisis and the introduction of austerity measures, where, in the context of the Big Society and Workfare, there has been an increase in people being asked to do things without payment. I see Giving in to Gift as a platform through which the social relations, power dynamics, and, of course, the joy that are a part of gift-giving can be explored." For the live performance strand of the festival, producer Tim Jeeves will appear in a one-man theatre piece, The Kindness Of Strangers, which premieres at The Bluecoat on 7 December 2013. In 1997, Tim was studying for his A-Levels when he first encountered Tennessee Williams' play 'A Streetcar Named Desire' and the tragic character of Blanche Dubois, a woman, dangerously mismatched to her surroundings, whose eventual undoing is encapsulated in the line, 'I have always depended on the kindness of strangers'. A year later, in 1998, after intensive treatment for malignant tumours in his leg, lungs and liver, Tim also turned to the kindness of a stranger when he was given bone marrow by an anonymous donor. Partly a return gift to the most significant person Tim has never met, but also an exploration of how we deal with another's generosity, The Kindness of Strangers opens a bag of marrow and even though it might get a bit messy; takes a look at what's inside.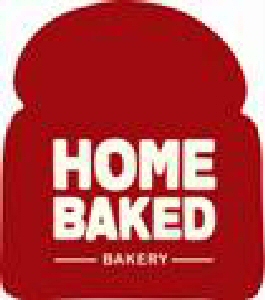 For 'If You're Not Paying...' the Audio Performance aspect of the festival, Giving In To Gift is looking to commission 4 new sound works, each made to be listened to in a specific situation, for free distribution online. These will explore the unique potential for generosity that the internet provides (massive distribution reach with minimal distribution costs), which is often rightly subject to a degree of suspicion and qualification when the privacy concerns around the business model of internet behemoths such as Facebook and Google are taken in to account. The commissioned artists will receive an artist fee, recording sessions in Liverpool, travel costs and digital and print marketing. Those interested in applying to be one of the four commissioned artists should visit:- givingintogift.org/if-youre-not-paying. The 4 commissions will be made available online on Friday, 6 December 2013, launching the festival weekend. Rounding off the festival on Sunday, 8 December 2013, a symposium entitled Generosities in Economy will provide an opportunity to explore the role of gift-giving and generosity in a range of fields and disciplines. The symposium will take place at community enterprise Homebaked in Anfield featuring a range of speakers who will be announced very soon. Giving In To Gift is free to attend but ticketed. Tickets will be available from the Bluecoat in November. For more information see:- givingintogift.org.
Celebrating 10 years of wheelchair services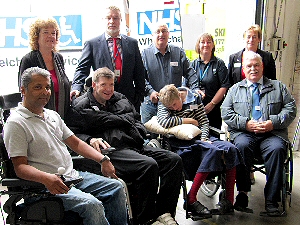 SOUTHPORT and Ormskirk Hospital NHS Trust's Wheelchair Service celebrates 10 years of supporting patients across North Sefton, West Lancashire, Chorley and South Ribble.

The Wheelchair Service, based in Skelmersdale, has around 6000 patients and marked its anniversary by hosting an open day for patients past and present. The day was a chance for patients glimpse behind the scenes, including the stores and workshop. There was an opportunity to meet not just the therapists, but administration staff and those involved in the maintenance of their wheelchairs, some of whom they may never otherwise meet.

The service was set up to provide seamless care and support for all full time wheelchair users across West Lancashire, Chorley and South Ribble and has been so successful it was recently extended to cover patients in North Sefton.

Yvonne Baron, Wheelchair Service Manager, set up the service in 2003. She said:- "It's great to see the service going from strength to strength. We work hard to ensure we provide the best service possible for our patients, whilst striving to be cost efficient. We re-use and recycle everything, nothing is thrown away!"

Attendees also included Peter Cousins, Chief Executive at Brighter Future Workshop, a charity that provides new and recycled mobility at a cost effective price. The Wheelchair Service donates unwanted equipment to Brighter Future Workshop to enable it to be recycled and reused.

Peter, a wheelchair user himself, who was involved in setting up the original service, said:- "I'm delighted to see how the Wheelchair Service has developed over the last 10 years."

New hospital link service announced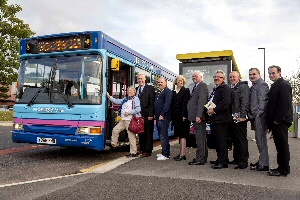 MERSEYTRAVEL has launched a new weekday service linking Alder Hey Children's Hospital, Stockbridge Village, Prescot and Whiston hospital.

Running every hour during the daytime, Route 111 will run from Alder Hey Hospital at Eaton Road, via Princess Drive, Stockbridge Lane, Knowsley Lane, to Prescot Bus station, continuing along Warrington Road and Dragon Lane to Whiston Hospital, from where it will loop back along Kingsway and Manchester Road to Prescot Bus station. The service will then return to Alder Hey Hospital via its initial route.

This new Monday to Friday daytime service has been introduced by Merseytravel, with funding from the Department for Transport's Local Sustainable Transport Fund (LSTF) in response to requests from residents and community leaders for a better link between Stockbridge Village and the hospitals.

Councillor Liam Robinson, chair of Merseytravel said:- "This new service will provide a more direct link for people travelling to the two hospitals, making it easier for them to attend appointments, visit patients and also for those who work at them. The LSTF funding has given us the opportunity to provide this service for a limited time, after which if it proves to be a viable proposition, we hope that it will be taken on as a permanent route by a commercial operator."

For timetable information visit:- merseytravel.gov.uk or for a printed copy of a timetable please visit one of our Travel Centres or call the Brochure Hotline on:- 0151 330 1066 or by email request to:- publiCity@merseytravel.gov.uk.
The Future of Rail Fares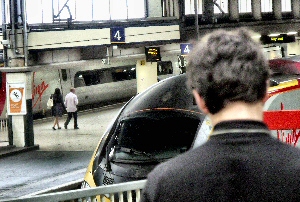 THE rail industry's powers to increase fares are being curbed as part of the Government's drive to cut the cost of living and overhaul the existing rail fare system.

The ability of train operators to add an additional 5% to some individual fares, as long as the average rise of regulated fares is maintained at one per cent above inflation, is being limited to just two per cent as part of the Government's Fares and Ticketing review published today by Transport Secretary Patrick McLoughlin.

As well curbing the rise in fares, the review opens the door for future innovations such as the end of paper tickets, a code of conduct for train companies to give passengers the confidence that they are getting the best deal for their journey, and a flexible approach to season tickets which could benefit part-time workers.

Transport Secretary Patrick McLoughlin said:- "By capping fares we are protecting passengers from large rises at a time when family incomes are already being squeezed. We will need to wait for the rail industry to calculate individual ticket prices for next year, but this cap could save some commuters as much as £200 a year. Alongside this, the Government is investing over £16bn to transform our rail network, which will make sure we can respond to increasing passenger demand and drive forward economic growth that will help strengthen our economy."

'The Fares and Ticketing Review' sets out the Government's vision for a modern, customer-focused fares and ticketing system aimed at encouraging even more people to travel by rail and ensuring they have a better experience.

In addition to the limit on the maximum increase in regulated fares, the review includes a range of further measures:-

A Ticketing Code of Practice. The Office of Rail Regulation (ORR) will oversee the code to ensure that passengers are provided with the information they need to choose the best ticket for their journey and that this information is clear and not misleading.

Ticket Offices. A strengthening of the rules around how train companies alter opening times at station ticket offices. The Government's intention is that passenger representative bodies can play a greater role in shaping any changes and ensure that appropriate passenger safeguards are also put in place.

Flexible Ticketing. The Government is committed to introducing more 'touch in – touch out' rail tickets across the network which could mean part-time workers receive a discount on season tickets for travelling 3 days rather than 5 or for travelling earlier or later. The Department for Transport's £45 million South East Flexible Ticketing programme will pilot many of these innovations next year.

Market Review. The ORR will look into the sale of tickets and consider whether current markets are operating efficiently, effectively, and in the best interests of passengers and taxpayers. The Department has committed to consider any cost-effective recommendations that come out of the review.

Annual Surveys. ATOC has agreed to release information to customers from next year on how well ticket office staff, ticket machines, and websites perform in regards to selling passengers the best ticket for their journey.

Single Leg Pricing. The DfT is planning a pilot scheme which will allow passengers to more easily 'mix and match' each ticket type when planning a return journey, giving passengers extra confidence that they are getting the best deal on their journeys. e