The 2013 S&HRT Family Bonfire and Grand Firework Display battered by Gale force winds and rain
Photograph by P. Trollope.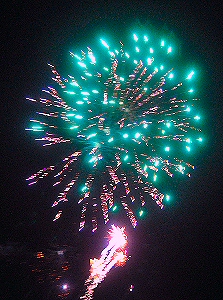 IT was not the best of nights on Saturday, 2 November 2013, when the Southport and Hesketh Round Table Bonfire and Firework Display took place, for sadly, the heavy, driving rain and gale force winds kept many away from what had promised to be an amazing night on Southport's Victoria Park. Oddly, as the volunteers from the charity battled the wind and rain, a double rainbow formed and can be clearly seen in the background of the photo we snapped of the Guy, that was sited on a massive bonfire. "It might have been a sign from God that the Guy was to get a reprieve for the night." one of the fairground staff joked to us the following day, as the bonfire was eventually set alight, for on the big day itself, safety concerns over the high winds meant it was just too dangerous to light it. Following the success of previous years, you could see the disappointment and frustration of all those involved as the wind got stronger and stronger and the temperature plummeted as the rain battered down intermittently. As the night went on, the fireworks nearly had to be called off as well. The firework team Classic Fireworks, with specialist knowledge and experience to design and fire breathtaking, professional firework displays, still managed to ignite the touch paper on some of the very low level pyrotechnics performers called:- 'Juggling Inferno' took to the stage with fire sticks and stage pyrotechnics. Those who did attend were also treated though out the night to fantastic music, thanks to local bands and Mighty FM, on a covered stage, directly in front of the firework area, as well as many stalls, Limo Rides, plus a Fire Engine Display... Also all who did attend helped the Anthony Nolan Trust, which is working desperately to help the parents of a seriously ill 9 year old, local lad, called Sam Wright. Phil Sanders, of Southport Hesketh Round Table, which is organising the event, said:- "We normally expect up to 10,000 people to come through the gates, sadly, this was not the case, due to the rain and wind. Surprisingly and defying all the odds a Bouncy Castle were even on offer! But we want to thank all who did attend, as every person who attended the display has helped Sam directly." To find out more about the Anthony Nolan charity that is based in Royal Free Hospital, Hampstead please click on here now. Also to find out more about the Southport and Hesketh Round Table, please click on here. Plus if you contact them they can help you donate to Anthony Nolan Trust, and help Sam Wright. Let's hope that the Southport Hesketh Round Table once again organise another Family Bonfire and Grand Firework Display next year, as it is such a shame, and if they do, do not hide inside... Show your support and help them money raise by attending next year's event, even if it is windy and damp! Let us know if you attended and your views about the night by emailing us to:- news24@southportreporter.com. Also please click on here to see the rest of our photographic coverage from this event. On a foot note, keep an eye out for members of the Round Table who will be collecting for this year's BBC Children In Need Charity.
| | | |
| --- | --- | --- |
| | Click on to read on! | Click on to read on! |
B.O.A. 70th Anniversary DVD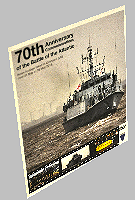 THE video footage we have taken at the 70th BOA events this year in Liverpool has now been fully edited is available to buy, on a DVD, from our Online Shop, on Mersey Reporter very soon. For each DVD sold, £3.00 will go to the Liverpool's Lord Mayor's Charity Appeal. (Registered Charity No. 229539) At this stage we can only do UK postage options, but if you are outside the UK, you can still order copies, but only by emailing us to:- news24@merseyreporter.com with your FULL address and we will get back to you with a postage cost and a payment link, should you wish to continue.
...HAPPY BIRTHDAY...
If you have someone you want to say happy birthday to, for free, then use the email address below to send us the names you want us say happy birthday to, and/or a photograph. Email us today!

KEEP up-2-d

ate




with our free daily news emails.

Are you subscribed? Si

g

n

u

p

today

to

our daily email news service via... Formb

y

-

Re

p

orter

.com



If you subscribed you can keep in up-to-date with what's going on in and around Merseyside. It is free and we do not send out massive amounts of emails. Also your email is kept under the UK's Data Protection Act, so you can be sure that you will not have problems.