Adult learning offers training for work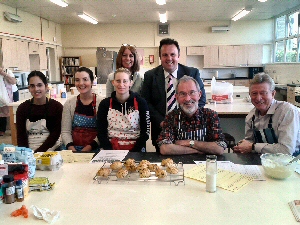 LIVERPOOL'S Adult Learning Service is offering a range of new courses to help people develop skills to assist them into work. The service has recently been refocused to concentrate on supporting residents into work and training and has now been joined by Liverpool In Work, the arm of the City Council that supports people into employment, in their Park Road Centre.

Whether it is IT skills, languages, cookery, massage, beauty or art; there are a range of options to suit everyone. Courses take place at the City's four Adult Learning Centres during the day and other sites in the evening.

Councillor Nick Small, Cabinet member for employment, enterprise and skills, said:- "Despite the Council facing some tough financial decisions, we are determined to find ways to support residents to develop new skills which will help them into work. By bringing the Adult Learning Service and Liverpool In Work closer together, we are better able to focus our resources and make sure that people needing to find employment can be linked to opportunities to develop new skills. There are still lots of traditional courses on offer at a subsidised cost, so if you're thinking of learning a new skill, now is the time to sign up."

Courses which help with employability such as computing or IT are free to people who are on Job Seekers Allowance (JSA), Employment Support Allowance (Work Related Activity Group only). People on income support, working Tax credit, housing Benefit and Council Tax Benefit may be entitled to a discretionary fee waiver. The Adult Learning Centres are based at Newsham Drive, Park Road, Granby Street Adult Learning Centres and Clubmoor Children's Centre in Norris Green during the day and Broadgreen, Calderstones and Childwall Secondary Schools in the evening. Enrolment is taking place from Monday, 24 February 2014, with details of how to register are available online also via by calling:- 0151 233 3026.
Warning over 'Lost Medication' in Bootle
MERSEYSIDE Police are urging the public not to consume prescription medicine lost in Bootle this morning. The box of 'BritLofex' tablets were lost in Poets Park in the Knowsley Road area at around 8am by a local woman. The box is described as white with the 'BritLofex' brand name on a sticker on the side. It contains 36 tablets of the product, which is a drug called:- 'Lofaxidine Hydrochloride' and used for managing noradrenaline levels. As with any prescription medicine, the drugs could have adverse side effects in anyone who takes them who they are not meant for. Anyone who finds them should not consume them and instead hand them into their nearest Police Station, Pharmacy or Health Centre.

A greener City
DERELICT land in Liverpool, equivalent to the size of a City park, has been converted into community use. About 19 hectares, that is 47 acres, (0.19020225174 Square Kilometers) of grot spots have been cleared, existing open spaces given a makeover or new green spaces created, in the last three years.

"That is the equivalent of creating an area of green space the size of Princes Park throughout the City. But while the amount of new green space is impressive the real impact is in how it improves the quality of people's lives. Having community gardens, allotments or pocket parks in their neighbourhoods is something that local residents have really welcomed. Not only have they got easy access to green spaces but in some of them they have been growing food which distributed locally; others have got new artworks reflecting the history of the areas. And, importantly, they have got rid of eyesores which have been blighting neighbourhoods. Some of the new community gardens have been created out of comparatively small areas, where a few houses have been cleared, but the improvements have made a real difference to their surroundings." said Councillor Steve Munby, cabinet member for living environment and localism.

Among recent schemes are:-
► Community gardens at Altfinch Close, Dovecot; and Isaac Street, Dingle
► Allotments for schools in Croxteth
► A wildflower meadow in Clubmoor
► A garden for growing food in Cullen Street, Liverpool 8, which also incorporates a garden of remembrance.

► More than 100 sites across the City have been converted into green spaces.

"Our approach has been to identify these sites on a neighbourhood level and work with local people... The result is a greener Liverpool which is improving people's lives." said Councillor Munby.
FAIL TO STOP RTC - WARRINGTON ROAD, BOLD HEATH, MERSEYSIDE
MERSEYSIDE Police have issued an appeal for witnesses after a cyclist was found injured by the side of the road on the outskirts of Widnes on 18 2014. The man, whose age is not currently known, was found by a passing motorist in Warrington Road in Bold Heath at 6.40am. It is not known how long he had been there and he is currently being assessed at Aintree University Hospital in Fazakerley in Liverpool with what is believed to be a serious head injury. Officers believe the cyclist may have been involved in a collision with a vehicle sometime around 6.30am, which then failed to stop. They are appealing for any motorsit who was in the Bold Heath and Warrington Heath area between 6.30 and 6.40am this morning to contact them on:- 0151 777 5747.