PYRAMIDS DISPLAY BY YOUNG CHEERLEADERS RAISES CASH FOR TRIP TO US FINALS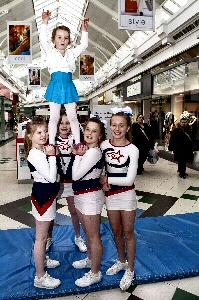 GENEROUS Birkenhead shoppers helped a group of young cheerleaders to take on the world at a prestigious American championship final next month.

15 girls, aged between 13 and 18 and all members of Birkenhead Comets Cheerleaders, will fly out to Pensacola, Florida on April 8 for the US Finals where they will compete against teams from across Europe, America and even Australia.

To help fund the trip, the girls treated shoppers at Pyramids Shopping Centre in Birkenhead to spectacular acrobatic displays which were organised as a way of raising a portion of the £9,500 cost of the trip.

The team's coach, Carrie Humphreys, 36, says the team has been working hard perfecting their routines since qualifying for the Us Finals last June. She said:- "They did really, really well finishing fourth in their division at the European finals which were held at Liverpool's Echo Arena. The routines are hard work and very athletic. This is not cheerleading with pom-poms, its more gymnastics and tumbling based and is physically very demanding. Going to America will be a wonderful experience for the girls and after the week of competition in Pensacola we will be moving on to Louisiana to train with an American team. Many of the girls will be staying with host American families which will give them a wonderful opportunity to get a real feel for American culture and possibly make life-long friends."

However, trips to compete and train in America are expensive and the girls, who work-out up to 5 times a week at Grange Road Sports Centre, have been busy fundraising to help raise the £9,500 needed to fund their trip.

Carrie said:- "We have raised £6,500 to help pay for the trip and the hotels and flights are all booked. So what we raise now will help us pay transport costs and would mean we could eat! We are so grateful to the management of Pyramids Shopping Centre for allowing us to put on a demonstration of cheerleading. The Birkenhead public, as ever, have been very generous and we have raised a really good amount to add to our total, more than £300 in fact. And we have got other kids involved and maybe got a few interested in joining the Birkenhead Comets. There were lots of girls who showed an interest and we are hoping to welcome some new members down to Grange Road Sports Centre keen on giving cheerleading a go."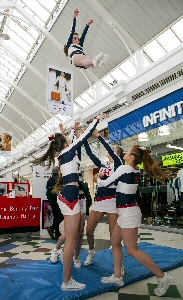 Derek Millar, Commercial Director for Pyramids Shopping Centre, said:- "The Birkenhead Comets display drew quite a crowd and it was terrific for us to be supporting these young people as they prepare for their trip to America. Pyramids Shopping Centre is at the heart of the Birkenhead community and if we can support community groups such as this who are helping young people in our town to enjoy such fantastic opportunities, then we always like to help out where we can."

Carrie added:- "As a group we have around 60 children and young people, aged from 6 to 20 plus, training with us across a range of age groups and abilities. We were so well received by shoppers and I can't believe how generous they have been."

Birkenhead teenager, Demi Hagen, 15, says she is really excited about the trip to America and says she can't wait to compete in Florida. "I became a member of the Comets about a year ago and I absolutely love it. I really enjoy the adrenalin rush that you get when we compete, I just feel really excited. Cheerleading is really hard work and it keeps me very active. It is all about tumbling, dance, jumping and gymnastics and is nothing to do with pom-poms. And staying with a host American family is going to be a really different experience too. It's something I'm really excited about."

Lydia Clarke, 15, also of Birkenhead says the April American Finals will be her first time in the US and she is excited about going. "I've been a member of the Comets for around eight months now and really enjoy it. There is a lot of physical hard work that goes into the routines and I'm very excited about competing against teams from other countries. It's been really good putting on a demonstration in Pyramids Shopping Centre so people can see just what we do and how much hard work is involved. Everyone has been really good to us and I think it has helped raise a lot of money."

For more information go to:- pyramidsbirkenhead.com.

Star Trekk News 2014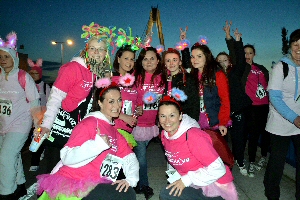 THE annual Queenscourt Hospice sponsored night walk Star Trekk is taking place on Friday, 16 May 2014, and this year we have a new sponsor, a new route and a new earlier start time.

The walk which is 7 miles long will start and finish at Southport Pleasureland this year heading out through Birkdale Village before looping round past the hospice and returning back to Pleasureland via the town centre. We have also decided to start a little earlier than usual at 9.00pm.

We are pleased to announce that Moisters of Southport, funeral directors have chosen to be the main sponsors of this year's Star Trekk.

Janine Owen, manager of Moisters said:- "Sponsoring the largest fund raising event of the year for Queenscourt Hospice reflects the commitment Moisters funeral directors have for supporting our local community. We recognise the valuable contribution the hospice makes to so many local people and we want to give back to those families that both the hospice and ourselves have cared for during the most difficult times of their lives."

Places for this year's walk are available on a first come first served basis, plus if you register today you'll qualify for the special early bird rate of £12. This offer is only available until the 31 March 2014, so make sure you don't miss out and sign up today! Standard registration after this date will be £15.00.

Queenscourt Hospice cares for hundreds of people with a life limiting or terminal illness from across Southport, Formby and West Lancashire every year; all the care we provide is completely free of charge.

Star Trekk has raised over £425,000 since it first started 7 years ago and that money plays a vital part in helping us provide our services to our patients and their families.

The support of our walkers and event sponsors is really important as we need to raise £3 million this year to continue to run and develop our services, so we're hoping you will join in with the walk and help Queenscourt to continue to care.
OUR BIG GIG RETURNS TO MERSEYSIDE
MUSICIANS and community groups in Merseyside are being encouraged to sign up for England's largest summer community music festival. Our Big Gig will once again host hundreds of music events in communities across the country from 11 July to 13 July 2014, with grants and support available for event organisers who wish to hold community events in their area. Funded by the Department for Communities and Local Government, Our Big Gig will see the country once again come together to celebrate local music at community events, showcase new and existing talent, and give people the opportunity to have a go at making music.

Last summer, over 200,000 people attended 326 free Our Big Gig events which saw a wide variety of musical activities take place in a range of unusual spaces. From schools to skate parks, beaches to boats, some 14,600 people performed across the length and breadth of the country. In Merseyside, performances took place at Aintree University Hospital, Knowsley Leisure and Culture Park, St Helens Central Library, Sefton Park, Vale Park Bandstand in Wirral, and at the Williamson Square Bandstand, Stanley Park Bandstand and the Picket Live Music Venue in Liverpool.

For 2014, all types of community organisations are being urged to apply to put on an event in their local area and bring together diverse groups of people through music. Be it a sports club, faith group or another. All successful applicants receive grant funding and event management training is provided.
Organised by music and arts organisation Superact, Our Big Gig has grown out of the Bandstand Marathon; an iconic London 2012 festival event that helped close the London Games with 9,000 people across Britain simultaneously performing Coldplay's 'Viva La Vida'.

As an official 'Spirit of 2012' legacy event, the Olympic feel good factor pervaded Our Big Gig in 2013 as 5,800 people volunteered to help at events and nearly 35,000 people took part in new musical activities.

Launching Our Big Gig for 2014, Stephen Williams said:- "Our Big Gig is a great opportunity for local people to take the lead in putting on a musical event that unites their local community, celebrates home grown talent and inspires people without a background in music to get involved. Like taking part in sport, making music has the power to transform lives and I'm really looking forward to events that inspire people of all ages and backgrounds to get involved and make music part of their lives."

Katharine Lane, Director at Superact added:- "Our Big Gig is a fantastic opportunity for organisations to put on a musical event in their community and reach out to people that they may not yet know. While Superact has been running community music events across the UK for years, we never cease to be amazed at the unifying power of music. We're looking forward to receiving event applications from across the country and would encourage as many people as possible to apply before 31st March."

'Our Big Gig' is one of a number of projects that the Department is funding to bring people together from different backgrounds and help build stronger communities. To apply to host an Our Big Gig event, go to:- ourbiggig.co.uk and fill out the online form. The deadline for applications is 31 March 2014.