Liverpool and England star opens sickle cell service at the Royal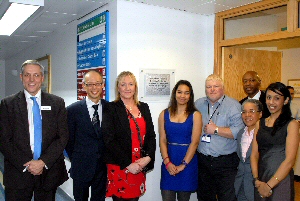 FORMER Liverpool FC and England footballer Mark Walters returned to the City to launch a service improving treatment for people with life-limiting genetic diseases in Merseyside.

The grand opening of the adult service for patients and carers with sickle cell disease and thalassaemia took place at the Roald Dahl Centre at the Royal Liverpool University Hospital on Friday, 7 March 2014.

A plaque was unveiled dedicating the transition service from child to adult care to Dr Ade Olujohungbe, a renowned haematologist who was instrumental in setting up the paediatric sickle cell service at Alder Hey. He had sickle cell disease himself and died just a week short of his 50th birthday last year.

The adult service is run by Professor Cheng-Hock Toh, Dr Tina Dutt and Dr Vanessa Martlew, with a clinical nurse specialist in sickle cell disease and thalassaemia, Andy Houghton, providing additional psychological support for patients. There are around 35 people currently receiving care as outpatients.

Andy said:- "Over the past few years, we've built up a large group of patients in Liverpool. As the Roald Dahl Centre is internationally recognised for its high quality care provision for inherited blood disorders, such as haemophilia, we extended this model of comprehensive care to patients with sickle cell disease. It also ensures local patients receive a local, expert service and do not need to travel outside of the City for a quality service. This is important as patients can have very sudden painful crises. Other problems include a stroke and there can be liver and kidney damage. Therefore, coordinating their care with other specialist departments is vital. The patients are used to taking painkillers, such as paracetamol, regularly. When that fails they come to us. We try to pre-empt that. But if they do come to the Emergency Department, they need to be treated promptly and sensitively so we run education sessions for staff so they understand the needs of the patients."

With around 90 patients currently treated at Alder Hey, many will be treated at the Royal after they turn 18, so the transition service is a vital part of making that change as comfortable and seamless as possible.

Dr Dutt said:- "We have tried to create a warm and personal environment for the patients moving to us from Alder Hey so that they remain positive about their health and we can support them in living their lives to the full. It feels fitting to dedicate this part of the service to Ade who, despite sickle cell, was such a dynamic and exuberant individual."

One sickle cell disease patient who has benefited from the service already is 22-year-old Aaron Sibanda, whose care was transeferred from Alder Hey in December.
Aaron, originally from Zimbabwe and now living in Bebington, attended the launch with his mother. He said:- "It's nice to come somewhere and feel comfortable, with similar surroundings. The staff - Tina and Andy - are really nice."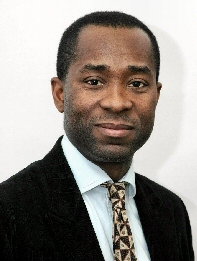 The service can also offer counselling for people who are diagnosed as being carriers, which can often come to light during routine pre-operative tests.

Andy added:- "If 2 carriers are planning to have a child, we can speak to them about their feelings and fears about passing on sickle cell disease. We are there to offer information and support. If someone feels unwell with sickle cell crisis, they can phone us up and see us that day. Having the clinics and the possibility of speaking with us is more preventative. We can treat people before the symptoms get extremely painful for the patient."

Ex-Liverpool star Walters; whose close friend had sickle cell disease; was joined by Professor Elizabeth Anionwu CBE, the first ever sickle cell and Thalassaemia counsellor in Britain, a Patron of the Sickle Cell Society and a member of the NHS Sickle & Thalassaemia Screening Programme Implementation Group. They appeared on behalf of the Sickle Cell Society.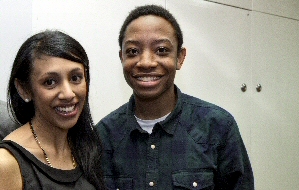 Dr Olujohungbe's widow Danita and daughter Olivia also attended and spoke movingly of their pride that the service had been dedicated to him.

Walters said:- "It's a fantastic step forward as it will help treat many people who suffer from a debilitating illness that affects all aspects of their young lives and hopefully will bring more awareness to the condition."

Professor Anionwu added:- "My dear friend Ade would be so proud with the launch of this service for a condition that he championed for so many years. He was a very intelligent, humble and dedicated doctor and would be surprised but delighted that it is named after him; a wonderful legacy!"

WINNIE THE POOH FLIES OVER LIVERPOOL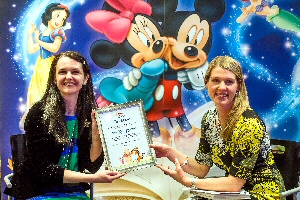 DISNEY announces regional winner of its Winnie the Pooh Laureate competition, which celebrates storytelling inspired by landmarks and history around the UK

Disney Store launches Story Time with Pooh series; free, weekly storytelling sessions for children and parents; in stores nationwide

Having searched the nation high and low for budding writers, Disney UK and its regional ambassador, best selling author Jane Costello, have today crowned Jude Lennon from Liverpool, Disney Winnie the Pooh Laureate of the North West!

Following research that revealed that 76% of parents tell their children stories inspired by their local area, Disney launched a nationwide storytelling contest to find regional Winnie the Pooh Laureates and one overall national winner, whose stories celebrated their area's local history and landmarks in a unique way, just as A.A. Milne used Five Hundred Acre Wood in Ashdown Forest to create the fictional Hundred Acre Wood for the setting of the popular Winnie the Pooh books.

Aspiring Laureates were asked to share original stories inspired by their local area, featuring Winnie the Pooh and Friends taking an adventure outside of 100 Acre Wood, or introducing their own new cast of characters. North West winner, Jude Lennon, rose to the challenge and sought inspiration from her hometown of Liverpool, where she took Winnie the Pooh and Friends on a unique journey around the City. Flying high above the City skyline, Winnie the Pooh and Friends enjoyed an incredible bird's eye view of the Mersey ferry, the Wheel of Liverpool and Lime Street trains!

Jane Costello, regional ambassador, commented:- "I'm delighted Jude Lennon was crowned regional winner for the North West. I was particularly inspired by Jude's creativity, impressive storytelling skills and the inspiration that she found in her local City of Liverpool. I loved the fact that Jude's story rhymed throughout; a really unique touch. Jude should be very proud of her achievement."

The competition was fronted by presenter and dad of two, Jamie Theakston. He added:- "I've loved being a part of the Winnie the Pooh Laureate campaign as storytelling is, and always has been, a huge passion of mine. I really enjoyed reading all the entries and am delighted to have been a part of the selection process; although it was difficult at times choosing the winners!"

As well as becoming Disney's Winnie the Pooh Laureate, the regional winner was also invited to perform a live reading of her winning story to a gathering crowd at the Disney Store in Liverpool on 5 March to coincide with the exciting launch of the Story Time with Pooh series; free weekly storytelling sessions for children to enjoy in Disney Stores up and down the country. There, our regional ambassador Jane Costello presented the winner with a Winnie the Pooh Laureate certificate, a copy of their story printed in a special book and a goody bag full of Winnie the Pooh product.

Jude Lennon said of her win:- "I love storytelling and particularly enjoy bringing my stories to life through poetry. It was really fun to take Winnie the Pooh and Friends on a poetic adventure over the City of Liverpool. Looking down from the sky above certainly gave them an exciting adventure! I still can't quite believe I'm the North West winner!"

Justine Finch, Marketing Director, Winnie the Pooh concludes:- "We were overwhelmed by the imagination behind people's stories and the enthusiasm for their local area. We have thoroughly enjoyed hosting this competition and reading all of the great entries and hope it has inspired families to spend more time creating and sharing stories together. Thank you to everyone who took part; keep on being inspired by your local surroundings and we look forward to seeing you at our Story Time with Pooh sessions in Disney Stores across the country!"

The regional Disney Winnie the Pooh Laureates include Anne Baker from the South, Emma Taylor from Scotland and Sally Jenkins from the Midlands. The winning national and regional stories are featured online.
Sefton Workers gear up to march for Fair Funding for Public Services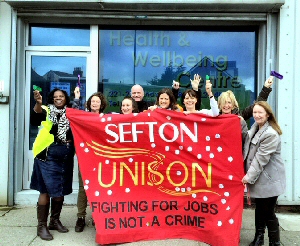 WORKERS from Sefton Council will be amongst the marchers in Liverpool on Saturday. Thousands of service users and workers from across the North West will be showing their support for public services and highlighting how services are now under tremendous pressure due to unfair cuts. The cuts in Sefton have been nearly twice the national average and ten times more than some affluent areas in the South. Sefton has already cut nearly 1500 jobs from its workforce. Holly (pictured 3rd from left) has worked for the Council for over four years as part of the Benefits and Housing Advice team. The team provides support to those going through substance misuse treatment in Sefton. Holly said:- "It's not fair the way that Councils in the North have been hit by such large cuts. This is already having an impact on services in Sefton; advice services, libraries, sure start centres, support for the elderly, day care centres and youth services. People need to know that the Government want to increase the speed of spending cuts in coming years. This will have a terrible impact on our communities. We don't want more and more cuts year after year. We need fair funding for public services. That's why we'll be marching on Saturday, 15 March 2014." Members of the public and Council staff from across the North West will be assembling for the march at Pier Head from 10am. The event concludes with a rally at St George's Plateau from 11.30am. The event has been organised by UNISON North West.