Plea to keep dogs under control in the countryside
AS the weather starts to warm up, the CLA in the North is asking dog owners to keep their animals either under strict control or on leads while on walks in the countryside.

The call comes in the midst of the lambing season, when pregnant ewes can abort if they become stressed by loose dogs. Birds that nest on the ground and other wildlife are also at risk, with their young vulnerable if parents are scared away.

CLA North Director of Policy & Public Affairs Douglas Chalmers said:- "The majority of farmers and landowners are happy to welcome walkers who adhere to the Countryside Code. Most people are very understanding and walk with their dogs on leads near livestock; but there are some who do not even consider doing this. Dogs should always be under close control when walked on farmland, and unless the dog stays closely to heel, this normally means that it should be on a lead. A lead should always be used when close to livestock."

Mr Chalmers is also reminding dog owners to clean up their pets' mess because of a deadly parasite which can be picked up from grass infected by dog faeces.

Mr Chalmers said:- "There may be no obvious symptoms in a dog, but the effects of the parasite Neospora caninum can be devastating in cattle and there is no known treatment. Even if there aren't any animals visibly grazing in a field, they may do in coming weeks, or the grass may be cut and used as feed through the winter."

Neospora caninum affects mainly cattle, dogs and other animals such as foxes, although it can also affect sheep, goats, deer and horses. The parasite lives in both dogs and cattle, but only reproduces in dogs. It can be transmitted to cattle which graze on grass infected by dog faeces. Once inside a cow the parasite is deadly, often resulting in abortion or the birth of premature, impaired or infected calves.

The CLA is campaigning for the Government to provide clear guidance to dog owners setting out their responsibilities and enable better understanding of the impact their animals can have on livestock and farming practices. The Association also wants the myriad of rules relating to dogs on different types of access land to be simplified.

Data obtained by Farmers Guardian and the National Sheep Association under Freedom of Information requests to UK Police forces says there were 739 dog attacks on livestock in 2012, up from 691 in 2011. There were 537 incidents of sheep being attacked and injured in 2012 compared to 301 in 2011.
"New planning guidance will boost brownfield development whilst protecting green belt and votes" according to DTZ
THE UK's Government's new National Planning Practice Guidance, which came into effect on Thursday, 6 March 2014, suggests a shift in the balance between the development of greenfield and brownfield sites, with economic and political implications.

Planning Minister Nick Boles' statement and the associated publication of National Planning Practice Guidance indicates a two-pronged approach to steering and delivering development. His statement that housing need/viability should not outweigh protection of Green Belt will appease Conservative Councils but frustrate house builders currently obtaining planning permission at appeal on this basis.

This is countered by measures to promote and enhance the viability of brownfield development. It indicates that Councils should look at the different funding mechanisms available to them to cover costs of bringing brownfield land back into use and to take a flexible approach in seeking levels of planning obligations and other contributions to ensure viability. In many cases this is likely to mean a reduction in affordable housing provision at brownfield sites.

However, the measures provide a significant boost to the owners and prospective developers of brownfield sites, particularly those with substantial remediation and enabling work costs.

Andrew Teage, Associate Director of Planning at DTZ in Manchester comments:- "Landowners and developers should now take the opportunity to speak with their local planning authority about the costs and constraints to developing brownfield sites and the financial assistance available. This may be in the form of subsidising site clean-up and infrastructure costs or reducing the burden of planning obligations such as the proportion of affordable housing in residential schemes. Overall, it is welcome that the Government has indicated fiscal and planning gain relief towards brownfield land development, whilst many people will support the Minister's reiteration of Green Belt protection. The acid test, however, will be whether sufficient housing to meet the country's needs can realistically be delivered on brownfield land."
So what do you our readers think about this? Please email your views and ideas related to this issue to our newsroom via:- news24@southportreporter.com.

STUDY WITH THE VIKINGS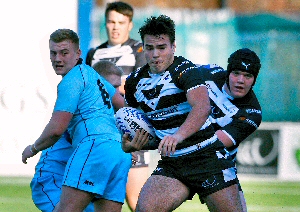 WIDNES Vikings are offering a unique opportunity for students to combine their passion for Rugby League whilst earning a BTEC National Diploma in Sport (Performance and Excellence) in the outstanding facilities at the home of the Vikings.

In the second year since its inception the ground breaking initiative has already started to bear fruit for the club with the progression of Matt Whitley, Ryan Ince and Ted and Jay Chappelhow all progressing into the club's 1st Team environment whilst studying alongside their training obligations.

The course enables players to not only pursue academic qualifications but also train in a full time environment, a feature unique to the Widnes Vikings' Academy programme. The benefits of combining Rugby League development and education are many including:-

► Increased training and contact time with players.

► Faster progression in professional Rugby League.

► Achievement of academic qualifications to gain entry onto University courses.

► Development opportunities for later developing players.

Students will study in the first class facilities at The Select Security Stadium being taught by the highly qualified and experienced staff of the Widnes Vikings. Students will study a range of topics including:- Sports Nutrition, Sports Coaching, Sports Psychology and Technical and Tactical skills for sport.

19 units will be studied over 2 years utilising a unique virtual learning environment and will equip students with the pre requisite UCAS points necessary to obtain a place to study at University and work towards careers including:- Sports Coaching, Sport Development, Strength and Conditioning and Fitness Instruction Teaching.

The course is designed and aimed to address the needs of aspiring professional Rugby League players who want to pursue their ambition of playing professional Rugby League.

This is a fantastic opportunity for players of all abilities to be part of an exclusive Rugby and education environment and be part of developing the future of Widnes Vikings Rugby League club.

For further information about the course please contact Head of Youth Performance Phil Finney by email.
Physio Alistair Extends His Vikings Stay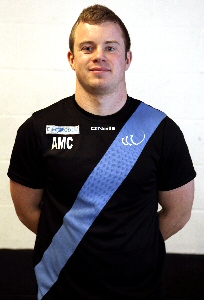 WIDNES Vikings have made another important extension to its Sports Medicine Department as Alastair McFarland put pen to paper on a new deal. McFarland, aged 24, has been working alongside Widnes Head of Sports Medicine Andrew McDonough since October 2013 and after this successful period looking after the Academy players, the former Glasgow Caledonian student has been rewarded with a new contract which means he'll be with the Vikings for a further 12 months. "I have been delighted with the way Alastair has fitted in to our medical team in his five months with us so far... He has picked things up extremely well and is doing a great job of overseeing our Academy setup. He has also stepped up with the first team and is taking on greater responsibilities week by week. He has impressed not only myself but the rest of the staff and the players. I'm sure he will go on to prove himself as an excellent physio here at Widnes Vikings." said McDonough.

McFarland, who graduated with top honours in 2013, said:- "I've really enjoyed my time at the club so far, it's been really easy to fit in as we have a great bunch of people here. I'm looking forward to the next twelve months and the season ahead."
Last month the Vikings brought in Joe Booth as McDonough's Assistant Physiotherapist.