City turns blue to highlight autism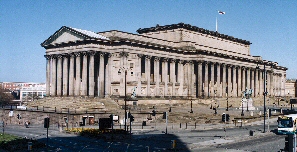 LIVERPOOL is to become the first English City to light up its buildings blue to raise awareness of autism. The Town Hall and St George's Hall will be bathed in blue light on Wednesday, 2 April 2014, to mark United Nations World Autism Awareness Day.

They will join other iconic locations around the world, including the Empire State Building in New York, Sydney Opera House, the World Trade Centre in Toronto and Niagara Falls for 'Light It Up Blue' to highlight the condition, which affects around 1 in 100 people.

The idea has come from Julie Simpson, a mum from Speke who is a member of Liverpool Autistic Children's Alliance which supports parents, carers and young people with the condition. Her 10 year old son Joe has autism and Julie is a passionate campaigner for greater understanding of the condition.

Julie and Shadow Health Secretary Andy Burnham MP wrote to Mayor Joe Anderson asking if the City could turn its buildings blue. Now the Mayor is now writing to the owners of other prominent buildings in the City asking them to do the same.

Mayor Joe Anderson said:- "I am absolutely delighted that we are able to help raise awareness of Autism by lighting up our buildings in blue and I am asking other buildings to do the same. It is really important that we do all we can to highlight autism and its symptoms to overcome ignorance around it, and also to support parent and carers."

There are around 700,000 people in the UK with autism - more than 1 in 100 of the population.

Julie Simpson said:- "I feel very strongly about raising awareness of autism to try and make people understand how it affects children. As it is not a physical condition, people just assume young people with autism are being naughty. It is only by explaining to people about the condition that my child and others like him stand any chance of living a life like any other person rather than being judged or ridiculed by others."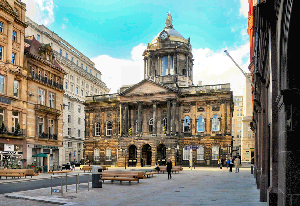 John Sorenson from Liverpool Autistic Children's Alliance said:- "It's absolutely fantastic that the City Council is supporting world autism awareness day and the Light It Up Blue campaign. Raising awareness of autism enables campaigners and supporters to obtain the best interventions for autistic children during their crucial early childhood development years; many children never obtain this essential help, support and understanding. Consequently, this has a huge and often devastating impact upon these children and their families and denies the child the opportunity to reach their full potential. We hope as many people as possible will support this wonderful event and help our City to shine a light on autism and become a beacon of hope, support, inspiration and understanding for autistic children and their families."

The National Autistic Society - the UK's leading charity for people affected by autism - is backing the initiative.

Mark Lever, Chief Executive of The National Autistic Society, said:- "We are really pleased to see Liverpool City Council marking World Autism Awareness Day so spectacularly and helping to raise public awareness about this lifelong developmental disability. Autism affects how a person communicates with, and relates to other people. Although some people with autism are able to live relatively independent lives, others may need a lifetime of specialist support. Autism is much more common than many people think, affecting around 700,000 people in the UK - more than 1 in 100. If you include their families, autism touches the lives of over 2.7 million people. Despite this prevalence, a lot of misconceptions persist and we need to take every opportunity to increase understanding and awareness."

Everton Football Club will be raising awareness of autism at their match at Goodison Park against Arsenal on 6 April 2014, including the distribution of flyers and collection buckets to raise money for the National Autistic Society in the fan zone.

In recent years, there has been a 25% increase in pupils diagnosed with autism in Liverpool due to improved assessment at an early age. In response, the City Council is expanding the number of special school places. A new £6 million home for Millstead Primary School is being built in Everton, Abbot's Lea Special School which specialises in educating young people with autism is getting an extra 6 classrooms and Palmerston Special School is also being extended.

More information about Light It Up Blue can be found online.

This is Actual Liverpool project video is well received by Liverpool

THIS Is Actual Liverpool (#TIAL), headed by film maker Megan Walker, launched their trailer for the project #TIAL live at The Baltic Fleet which was well received by Liverpudlians and non-Scousers who attended.

The project, an alternate view of Liverpool in light of the trailer for 'This Is Liverpool', began filming various iconic Liverpool locations only 10 days ago and has so far reached heights of over 5,000 likes on Facebook with a wealth of individuals and businesses offering their services and building space for the project.

TIAL hope that their video is received well and gives Liverpudlians something positive they can connect to. Depending on the response Walker says:- "We definitely want to continue making longer and more theme specific videos. We just need a little help in creating them."

With a fast-growing fan base, 'This Is Actual Liverpool' calls for any individual, group, business or collective wishing to promote a positive look of Liverpool to get in touch via social media @realliverpool #TIAL or by email.

The video can be viewed online.
Inspector gives 'Outstanding' for St Mark's of Scarisbrick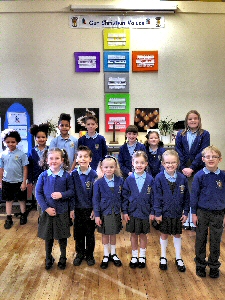 ST Mark's Church of England Primary School are delighted to announce that they have recently been awarded 'OUTSTANDING' by SIAMS (Statutory Inspection of Anglican and Methodist Schools).

On the 14 February 2014 the school opened its doors to welcome the children as they do every morning, but a special visitor arrived too. No, it wasn't a delivery driver with a dozen red roses to celebrate St Valentine 's Day …………It was the SIAM's Inspector!

After having various meetings with the Children, Parents, Teachers, St. Mark's Vicar, School Governors, Tours of the school and its excellent facilities, lessons observed and pupil participation, he had no option but to award this fast growing school with:- 'OUTSTANDING'.

The Inspector stated in his report that:- "Daily worship is excellent and vibrant and is central to the life of the school. Relationships based on Christian love and care for individuals is outstanding. The distinctive Christian values of love, peace, trust, responsibility, equality, generosity and forgiveness are made explicit and are deeply embedded in the daily life of the school." He went on to say:- "Parents feel that the school listens to their views and that problems are dealt with quickly and sensitively."

The report goes on to praise the leadership and management of the school saying they are both excellent and St Mark's pupils and parents speak highly of the school.

Head teacher, Mrs Freeman stated that she is extremely happy with the report; she is and always has been proud of the school and its pupils. Her main goal as Head teacher is to provide all the tools for children to learn and achieve in a happy and safe environment. By promoting Christian values and educating all pupils the meaning of 'faith' they are all encouraged to develop their own spiritual awareness. These values show children what is morally correct as they progress in life.

St Mark's school looks not only at Christianity and its traditions, other religions and cultures are explored. Mrs Freeman also commented that she has a great team of staff, pupils and a strong relationship with St Marks Vicar, who have all contributed to the fantastic outcome of this report. She is delighted to have been able to show the amazing work that St Marks do and has to offer our future generation. She commented:- 'Our mission statement is that we encourage each child to achieve their full potential and develop a love of life and learning, within our caring Christian community. That is what St Mark's School stands for and that is what we strive to achieve.'

If you would like to find out more, see the full report or book a taster session for your child, St Marks is always there to welcome you. For more informationas you can get more you can get it via clicking on to their website.