Merseyside Business Leads the Way in Pioneering Dementia Friendly Fabrics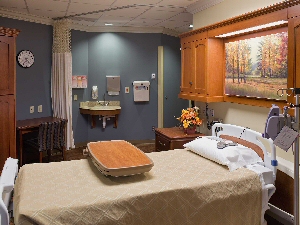 A Merseyside business is leading the way in pioneering healthcare fabrics across the UK following the successful completion this week of a high profile project for Royal Berkshire NHS Foundation Trust. The project brief for 4 wards and 92 beds was awarded to Curtain Call to provide supportive design and fabrics to increase the overall wellbeing of mental health and dementia patients.

Founded by Crosby entrepreneur Donna Nolan, Curtain Call has offices in Liverpool and Manchester City Centre and has become one of the UK's best known curtain, blinds and fabric manufacturers offering specialist services to many industries including hospitals and healthcare.

Along with many private care homes, Curtain Call has completed projects for Liverpool Women's Hospital, Liverpool Heart and Chest Hospital and a number of private clinics in the centre of London. As the UK's only distributor of mesh-top cubicle curtains for ceiling fixed cubicle tracks that are increasingly specified by architects and interior planners to increase light and air circulation in hospital and healthcare settings, the business has experienced rapid growth in the last 2 years.

The Dementia Service Development Centre (DSDC) at Stirling University illustrates that the design and fabric of a care environment can minimise risk and have a hugely positive impact on the wellbeing of people with mental health problems and dementia. Royal Berkshire selected fabrics from Curtain Call's supportive design range that have been reviewed and rated by the DSDC for usability.

Rhian Warner, Directorate Manager Specialist Medicine and Therapies of Royal Berkshire NHS Trust explains:- "We are committed to improving the health and wellbeing of all of our patients and with a skilful blend of design and intelligent functions, the fabrics from Curtain Call presented the perfect solution to help with the with the orientation of our mental health and dementia patients. We chose Curtain Call because their fabric ranges were more appealing and allowed us to move away from standard NHS designs and colour schemes .The project was also completed smoothly and sensitively with no disruption and already the calming textures and revitalising effects are starting to appeal to our patient's senses"

Donna, who brings over 20 years experience to healthcare fabrics and hospital solutions acted as project manager and explained how the application of design principles required her and the team to see the environment from the patient's point of view:- "There are many ways to implement dementia friendly design into healthcare environments including guidance on colour changes and contrasts to avoid areas being misinterpreted and becoming a cause of concern for patients. Like all healthcare projects the fabric needed to meet strict NHS standards in terms of flame retardancy, high temperature washing and colour fastness and of course, we had a budget to comply with. We were able to tailor make a solution using a wide range in the type and selection of fabrics we have available. We hope that the project continues to generate positive outcomes for a long time to come."
WIRRAL HOTEL SET TO MARK MACMILLAN PARTNERSHIP AT VIP BIRTHDAY EVENT
STAFF at an Italian restaurant and inn in Bromborough are set to celebrate their first year anniversary at a special VIP afternoon reception with the Lord Mayor and Lady Mayoress of Wirral.

Pesto at the Dibbinsdale Inn, which was officially opened in March last year, is marking its birthday with a special cake and coffee event where it will also announce Macmillan Cancer Support as its charity partner.

The famous Thwaites shire horses will also be in attendance at the special event on Friday, 14 March 2014, where Councillor David Mitchell and wife Mrs Sue Mitchell as well as Macmillan Fundraising Manager Lisa Wild and other guests will also enjoy a tour of the restaurant and hotel.

As part of the birthday celebrations the restaurant team are also inviting members of the public to drop in to the restaurant from 2.30pm till 5pm on Friday, 14 March 2014 for a complimentary tea or coffee and piece of birthday cake.

This event comes just weeks after the hotel was awarded 4 Gold star accreditation for second year running following a mystery inspection earlier last month.

The inn and restaurant on Dibbinsdale Road has already proved popular with local residents after bringing Pesto's trademark 'piattini' culinary style to the Wirral, a new Italian dining experience where diners are able to enjoy an authentic selection of Italian dishes during one meal.

The company currently has seven restaurants nationwide including venues in Manchester Trafford Centre, Glasgow and Cheshire and will be opening its first West Midlands restaurant in Sutton Coldfield in early April.

Pesto is situated at Dibbinsdale Road, Bromborough CH63 0HJ or for restaurant/hotel reservations call:- 0151 334 9818. For more information visit:- www.pestorestaurants.co.uk.

'Greatie' market to move
THE green light has been given to plans to relocate the famous "Greatie" market at Great Homer Street to a new facility on Dryden Street.

Liverpool's planning committee has today given the go-ahead for the popular market to move a short distance along Great Homer Street to the new site.

The market is moving as part of the large-scale Project Jennifer regeneration scheme, which will revitalise Great Homer Street and bring in major investment which has been needed in the area for decades.

The move to Dryden Street is aimed at delivering a better quality market facility, complementing the wider development at Great Homer Street, which starts on-site this Spring.

Planning permission has been granted on a temporary basis, for a period of four years. The Council is proposing to put forward a further planning application in the future to make the move permanent.

Liverpool City Council's Cabinet Member for Regeneration, Councillor Malcolm Kennedy, said:- "I'm pleased that these plans have been approved, because I strongly believe that this scheme is the right one to build a successful future for the market. The new market has been developed following consultation with traders. We've worked hard to respond to their views and deliver their requirements, particularly around the size and number of stalls."

It represents a major investment from the Council, and will include the refurbishment of an existing building to create a home for the indoor market. The plans also include the demolition of existing buildings, surfacing works to create a partly covered space for the outdoor market, and parking areas for customers and traders vans - all on one cohesive site.

Councillor Kennedy added:- "We have been in constant communication with traders and customers over these plans, for many months. It has been challenging, because when working with such a large number of traders, it is difficult to please everyone, particularly when they often have differing views and competing demands. However, I feel we've been successful in putting forward plans that are deliverable, will satisfy the needs of the majority of traders, and will enable the market to thrive. There is also overwhelming support from local Councillors and the wider community. We have carefully considered proposals by a small number of traders who wish to remain on the existing site, to create a split market, on both sides of the road. However, this would cause major management, cost and parking issues, as well as potential health and safety concerns. Ultimately, we want to do everything we can to maximise footfall and make the market the best it can be, and we believe we will achieve this by keeping it on one, improved site. Splitting the site could affect the market's future success. Although the planning application has now been approved, there is flexibility built in to the plans, and we will continue to work with traders to explore how we can further improve the Dryden Street scheme, so that it fully meets the needs of all the traders."

The Dryden Street scheme will deliver 78 indoor stalls, 178 outdoor stalls, 163 car parking spaces and 61 van parking spaces. There is scope to change the actual mix of stall numbers and sizes and the split between car paring and van parking. There is also potential to make the market bigger if required using property already in Council ownership, and consultation with traders on these issues continues.

Everton ward Councillor, Jane Corbett, said:- "The Project Jennifer scheme will revitalise Great Homer Street, an area which has desperately need investment for many years; and delivering a successful, thriving market is a really important part of that. We want to provide traders and the local community with a better regulated, better quality market, which is at the heart of the Project Jennifer scheme, and which complements the wider regeneration programme. We believe this scheme does that. Most importantly, we have listened to the views of the market traders and customers in developing this scheme, and we have worked extremely hard to deliver plans which respond to their needs."

Joy Bowes, local market trader and representative of the indoor market, said:- "I am really looking forward to moving to our new home at Dryden Street, which is really close to where the market originally started. The new market will bring all of the traders under one roof and in my opinion is well positioned; it's not too far from our current location but it will be closer to the town centre, right on the main bus route and near to the new supermarket and shops. I'm convinced that it will be a success."

The Project Jennifer scheme, which is being led by regeneration specialist St. Modwen in partnership with Liverpool City Council, will transform the Great Homer Street area in north Liverpool. It will create an estimated 1,000 new jobs, new homes, significant public realm improvements and includes a new flagship Sainsbury's supermarket, which will be the largest supermarket in the City.

The market scheme is costing £2.2m, including the associated highway works. Work on the relocation is to start immediately.

For more information visit:- greathomerstreet.co.uk.