Sefton Coast Forum 2003 in Crosby.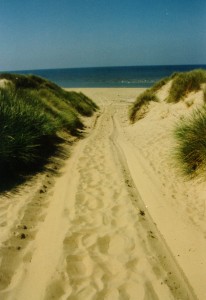 Photograph by Patrick Trollope.
PEOPLE from across the borough are invited to attend a special forum about the future of Sefton's coastline.

The Sefton Coast Forum is holding its annual meeting on Saturday, February 8, to help develop ideas for improving coastal management and raise issues for consideration by the Sefton Coast Partnership.

Anyone who has ideas which may help improve the management of Sefton's coast, or people who are just interested in some of the coastal projects which are currently ongoing, are welcome to attend the event.

The forum, which takes place at Crosby Civic Hall between 9am and 1.30pm, will be chaired by Ted Jackson, of the Sefton Coast Partnership and will be introduced by the Mayor of Sefton Cllr Kevin Cluskey.

The Partnership's Annual report will be presented at the event and there will also be a presentation by the Director of the Mersey Waterfront Regional Park on the progress of current waterfront proposals.

Presentations will also take place on the Irish Sea Regional Seas Project, which is a national pilot scheme for the conservation of marine areas, and on Research and Management, which will look at the relationship between scientific research and land management on the coast.

There will also be four workshops at the meeting which will deal with themes which have been dealt with by the Partnership Task Groups during the last year. They will be:- Access and Interpretation, Archaeology and Local History, Shoreline Management, and Research and Management . It is hoped that feedback from those workshops will help guide the future work of the Partnership.

A spokesman for Sefton Council said:- "This is a good opportunity for people to come along and see what has been going on over the last year and also to have an input in the future of Sefton's coastline.

I hope the event will help build on the work we are doing and help develop ideas for future projects."

If you would like to attend the forum then contact the Sefton Coastal Strategy Unit on 01704 572329 or fax on 01704 575628 to register your interest. Only people who do this will receive details of the forum. It is essential that people who are interested in attending register for the event so that workshop places can be assigned. For Organisations please limit your representation to two people to allow maximum space for the public to attend. Places will be allocated on a "first come first served basis."
The above Information supplied with thanks from Sefton Coastal Strategy Unit.

CHC PUBLIC MEETING.
MEETING of Southport and Formby Community Health Council to be held on Tuesday 21st January 2003 at 7.15pm at Formby Luncheon Club, Rosemary Lane, Formby.

A G E N D A

1. Presentation by John Garratt, Project Director, Local Improvement Finance Trust (LIFT)

2. Apologies:-

3. Minutes of the Previous Meeting held on: 19th November 2002

4. Matters Arising from the Minutes:
i. Overseas Clinical Team:- (Chief Officer to report)

5. Chairman's Report:- (verbal report)

6. Chief Officer's Report:- (attached A – pink)

7. Assistant to the Chief Officer: (attached B – pink)

8. ICAS Update:- (Chief Officer to report)

9. Men's Health Update:- (Assistant to the Chief Officer to report)

10. CHC Update:- (Chief Officer to report)
11. CHC Representation:-
i. Access Advisory Group 5/12/02 (attached C - green) ii. Maternity Services Liaison 26/11/02 (attached D – green) iii. MPTA Transport Access Panel 4/12/02 ( no report received) iv. Southport & Formby PCT 6/11/02 (attached E green) v. Southport & Ormskirk Acute Trust - 12/11/02 (attached F - green) vi. Southport & Ormskirk Acute Trust - 10/12/02 (attached G - green)
vii. Southport & Ormskirk Clinical Governance - 20/11/02 (attached H - green)

12. CHC Mental Health Working Group:- 21/11/02 (attached I – yellow)

13. Urgent Business

14. Questions from Members of the Public

15. Date of Next Public Meeting:- 18th February 2003
7/1/03/HC
Meeting Procedures
1. Members of the public attend meetings as observers and only have speaking rights at the invitation of the Chairman.

2. CHC members should always address the meeting through the Chair by indicating their wish to speak and then waiting to be called.

3. Members should be succinct to avoid repeating their statement/questions so that the meeting can progress at a steady pace.

4. Members should remember that Southport and Formby CHC is concerned primarily with local healthcare and that news items from other areas are frequently not relevant.

5. Members should refrain from discussing items with one another when other people are speaking.

Your assistance in these matters is appreciated