HOW DO YOU KEEP YOURS¿

Report by Natasha Piscitelli
NOW that the celebrations of Christmas and New Year have passed, it's time for us all to make those New Year resolutions and try to improve our life styles and health. How many New Year resolutions did you make this time? Have you kept them or are you ashamed to admit that just two weeks into 2003 you have already broken those promises you made to yourself with such good intentions?

If you have broken them, then do not panic, you are not alone. I interviewed one hundred residents living in the Southport area and was shocked to discover that many of you haven't managed to keep your resolutions. The life style changes people had vowed to make were extremely varied and ranged between quitting smoking, cutting down on alcohol, doing exercise, losing weight, supporting a charitable organisation, giving up swearing, taking up a hobby, getting a new job and learning a new skill or language at night school.

The majority of people I spoke to had been keen to start the New Year by quitting smoking and losing weight. Unfortunately most of you admitted that following up the resolutions hadn't quite been as easy as you had originally hoped.

Susie Maynard lives in Crossons, Southport. She had hoped to make huge changes to her health during 2003 by giving up smoking, but discovered that she didn't have the willpower. She said:- "On New Years day I was so determined to give up the cigarettes, I even lasted a week which is amazing for me. The problem came when I went on a night out with my friends, because I'd been drinking I just couldn't resist smoking."

I was pleased to find that lots of you had also kept to your vows and were determinedly trying to lose weight and exercise more. Local gyms and fitness centres get a huge influx of members joining in the New Year with the goal to tone up and lose a few inches. The most touching resolution I came across was from a Southport resident who had decided to sponsor an orphaned baby from India. By donating a fixed amount of money each month she will be giving the baby the chance of survival.
Don't worry. If you've already broken your New Year resolutions then it isn't too late to try again. If you've been tempted into smoking give quitting another try. If cleaning up your language has been harder than you thought put a swear box in your house and use the money you collect to buy yourself a treat. You could make huge improvements to your health, happiness and bank balance, it isn't too late! If you've managed to keep them, then well done!
New Year Eve at the Pinewoods (Formby)
AS I was dashing around taking pictures through midnight, the Pinewoods in Formby were taking photographs as well. They have kindly taken some shots and given them to us to run with the New Year photographs last week, BUT, they did not get them in in time, so here they are.... Better lat than never.
Before I forget, if you want to see the photographs of New Years Eve that we ran last week and some of the ones used in this weeks Champion, please click here!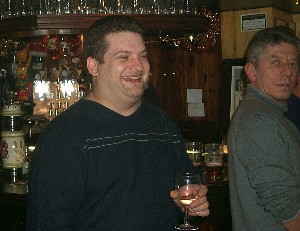 Landlord (Above) lessens to Barmaid and Singer Becky (Below).