St Johns are GO!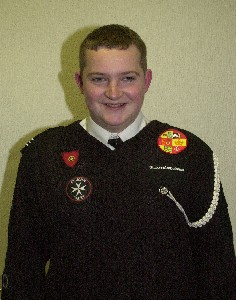 GRAHAM Percey from Southport is only 17, but the hopes of Merseyside are on his shoulders this weekend. After joining at the Southport St Johns Ambulance Badgers at the age of 7, he rapidly progressed in his skills as a first aider. By the age of 10 he joined the Southport St Johns Cadets working his way up to cadet leader, winning along the way the Grand Prior Award. Last year, in December, he competed representing Southport in the Merseyside Cadet of the year awards and he soon proved the recommendations by his officers to correct as he won the right to represent Merseyside in the National Competition. This weekend he will be competing against 48 cadets from all over the UK, in what is regarded one of the hardest first aid competition going. When asked if he was naves, by or editor, he said "No, it just is all first aid. I am more panicky about being on the radio and having my friends and family lessening to me, before the event and after is not very nice!"
Southport Rugby League Team Sandstormers Latest!
THIS Saturday, 11 January sees Southport Rugby League Team play their biggest fixture yet. They have been drawn to play Blackbrook of St Helens in the National Cup first round! To put it in perspective, Southport are 3rd from bottom decision 6 of the North West Counties Rugby League, also they have only been playing for a year! As for Blackbrook, well they are 7 divisions higher and to top it off, they are at the top of the premier division. "IF" Southport pulls it off, this match would be one of the greatest giant killings in Rugby League History. So to see the Sandstormers in action in what are David and Goliath match, go to Blackbrook Rugby League Club, St Helens. Kick off at 2pm. Team spokesman John Marshall said, "We are looking forward to this game. If we loose we can only say that we played the best, but if we win, well……….." Sponsors PCBT Photography and Think Big are saying, "Come on Sandstormers!" See the TEAM WEB PAGE for more information about the team.

Bird Watching For All at Pier Fun Days.

Report by Julia Brough.
THERE will be fun for all the family this weekend with a special 'Bird Watching for All' event at the end of the pier.

The event will give visitors the chance to identify the many different birds that gather along the Sefton coast, to learn more about their habits as well as fun and games for younger members of the family.

Rangers and wardens from Sefton Coast and Countryside Service, English Nature and the RSPB will be on hand on Saturday and Sunday (January 11th and 12th) to help identify the birds and provide information.

There will also be a variety of activities and displays for children including 'The Wader' board game when competitors follow a day in the life of a wading bird, the 'Bird Beak' game when youngsters fish for worms in a bucket as well as badge making and colouring.

This is one of a series of events aimed at boosting green tourism in the area by highlighting Southport as one of Europe's major bird watching locations. Similar events will take place throughout the year.

Lord Fearn, Sefton's Cabinet Member for Economic Development and Tourism, said:- "This is a great opportunity for people to see the fantastic range of birds in this area and, because of the fun day, will encourage all members of the family to take an interest in bird watching."

"A similar event just before Christmas attracted many people who have realised just how fortunate we are to be in one of the best bird watching locations in Europe. I'm sure even more families will pop along this weekend."

A special display featuring the different birds, other wildlife along the Sefton coast and a history of Southport can also be seen in the Pavilion at the end of the pier, where refreshments will be on sale.

Events already staged have given visitors sightings of a wide range of birds including the oystercatcher, cormorant, bar tailed godwit, knot and dunlin.

The Bird Watching for All and fun day will take place from 12 noon until 3.30pm on both days although on Saturday bird watching will start a little earlier at 10am. Sefton Council's Birder's Guide will also be available for visitors.
For further information telephone 01704 570173.