Tougher sentences for burglars
CHILDREN whose homes have been burgled are more likely to struggle at school and have trouble sleeping, according to new research from independent charity Victim Support and home security specialist ADT. Nearly 300,000 children are believed to be the victims of break-ins every year in England and Wales.

The first major survey into the impact of burglary found that 63% of parents who had children living at home when they were burgled support the partnership's call for tougher sentences for burglars who target family homes.

27% of parents said that their child's sleep was affected following a break-in at their home, while 11% parents reported it had a negative impact on their child's performance at school.

32% of parents found their children's sense of personal safety and well being affected and 10% reported an increase in their child's bed wetting. Parents reported their children were affected even if they were not at home at the time.

Of the adults whose homes were burgled as children, 37% still feel that the experience affects them in adulthood. 35% sleep with the light on and 44% now prefer to sleep with someone else in the house.

39% say that their children needed emotional or psychological support following the burglary. But a separate survey of young burglary victims carried out by Victim Support and ADT suggests that the impact on children may often be greater than even their parents realise.

Of the 53 children and young people questioned, 30% admitted they still suffered nightmares, and 30% said that the burglary had knocked their self-confidence.

Residential Business Director of ADT, Mark Shaw, said:- "These statistics reveal, for the first time ever, the true scale of the impact burglary has on children. Domestic burglary is a high volume crime, but it's wrongly perceived as being just one of those things. We want to address this in our Take No More campaign by deterring burglars and supporting victims; especially children, who are often the forgotten victims."

Assistant Chief Executive of Victim Support, Adam Pemberton, said:- "These findings paint a disturbing picture about the hidden impact burglary has on children. We know that this is a serious issue for tens of thousands of families across England and Wales. Victims tell us time and again that they suffer far more than material loss when their home is burgled. We believe sentencing should more accurately reflect this kind of psychological harm. It is critical that families have access to crime prevention advice to help them avoid becoming victims and can get practical help and emotional support if they do experience break-ins."

Single mum Sheree's home in Leeds was broken into in December 2013 while she and her two teenage children were asleep upstairs. The burglars took her car, widescreen TV, iPad and all their Christmas presents but, most importantly, left her family traumatised by the experience. Most affected was her 14year old son who, 4 months on, is still not sleeping properly at night. Sheree says:- "My son refuses to talk about it, but he now won't go to bed without the light on. I sometimes go upstairs at 11pm and he's still wide awake, sometimes he's just walking around his bedroom. His schoolwork is suffering, he's falling behind a little bit. I'm so worried about him."

For mum of 4 Gemma, the trauma of having intruders in her house in Liverpool while she was out at work is still difficult to deal with. Mobile phones, games consoles and 2 of her deceased father's steam train model collections were taken from her house in February. Gemma discovered the break in when she got home from work, the burglars had gone through all of the rooms, including the attic at the house had been completely ransacked. Gemma feels very vulnerable and scared since the burglary, especially when she is walking around the Town Centre. She has also noticed a big change in her daughter Freya's behaviour. The two men have been tried and found guilty of handling stolen goods: one is on remand and the other is on bail awaiting sentencing later this month.

Gemma says:- "I find myself walking around when I take the kids out looking at people and thinking is it you, is it you who burgled my house? They have been through my house, they know exactly what me and my kids look like. It's horrible sitting here on my own at night, it feels eerie. The kids are also really insecure about going to bed, they don't feel safe. Freya is really, really angry and won't even go upstairs on her own, none of them get much sleep because they can't settle."¯

Lorry driver Gavin returned from a Valentine's Day night out with his wife and friends to find their home in Halifax had been broken into. The intruders took a laptop, iPad, nearly £1,000, and the family car, which was later found dumped in a field. The couple's 3 year old son and 6 year old daughter were at their grandparents that night. Despite not telling the children about the burglary Gavin still worries that his eldest child is feeling the knock-on effects of the traumatic experience.

Gavin says:- "My wife, who works at a bank, broke down crying and had to take the best part of a weeks' sick leave. She's too scared to sleep at night, so I try not to work during the night anymore, which has caused stress with my colleagues. We told my daughter that our car broke down, and that a tree smashed the conservatory window. But since then she always tells us to put the alarm on when we go out, which she never did before. I'm sure she knows what really happened, but so far is keeping quiet about it."

ADT and Victim Support have pledged to work together for the next three years through the 'Take No More' campaign to run free crime prevention schemes for householders, increase awareness of support services for burglary victims, and campaign to ensure that those victims get justice in court. Visit:- victimsupport.org.uk or adt.co.uk, for more information.

NORTHERN ANNOUNCES ELECTRIC TRAINS FOR NORTH WEST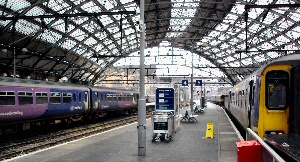 NORTHERN Rail, the UK's largest train operator confirmed it had reached an agreement with the Department for Transport (DfT) to introduce electric trains into the North West from December 2014.

The news follows hot on the heels of the Direct Award enabling Northern to continue operating services until February 2016.

The 4 carriage electric trains will operate between Liverpool and Manchester via Newton le Willows on the newly electrified route, part of the £400million North West electrification programme.

The first trains will be introduced from December 2014, with more entering service during 2015. In total the trains will deliver an extra 3,000 seats for passengers during peak times of travel.

Alex Hynes, Managing Director, Northern Rail said:- "This is fantastic news for our customers. These electric trains will bring much needed extra capacity, more reliable and sustainable journeys. More trains also bring job opportunities as we recruit more people to crew and maintain them. This is the first step to unlocking more capacity for customers across the north of England. We're committed to continuing our work with our partners to campaign for more trains, better trains and electric trains for our customers."

Rail Minister Stephen Hammond said:- "This is great news for passengers and underlines our commitment to transform rail travel in the North. These electric trains will mean cleaner, quicker and more reliable journeys for thousands more passengers between Manchester and Liverpool, driving forward the economies of these two great cities. In addition, the deal will provide extra capacity to Bolton and see a passenger train running on the Todmorden Curve for the first time in more than 40 years. I look forward to further improvements as more trains are introduced."
Over 2.8 million people to benefit from Government tax cuts
AS a result of a landmark Government policy and a key plank of the long-term economic plan, 343,000 people in the North West will have been taken out of income tax altogether from this weekend thanks to a series of increases in the tax-free personal allowance to £10,000 in 2014-15.

This means that overnight on Sunday, an extra 31,000 hard-working people from the North West will no longer pay income tax.

Over 2.8 million people in the North West; the vast majority of working people; will have benefited from the personal allowance increases over the past 4 years. For this financial year, that means an income tax reduction of £705 for the typical basic rate taxpayer. Over the lifetime of this parliament, the cumulative income tax cut by this government for the typical taxpayer will be £1,824.

Ahead of a question and answer session in the North West today with workers who will benefit, the Prime Minister said:- "A key part of this Government's long-term economic plan is to cut taxes so that people can keep more of the money they earn and feel more financially secure. From this weekend, you will not pay a single penny of income tax on everything you earn up to £10,000. Nearly every single worker across the country will get a tax cut and over 3 million will pay no income tax at all. It says to the hardworking people of this country: we are on your side; and it's one of the proudest things I have done in Government."

The Prime Minister has previously said that it is right that changes to the tax system benefit typical basic rate taxpayers the most. The new changes on Sunday, 6 April 2014, also mean that:-

► Someone working full time on the October 2014 minimum wage (£6.50/h at 35hrs a week) will pay over 50% less income tax in 2014 to 2015 than a than someone on the national minimum wage in 2010.

► Someone working for just under 30 hours a week on the October 2014 minimum wage will not pay any income tax at all.

This means that the government is supporting many of those who work flexibly and part time. The government is also helping women, who are the majority (54%) of the 3 million people who no longer have to pay income tax thanks to the increases to the personal allowance since 2010. And, as the Chancellor announced in the Budget, the personal allowance will help even more hard working families next year when it is increased again to £10,500.
NEXT OF KIN APPEAL:- "BARRIE HOGARTH"
THE Sefton Coroner's Office is now appealing for the public's help in tracing the next of kin of a Southport man who died on Monday, 31 March. Mr Hogarth was 79 years old and died in his home on Scarisbrick New Road. His death is not being treated as suspicious. Mr Hogarth's family, or anyone who knows them, are asked to call Sefton Coroner's Office on:- 0151 777 3481.