POLICE TARGET SPEEDING DRIVERS IN MONTH-LONG CAMPAIGN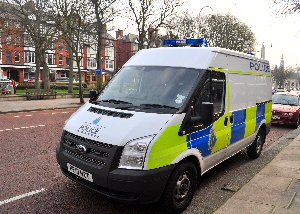 MOTORISTS who exceed the speed limits will be the target of a month long campaign by Merseyside Police over April 2014. Last year 50,428 drivers were caught speeding in Merseyside. This coincides with a rise in the number of people killed and seriously injured on the County's roads. In 2013, 550 people were seriously injured and 24 people died as a result of collisions in Merseyside. The previous year, 548 people were seriously injured and 20 were killed. Sgt Paul Mountford from the Matrix Serious and Organised Crime (MSOC) Roads Policing Department said:- "The figures speak for themselves. Speeding drivers are causing or contributing to thousands of collisions resulting in death, injury and misery to many thousands of Merseyside people. However, I believe that these statistics don't reflect the full picture. The number of drivers actually caught speeding is only a fraction of those who regularly ignore the speed limits on our roads. We are targetting these drivers this month and urging them to think outside of their box when they are driving and consider other vulnerable road users such as pedestrians and cyclists." Merseyside Police will be running a number of roads policing operations where officers will be out in force across Merseyside conducting roadside speed checks and stopping drivers who are exceeding the limit. Sgt Mountford added:- "A speed limit is not a target to aim for. It is often unsafe to drive at a speed limit for many reasons; schools, parked vehicles, pedestrians, the weather and road conditions to name a few. Our officers will show zero tolerance towards drivers who place others at risk." Drivers caught speeding are in some cases offered the option of paying a £100 fine and having 3 points added to their licence or going on a speed awareness course. Last year 20,000 drivers attended speed awareness courses to educate and reduce their re-offending. As part of the ongoing work carried out by officers to reduce speeding drivers the Force has a Community Speedwatch scheme running in several areas of Merseyside in which residents are encouraged to join officers to reduce speeds in their areas. Merseyside Police also works with local authorities and driving instructors on the pioneering 'ENGAGE' driver training scheme to better educate novice drivers about the common factors that cause crashes including speed choices. Chief Inspector John Hogan, Head of Roads Policing, added:- "We are putting a huge amount of effort in to make Merseyside a safer place for pedestrians, cyclists and motorists. Alongside enforcement we educate offenders and provide new drivers with a better understanding of the skills required to be a safe motorist. and we also invite communities to play their part through the Speedwatch initiative. However, ultimately it is down to drivers who need to take responsibility for the speed they drive and to realise the potential life changing consequences of not just breaking the limit but also not driving at a speed appropriate to the conditions."

Over 2.8 million people to benefit from Government tax cuts
AS a result of a landmark Government policy and a key plank of the long term economic plan, 343,000 people in the North West will have been taken out of income tax altogether from this weekend thanks to a series of increases in the tax free personal allowance to £10,000 in 2014 to 2015. This means that overnight on Sunday, an extra 31,000 hard working people from the North West will no longer pay income tax.

Over 2.8 million people in the North West; the vast majority of working people; will have benefited from the personal allowance increases over the past 4 years.
For this financial year, that means an income tax reduction of £705 for the typical basic rate taxpayer. Over the lifetime of this parliament, the cumulative income tax cut by this government for the typical taxpayer will be £1,824.

Ahead of a question and answer session in the North West today with workers who will benefit, the Prime Minister said:- "A key part of this Government's long term economic plan is to cut taxes so that people can keep more of the money they earn and feel more financially secure. From this weekend, you will not pay a single penny of income tax on everything you earn up to £10,000. Nearly every single worker across the country will get a tax cut and over 3 million will pay no income tax at all. It says to the hardworking people of this country: we are on your side; and it's one of the proudest things I have done in Government."

The Prime Minister has previously said that it is right that changes to the tax system benefit typical basic rate taxpayers the most. The new changes on Sunday, 6 April 2014, also mean that:-

► Someone working full time on the October 2014 minimum wage (£6.50/h at 35hrs a week) will pay over 50% less income tax in 2014 to 2015 than a than someone on the national minimum wage in 2010.

► Someone working for just under 30 hours a week on the October 2014 minimum wage will not pay any income tax at all.

This means that the government is supporting many of those who work flexibly and part time. The government is also helping women, who are the majority (54%) of the 3 million people who no longer have to pay income tax thanks to the increases to the personal allowance since 2010. And, as the Chancellor announced in the Budget, the personal allowance will help even more hard working families next year, when it will be increased again to £10,500.
Letter to the Editor:- "Best Wishes To Menay Edwards."
"ALL of us at Hatton Promotions is pleased to hear that Menay Edwards has been discharged from hospital. The Crayford cruiserweight had been at Blackpool's Victoria Hospital since Saturday night due to bleeding on the brain sustained in his English title fight with Matty Askin. Thankfully, on Wednesday morning, Menay was given a final assessment and deemed fit enough to return home. Everyone at Hatton Promotions wishes him the very best for the future." The Media Team at the Hatton Group.