Shankly Hotel for Liverpool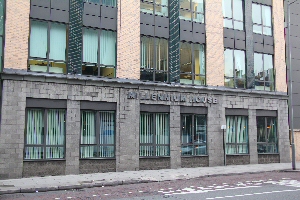 A major Council building in the heart of Liverpool City centre is set to be transformed into a Bill Shankly-themed aparthotel.

The Council's Cabinet will be asked to approve plans, on Friday 4th April, for the City Council to dispose of Millennium House to Signature Living Hotel Ltd.

It follows the completion of the City Council's acquisition this week of the Cunard building, part of a cost-saving scheme which will see the Council relocating hundreds of staff to the Grade II waterfront site and disposing of its interest in Millennium House, and the 10th floor of The Capital building on Old Hall Street.

If given the go-ahead, Signature Living Hotel Ltd (SL), will submit a planning application to convert Millennium House into a 250-capaCity Bill Shankly-themed Aparthotel.

A unique,"Bill Shankly museum', within the hotel, will feature a range of never-before-seen items, which tell the story of the revered Liverpool FC manager, and which have been held for many years by his family.

The £15 million development will also include 17,500 sq ft of upgraded office space; which will house Signature Living's head office, as well as providing space for local start-up companies, as part of a young, creative professional hub. And the City's Lifestyles Gym which operates from the building will be expanded and transformed into a flagship 21st century facility; with new, state-of-the-art equipment; and leased back by the Council, who will continue to operate it as part of the on-going leisure provision in the City.

It is estimated that the scheme will create over 60 jobs during the construction period, and a further 100 jobs once the conversion is complete and the building fully occupied.

Mayor of Liverpool, Joe Anderson, said:- "The relocation of our staff to the Cunard building will generate millions in savings and income for the City Council. But it's really important, once our staff leave Millennium House, that the long-term vibrancy of the building; and importantly, Victoria Street - is protected. I believe this project will deliver that. Liverpool's sporting heritage is celebrated throughout the world, but we do not have a major football attraction in the City centre. These proposals would change that, providing a permanent tribute to one of our most famous footballing heroes, filling a gap within our tourism market, and attracting visitors from across the globe. This really is a unique project, and something people would not be able to experience anywhere else in the world. A hotel celebrating the life, times and achievements of Bill Shankly would complement the raft of cultural attractions on the nearby William Brown Street, and further boost our tourism offer in this part of the City. The scheme would also enable us to deliver a bigger, better, Lifestyles gym, as well as delivering new office space, creating jobs and securing major investment in a key City centre building. It's a great deal for the City."

Bill Shankly's grandson, Chris Carline, who is collaborating with Signature Living on the project, said:- "I've been working on this idea for many years now, meeting different people and seeking different advice about how I could make this happen. As a huge Liverpool fan and born and bred Liverpudlian, who's travelled everywhere with the club, I've always known what a fantastic amenity this could be for the City. It is about celebrating Shankly the man, his achievements, what he stood for and the people he influenced and those who influenced him; celebrating his life in essence. We have unbelievable memorabilia that has never been seen before and family stories that will ensure a visit to the hotel gives you a never before seen or heard Shankly experience; it really will be a must see for everyone. He loved this City and would be so proud, as he was all about the people and their experience; and this is the exact ethos that Signature Living look to provide for guests."

If granted Cabinet approval, Signature Living intends to submit a planning application for the whole project in April. Construction of the aparthotel and office conversion would begin in early 2015 with the scheme due to complete by March 2016.

The gym expansion would be carried out first, and completed by summer of this year. The existing gym will continue to run while the work takes place, keeping disruption to existing gym users to a minimum.

Lawrence Kenwright, Director at Signature Living Hotel Ltd, said:- "Whatever one's football allegiance, Bill Shankly remains a legend of the sport. He brought the glory days back to Liverpool FC, and we intend to do the same at this landmark City centre building. We will transform it into an iconic hotel and museum in his name. We will also use part of the building to support local start-ups and new university graduates, with what will be a creative hub for tomorrow's entrepreneurs. If approved, these plans will provide a huge boost to Liverpool's regeneration and will be yet another good news story for the City."

Living wage blackspots emerge in North West
IN areas of the North West, 4 out of 10 jobs pay less than the living wage, the TUC reveals, to coincide with the 15th anniversary of the introduction of the minimum wage and the second week of the TUC's Fair Pay Fortnight which runs until Sunday, 6 April 2014.

TUC analysis of official figures from the House of Commons Library shows that nationally on average 1 in 5 jobs pays under the living wage; currently set at £8.80 in London and £7.65 across the rest of the UK; but in some parliamentary constituencies nearly half of the people working there earn less than this with up to 40% of workers in North West constituencies being paid less than this. On average, 21% of North West workers are paid below the living wage.

Across the UK, around 5 million people get paid less than the living wage. Whilst Kingswood near Bristol tops the list of living wage black spots with 48% of people working there earning less than £7.65 an hour, Sefton Central ranks 4th in the top ten (40.4%), with Blackpool South in 7th (39.3%) and West Lancashire in 8th (38.2%).

For some women in the North West, the picture painted by the figures is even bleaker. Heywood and Middleton ranks 3rd in the top 10 national blackspots for women, with nearly half of all women being paid less than the living wage (49.7%). The constituencies of Hazel Grove (44.9%), West Lancashire (44.9%) and Knowsley (43.4%) fare little better.

The North West is not all doom and gloom according to the figures though, with brightspots in the region including Blackley and Broughton were only 1 in 10 are paid below the living wage (9.8%) and in Salford and Eccles were just over 1 in 10 are paid the living wage (12.9%). It's similar for women, with Salford and Eccles coming out on top in the North West of women's living wage brightspots with 15.9% of all women being paid more than £7.65 an hour. The North West TUC say this shows the benefit of proactive policies of local authorities in tackling low pay amongst workers, following the work in Salford and other Manchester authorities to implement and work towards a living wage.

North West TUC Regional Secretary Lynn Collins said:- "The figures are a cause for concern, particularly those blackspots that have emerged throughout the region. Extending the living wage is a vital way of tackling the growing problem of in-work poverty across Britain and we believe more can be done to move people out of what are essentially poverty wages. That is why this Friday (4 April) we will be bringing together MP's, Trade Unions and Local Authorities in a summit on the Living Wage."

TUC research late last year showed that there were 571,000 workers across the North West paid below the living wage, who if they were uplifted to the £7.65 threshold would provide a financial boost to the public purse of £347million through a combination of increased tax revenues and lower benefit payments. This, coupled with the improvement in living standards for workers and their families, is more than enough reason for the NWTUC to call for employers in both the public and private sector to do more to pay staff the living wage.

Lynn Collins said:- "Working families are experiencing the biggest pressure on their living standards since Victorian times. The squeeze on pay is hurting individuals and hurting families. It's also having a damaging impact on our economy. There's been a rise in the number of employers paying the living wage and unions are playing their part in encouraging more employers to sign up and pay it – but government must show equal initiative. We need to see a far greater commitment to pay the living wage from government and employers, and modern wages Councils which could set higher minimum rates in industries where employers can afford to pay their staff more. What we've seen take place in areas like Salford, Preston and Wirral with the local authority playing a leading role in paying the living wage and encouraging local businesses to do the same shows that we can all work together to do this. During Fair Pay Fortnight we're asking workers to back our call to MPs to get all political parties to put decent pay at the top of their agendas in the run up to the election."

Those wanting to support the call for Fair Pay can sign the petition here.
Page to Stage Extends Its Deadline...
BY popular request, Page to Stage has extended its script submission window by 14 days. Final deadline is now midnight on 14 April 2014. "There are 2 reasons for this... Page to Stage has a lot of correspondence from writers about late submissions because of the narrow submission window. In fairness to those writers who may have struggled to complete a script in the 6 weeks since the announcement, the deadline has been extended. The neighbouring 24:7 festival has only just released details of its ten successful scripts. "We felt that we should enable those who didn't make it through the 24:7,. So we've moved the date for them, to give them time to submit." John Mc. Explained. Page to Stage is a new writing festival that will take place between 13 and 28 September 2014 in venues around Liverpool City Centre. As well as the 10 successful 1-act-plays, there will be specially commissioned full length plays, workshops, special events and awards. Details about submissions can be found online.