New venue for Parkinson's course proves a success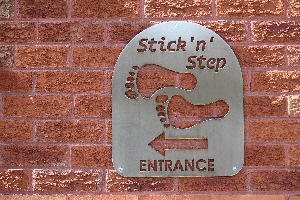 WALLASEY based charity, Stick'n' Step, has recently relocated its service for people with Parkinson's from its centre on Croxteth Avenue to the Belvidere Centre on Belvidere Road. The community partnership with the Belvidere Centre enables Stick'n' Step to offer its services to more people and during the daytime.

This news comes as the charity also celebrates personal success stories for those who have been attending since the course launched last year. Commented Manojit, a participant of the course:- "I have been attending conductive therapy at Stick'n' Step for a while now. The treatment I have received by Sam has been excellent and my condition has greatly improved, due to her attention to details and knowledge. Not only is she an excellent therapist but she is also a good teacher, who has a comprehensive knowledge of Parkinson's disease. Sam and all of the staff at the centre have been so very kind and helpful throughout. My wife has noticed a significant improvement in my condition and speech since I started. I am now determined to make a full recovery from this extremely disabling condition."

The charity typically provides conductive education to aid the development of children with cerebral palsy. However last year it launched this new initiative, which aims to transfer its specialist expertise to be utilised specifically for those with Parkinson's. Conductive education centres elsewhere in the UK have already run similar courses and have proven that it not only works, but is a really successful aid in teaching new ways of coping with the disease. Techniques such as improving fine motor skills (i.e. clasping a drinks cup), muscle control and speech development are all addressed by conductive education.

Commented Sam Tebb, Parkinson's conductor:- "Launching the course for those with Parkinson's was a huge step for us, but something that made complete sense. The symptoms of Parkinson's are very similar to cerebral palsy and so expanding the reach of those who benefit from our service was a natural progression for us. I am really enjoying the different challenges faced by working with adults and so far the group are responding well to the coping techniques they have learnt."

There are still opportunities available to join this group, which is a friendly and welcoming community of people in similar situations. Stick'n' Step is a not-for-profit charity that provides a quality support service for its local community. Members of the community are urged to share the news of this service with any friends or family that they feel may be interested.

For more information about the Parkinson's service, contact Stick'n' Step on:- 0151 638 0888 or visit the Centre a:- 3 Croxteth Avenue, Wallasey, Wirral CH44 5UL, for an informal chat.

Cancer patients'forced out of work'
CANCER PATIENTS are being forced into unemployment due to the after-effects of surgery and higher levels of depression. Research into head and neck cancer patients discovered the rate of those employed fell by more than 40% 5 years after diagnosis, where only one in three managed to secure work. They also reported unemployed cancer survivors had lower social well-being and higher depression scores.

For those cancer sufferers out of work prior to diagnosis, their reasons for not returning to work also included the knock-on effect of surgery as well as dangerous levels of alcohol consumption.

Figures from Cancer Research UK reveal more than 331,000 people were diagnosed with cancer in 2011; around 910 every day. According to mouth cancer campaigners, the problems are exacerbated for mouth cancer patients.

Previous research identified mouth cancer survivors face a diminished quality of life. Survivors reported poor oral function, resulting in persistent eating problems and long term depression. 51.6% of respondents reported problems with eating, while on average 25% of survivors who lived for 5 or more years still experienced speech problems.

It was a similar story when it came to a patient's physical and mental health, with 36.7% and 39.3% respectively recording low functionality after the 5 year analysis.

According to Chief Executive of the British Dental Health Foundation, Dr Nigel Carter OBE, the study highlights the problems mouth cancer sufferers face on a daily basis. "The results of the study show the scale of the problems cancer patients have to live with. For mouth cancer patients, the corrective surgery required to remove cancerous cells often leaves physical and emotional scars that can take years to heal. While all cancer patients require a great deal of care, those recovering from mouth cancer clearly suffer from the after-effects of surgery, both physically and mentally. It can take a prolonged period of time to eat solid foods, learn to speak again, swallow without feeling discomfort and even breathe properly. In some cases, mouth cancer patients will experience these for the rest of their lives. That is why early detection of this disease is so important. Most people with mouth cancer present late as Stage 4; the most advanced stage where time is of the essence in potentially saving a life and reducing the need for invasive surgery. Warning signs for the disease include ulcers that do not heal within 3 weeks, red and white patches in the mouth and unusual lumps or swellings. If you spot any of these, or are unsure if it's something normal or otherwise, our advice is crystal clear; if in doubt, get checked out."

The research identified 55 head and neck cancer patients under the age of 60 who had survived more than 2 years. Each patient completed a survey including subscales from the Functional Assessment of Cancer Therapy (FACT) instrument, the Miller Behavioural Style Scale, the General Perceived Self-Efficacy Scale, the Patient Health Questionnaire-9 (PHQ-9) and the Hornheider Fragebogen-short version measuring need for psychological interventions.