MURDER AT ST GEORGES HALL - A DICKENSIAN SPECIAL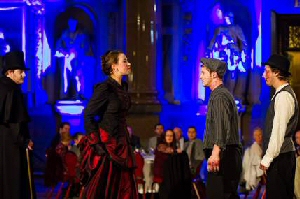 ON Saturday, 14 June 2014, Lovehistory Ltd. will be returning to Liverpool's grandioso St George's Hall for another massive Murder Mystery Dinner Event which will attract over 400 people. Murder at Georges Hall; A Dickensian Special is the latest in their series of hit interactive theatrical experiences set in the great hall, a building loved by Dickens himself and hosted by the writer himself.

Spectators to this prestigious event will be wined and dined while a Dickensian world is brought to life by a group of talented professional actors, who will bring to life many of the infamous characters who have furnished the novels of the great writer himself. These famous faces are sure to delight and entertain, to entice and fascinate, but audiences need to have their wits about them, as one of them, has something sinister in mind.... murder most foul!

But who is guilty of the heinous crime? Has Miss Havisham been driven to kill or has old Ebenezer himself returned for mischief? Does Nancy seek to get revenge on the wicked Bill Sykes or does the ever so humble Oliver finally get some more? Don't be fooled by innocent facades, one of them has murder in mind and it's down to the audience to catch the culprit.

The great Dickens himself will require help in solving this baffling case and will call upon the deductive skills of those in attendance to bring the killer to justice. But, can the culprit pull the wool over their creator's eyes or will Dickens and the audience see straight through the plot of this dastardly killer?

A Dickensian Special is the latest of LoveHistory's critically acclaimed theatrical experiences and follows the success of two sell-out 'Murder at St Georges Hall' events in 2013 and 2014. LoveHistory have quickly gained a reputation as creators of ambitious bespoke events and Murder Mystery evenings, and with 400 seats per event, these are possibly the biggest events of their kind in the UK.

Guests can enjoy the finery, the food and drink and decadent surroundings of this latest offering, while professional actors, all representing the colourful and eccentric characters from the novels of Charles Dickens, will be leave spectators on the edge of your seat in a truly splendid "whodunit" dining experience.

For further information please visit:- lovehistory.co.uk and a full sample menu is available online at:- ticketquarter.co.uk.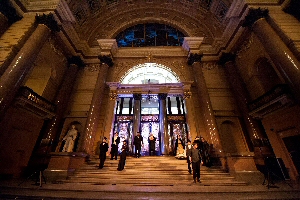 LISTING DETAILS:-
Murder at St Georges Hall - A Dickensian Special
Saturday, 14 June 2014
Doors:- 6.45pm (North Entrance)
Start:- 7.30pm
Tickets:- £49.50 (incl. booking fee)

Ticket price include a glass of fizz, a 3 course meal and coffee.

Purchase in person at TicketQuarter, Queens Square, Liverpool, online or via calling:- 0844 800 0410.

Group Bookings:- 1 in 10 goes FREE (book 9 tickets, get the 10th FREE).

For group bookings please call:- 0844 561 7672 or send an email.
Bargain compost bins on offer
COMPOST bins are being offered in Liverpool, at a bargain rate to help boost the City's recycling and home composting rates. The bins will be available for collection from the Fern Grove Community Garden, Liverpool 8 on Sunday, 6 April 2014, from 11am to 12.30pm. They are being sold at the subsidised rate of £5 (waged) or £2 (unwaged). On 3 previous occasions the bins have been on offer they have sold out. They can be reserved in advance e by emailing:- Laura Collins or James Roberts. Local Councillor Laura Robertson-Collins said:- "Currently 28% of waste in Merseyside is food waste; and much of this is home compostable. Home composters can be used to turn both certain food waste such as vegetable peelings, or used teabags, and garden waste into compost to grow vegetables, fruit or flowers. The compost bins are great value and have proved very popular when they have been on offer before. And this event also provides an opportunity see a newly created community garden which has been created out of a disused patch of land and is now used to grow food locally."
Letter to the Editor:- "Change to Sefton Borough Council Planning Protocols."
"THE Proposed changes to Sefton Borough Council's Planning committee protocols went through unopposed at Wednesday night's planning meeting. Key issues included Mandatory training for committee members and the necessity for attendance on the visiting panel for members wishing to sit at planning committee hearings. There was some discussion about reducing the time allotted to applicants and objectors to 3 minutes an example was offered from BBC's Planners Programme were this practice was observed, however it was agreed that it should remain at the current 5 minutes for both sides to air their concerns. It was agreed that Ward Councillors would no longer be able to speak at hearings without first informing the committee of their wish to do so by noon of the previous day. The committee was a little vague about how explicit Ward Councillors would have to be about the topics they wished to cover. A suggestion made by Councillor Blackburn (Lib Dem) was that they merely indicate whether they would be speaking in favour or against the application. It was unclear as to whether this suggestion had been adopted, however it is a significant point as if it were to be, it would be sufficient for the Ward Councillor to make that declaration on the night and would avoid the need for lodging a wish to speak the day before. It was decided that the circulation of materials and or photographs would be prohibited, on the grounds that officers may not be able to assess what weight should be given to such evidence, it was proposed that this type of information could be communicated to interested parties in advance, but failed to set out a procedure for doing so. At least one Councillor said that they find information circulated in this manner distracting, however it should be said visual aids are a feature of Planning hearings and will no doubt continue to be so, but once again no detail as to a new procedure and on what grounds material of this sort would be accepted or rejected was forthcoming. Having gone to strenuous efforts to ensure that committee hearings are fair to both sides, a notion that no one can fail to applaud, there was a very noticeable absence of procedural protocols surrounding the practice of pre application submissions and hearings before the Planning Committee. Something that is increasingly becoming a feature of larger planning applications. This is a practice were developers are able to make their pitch to the full Planning Committee before their application is lodged with the Local Planning Authority (LPA). Currently these events take place behind closed doors. It only seems fair that if a Developer wants to take advantage of a pre-application hearing, that this is done in public, that objectors have an equal right of reply, and that material to be put before the pre-application hearing is made publicly available to objectors. As there is an increasing emphasis within the planning system for "Front Loading" that is to say trying to test the application and resolve issues with LPA's prior to submitting planning applications, a shift away from the open forum that is the Planning Committee hearing, it is important that objectors' rights are safeguarded, and full transparency is maintained. These matters will need to come before Sefton's Cabinet and a meeting of the full Council in order to be ratified." Derek Baxter, FREAGOFF, On Behalf of M.Bennett.

Local Shops and Pubs could get a third extra off there Tax Bill
OVER 6,000 businesses in the Merseyside region are set to benefit from the biggest package of business rate support in over 20 years to help high streets, which goes live today as part of the Government's long term economic plan, Communities Secretary Eric Pickles announced. Many businesses already get 100% discount as a result of Government policy. The tax changes that come into effect at the start of the new tax year mean nearly 300,000 eligible small shops in England will benefit further. In some case this could give a typical small shop, pub or restaurant with a rateable value of £10,000 savings of 30% extra or more when compared to last year's business rate bill. In addition to the new business rate discounts, specially targeted to support small shops, all businesses can now choose to spread their bill payments over 12 monthly instalments rather than 10 after rules were changed to give businesses greater control over their cash flow. Mr Pickles said that thes new measures would make a huge difference for struggling small shop owners and help businesses and high streets across the country build a stronger economy. Estimates published for the first time reveal where the premises eligible for the new £1,000 retail discount are located. In Merseyside they show an estimated 2,300 in Liverpool, 1,540 in Sefton, 1,320 in Wirral, 580 in St. Helens and 500 in Knowsley. A total of 6,240 businesses are now set to benefit in these areas, as well as shops and pubs in small rural and suburban communities.

Eric Pickles, Secretary of State for Communities and Local Government, said:- "A key part of the Government's long-term economic plan is to back business with lower taxes. Small shops are the lifeblood of local economies, and today's changes will mean a massive boost to our town centres; helping to create more jobs and securing a better future for our children. A whole string of changes to business rates kick in today bringing new support to local shops, pubs and firms. In some cases shopkeepers could see their bills cut by a third extra or even more, which is worth thousands of pounds in tax breaks. Together with our sensible changes to planning rules and action to tackle unfair parking practices, we are helping local communities secure the future of their high streets."

Phil McCabe, Development Manager, Merseyside, West Cheshire and Wigan Federation of Small Businesses, says:- "Business rates are one of the biggest costs small businesses face so these measures, which amount to £1bn in support for struggling retailers and other firms, are a welcome step in the right direction. It is important that local councils work closely with their small business communities to ensure they benefit fully from the changes."

Lesley Martin-Wright, Chief Executive of Knowsley Chamber says:- "The £1bn package of business rate support measure is hugely welcome news for Knowsley, and Liverpool City Region as a whole. The package will no doubt provide the support the retail sector desperately needs if we are to rejuvenate our high streets and provide a helping hand for small businesses. Whilst any government support is to be encouraged, it's particularly exciting to see practical measures being put in place that will significantly improve the financial situations of the small shops, pubs, cafés and family businesses that play an integral part in keeping our communities alive. To sum up, this package of support, including the business rates cap, the extension of the small business rate relief and the new reoccupation discount will help hundreds of Knowsley businesses."

The full list of business rate support measures, unveiled by the Chancellor in the Autumn Statement, that take effect on 1 April 2014 are:-
► A new reoccupation discount of 50% for 18 months for new occupants of retail premises that have previously been empty for a year or more.
► Allowing businesses to pay their bills over 12 months (rather than 10), which will help every firm with their cash flow
► A 2% cap on business rate inflation increase.

► The new £1,000 business rates discount for local shops, cafes, restaurants and pubs (up to a Rateable Value of £50,000) estimated as more than £272 million of tax relief this year
► The doubling of the extension of the small business rate relief until 31 March 2015, which will mean 360,000 business properties pay no bill at all.

Helen Dickinson, Director General of the British Retail Consortium, which represented 80% of the retail sector, from small to large retailers, said:- "The BRC welcomes the package of measures announced in the Chancellor's Autumn Statement which are due to be implemented today. The Government has recognised that the high street has been under enormous pressure in recent years, with more than one in ten shops across the country currently standing empty. The measures employed today will help boost confidence in the sector, support retailers to keep prices low and safeguard 7500 retail jobs in the coming year, as well as support local communities by keeping more shops open."

Michael Weedon, Deputy CEO of the British Independent Retail Association, said:- "The high street has been crying out for help on business rates for years and it was good to see the Chancellor fully recognise the need for action in extending rate relief and creating the £1,000 discount for small shops and leisure outlets at the same time as he recognised the need for far-reaching reform of this tax."

The new reform on business rates payment options means a business with a rateable value of £20,000, making payments over 12 months instead of 10, would have lower monthly payments by over £160. In addition, a new Employment Allowance takes effect which will mean 450,000 small businesses no longer have to pay employers national insurance contributions. Pubs are also benefiting from the further cuts in beer duty announced in the Budget. Councils, businesses and citizens can use these measures to shape the future of their local high street so it remains a vibrant, viable part of the community where people live, shop, use services, and spend their leisure time. The Government has also introduced sensible changes to planning rules to get empty and redundant buildings back into productive use, and brought forward proposals to scrap unfair parking enforcement practices. All these steps demonstrate the Government's commitment to supporting businesses and helping communities to adapt their high streets so they can thrive in an online shopping age.
MERSEYSIDE POLICE 40TH BIRTHDAY
MERSEYSIDE Police are to celebrate its 40th birthday this year and they will be holding numerous events across the County to mark the occasion.

Merseyside Police was formed on 1 April 1974, following the introduction of the borough of Merseyside, which brought together parts of Cheshire and Lancashire Constabulary with Liverpool City and Bootle County Police Forces.

The force is celebrating the milestone in a number of ways, including an open day for the public to be held on Saturday, 28 June 2014, at the Museum of Liverpool, Pier Head to celebrate and showcase the work of Merseyside Police. This event will have displays by the force's Dog and Mounted Unit, Police vehicles from past and present, a Crime Scene Investigator workshop and a look at how the uniform has changed.

Chief Constable Jon Murphy, said:- "A lot has changed in 40 years of policing, not just in Merseyside, but across the country in regards to technology, culture and social attitudes. Although the environment for Policing has changed, I continue to expect the very best from my officers in providing the most effective service to the public. I would invite everyone to join in with the events being held across the county this area, as it gives the public the chance to speak with officers and learn about the force's history.During this time of financial and structural change to the Police service, we remain absolutely committed to providing the very best service to the people of Merseyside."

Events being held to mark the special birthday:-

► An open day for the public will be held on Saturday, 28 June at the Museum of Liverpool, Pier Head to celebrate and showcase the work of Merseyside Police.

► An arts competition involving Primary Schools across Merseyside to design a plaque for the Police Headquarters. The theme is about how the police keep people safe.

► Schools Officers will be working with Secondary Schools charting the issues affecting Policing over the last 40 years and the challenges for the future.

► There are numerous local community events with Neighbourhood Policing Teams such as youth activities, sporting events and tea dances.
What are your views on this announcement? Email our newsroom today with your feelings and thoughts.