'Call my bluff' makes big bucks for North West Cancer Research
THE longest-established cancer research fundraising committee in Southport continued to raise much needed funds for cancer research in the North West with a hugely successful 'Cheese and Wine, Call my Bluff' event at The Hillside Golf Club.

The Southport Committee of North West Cancer Research, incorporating Clatterbridge Cancer Research, raised an outstanding £1,461 at a well attended event on the 14 March 2014. The lively evening event saw eleven teams of ten contestants having to guess which of a panel of 3 judges were bluffing when describing a selection of fine wines. Contestants paid £20 to take part in the event.

A raffle, which was also held during the evening, raised £620. It will be match-funded by the Liverpool branch of Barclaycard, which has supported the charity for the last 2 years, making the total figure raised by the event more than £2,000.

Olive Cutts, Chair of the NWCR Southport Committee, said:- "The event was a huge success and I am extremely grateful for the kind generosity and support we continue to receive at out fundraising events throughout the year. I have been a part of the Southport Committee for 24 years, we are extremely proud of what we've achieved and we are always planning the next thing to raise money."

Olive joined NWCR's Southport fundraising committee after one of her sons was diagnosed with Retinoblastoma, which involved complex eye surgery. The doctor who performed the successful surgery on her son had received his first research bursary from NWCR, allowing crucial research and development in to the rare cancer.

North West Cancer Research, incorporating Clatterbridge Cancer Research, is the leading regional charity that raises money to achieve a better understanding of cancer, and directly benefits people living in the North West. NWCR recently joined forces with the University of Liverpool and moved its headquarters to the iconic former Roy Castle Centre in Liverpool City Centre.

A long established charity, NWCR prides itself on only backing the very highest standard of research, ensuring the best value for all donations.
The charity's last round of research grants totalled almost £1 million. NWCR also operates research institutes at Lancaster University and the University of Bangor.

Lord Mayor of Liverpool presents awards to pupils and staff at St Christopher's Catholic Primary school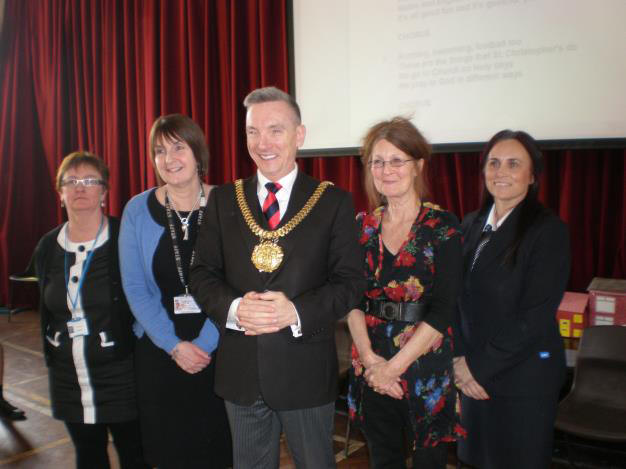 THE Lord Mayor of Liverpool, Councillor Gary Millar attended St Christopher's Catholic Primary school in Speke to present awards to a group of pupils and staff on Friday, 28 March 2014. The group have been working on a specialist programme known as P4L (Partnership for Literacy), to introduce new specialist materials developed to raise literacy levels.
Staff have been trained in the use of these materials by Trish Jones a specialist teacher from Dyslexia Action's Liverpool centre, with funding provided by KPMG as part of their Action for Literacy campaign.

The induction process has been very successful and is designed to continue now that staff are trained, so that they can support other children in the school. "The staff and children have both been totally committed to the project and have made the whole experience enjoyable and worthwhile. It has been a pleasure to work here. We are extremely grateful to KPMG for their generous support for this project and their commitment to improving literacy standards. We are delighted to be able to work alongside schools in this way." said Trish.

Dyslexia Action is a national charity which operates locally, across over 100 locations in Great Britain. Dyslexia Action's vision is a world where those with dyslexia and other specific learning difficulties can reach their full potential. The Dyslexia Action centre in Liverpool provides tuition and support for a wide range of difficulties. Assessments are available with follow up consultation and free advice. Surgeries are bookable by appointment, for further information please telephone:- 0151 228 8056 or email.

Dyslexia Action is the working name for Dyslexia Institute Limited, a charity registered in England and Wales (No. 268502) and Scotland (No. SC039177) and registered in England as a company (No. 01179975).