2ND PHOENIX LEADERSHIP PROGRAMME
MERSEYSIDE Police has launched its 2nd Phoenix Leadership Programme targeting recruitment of under represented groups to Merseyside Police. The programme is a positive action initiative aimed at increasing recruitment of under represented groups to the organisation as special constables, PCSOs and regular Police Officers. The programme aims to encourage women, ethnic minorities, gay, lesbian, bisexual and transgender people and people with a disability to apply to join the Force. The 1st course was held in October last year and four of the participants have already been successful in joining the organisation, including our first Polish PCSO and our 1st female Muslim special constable. The remainder are being mentored through the application process. The course consists of a 1 week programme, which will cover presentation and leadership skills, team building and resolving conflict. This will then be followed by 3 1 day workshops over the following 12 months, which will help to embed the skills which have been learnt and track the participants. The programme also includes a work experience module with the Force so that students can gain a true insight into the realities of life as an officer. Mentoring support will also be offered to the students to support them in the recruitment processes.

The 2nd course will take place from 30 June 2014 to 4 July 2014 at Mather Avenue Training Academy.

Applications can be obtained by contacting Detective Inspector Irene Afful at the below address:-

Detective Inspector Irene Afful MSc.
Phoenix Leadership Programme Manager
Community Engagement Unit
Police Headquarters
Liverpool
Merseyside
L69 1JD

Tel:- 0151 777 8970
Mob:- 07894 836 987
Email:- irene.e.afful@merseyside.pnn.police.uk

The programme is supported by the Chief Constable and Merseyside Police and Crime Commissioner. Chief Constable Jon Murphy said that:- "Merseyside Police are committed to providing Excellent Policing for the Communities of Merseyside. Our people are our greatest asset and I am dedicated to ensuring we properly represent our diverse communities. Increased understanding leads to increased confidence and trust, all of which we highly value as an organisation. I personally endorse the Phoenix Leadership Programme as part of our continuing commitment to fight crime and protect our communities."

Chief Superintendent Rowley Moore, added:- "'Policing by consent' is the cornerstone of British law enforcement requiring adaptability and genuine community engagement. It is essential we properly reflect the diversity of the communities we police and the Phoenix Leadership Programme provides the opportunity for individuals who are currently underrepresented to become Merseyside Police Officers."

Detective Inspector Afful, also commented that:- "This is a fantastic opportunity for young people across Merseyside. This course will not only increase their confidence and improve their skills, but also enable the participants to become effective leaders in their communities in the role of constable, special constable or PCSO. It has long been a passion of mine to increase the diversity of Merseyside Police so that it reflects the community it serves at every level and in specialist departments. This is a step towards achieving that goal. It is an honour to be leading on this project on behalf of the organisation and the staff support networks."

Merseyside Police and Crime Commissioner Jane Kennedy remarked:- "Merseyside Police wants to build positive links with all groups in the region and this course will enable the participants to become leaders in their communities, helping make them safer and crime free. It is really encouraging to see the positive impact the 1st Phoenix Leadership programme has already had on increasing diversity in the Force. The public want to see a Police service which is truly representative of all the communities it serves. It increases trust, confidence and understanding, all of which are vital if we are to continue to cut crime and improve community safety. Here on Merseyside we are taking proactive steps to ensure this is the case. I welcome this renewed commitment to securing a long term balance in the Force. I would urge any young people who are interested in helping serve their communities and the wider public to consider applying for the programme."
SWIMMING CLUB TREASURER SENTENCED TO 3 YEARS FOR FRAUD
A swimming club treasurer has been jailed for 3 years after stealing thousands of pounds from its funds. John Crawford left Bootle swimming club in severe financial difficulty after abusing his position of trust over a period of 3 years.
The 59 year old who is formerly from Maghull, but currently lives in Wavertree, was acting as treasurer for the 135 year old club, for 6 years, and once established in the role, started to move cash from its various accounts into one used for paying invoices.
It was found out by Merseyside Police that instead of paying the invoices, he wrote out cheques to himself or his off licence businesses.
Crawford also forged a mandate for £15,000 and persuaded swimming club committee members to sign cheques which they thought were for club expenses, but were in fact pocketed by Crawford himself.
Another tactic according to Merseyside Police was that the former bank manager used was internet banking to transfer large sums from the club to his own accounts, and the creation of bogus monthly and annual reports purporting to show the club in good financial health to cover his tracks. In total, Crawford's fraudulent transactions amounted to £430,000 (the total beneift figure presented to the court), however due to many of his cheques bouncing and some of his transactions failing to go through, the club suffered actual cash losses of £57,000.
Merseyside Police Detectives, from Sefton CID, who investigated the theft and fraud offences even found evidence that Crawford raided the petty cash collection and asked for money from swimming club members to hold events and buy merchandise which never materialised.
In his role of treasurer Crawford also failed to pay the club's pool hire bill, which put the club at risk of legal action. Committee members remained oblivious as only Crawford received those legal letters and he failed to pass them on. Investigators found he tried to pay off the debt by acquiring a £16,000 loan in his wife's name; another criminal offence.
Liverpool Crown Court heard that the club still owes a debt of £14,000 which may take it 8 or 9 years to pay off.
Crawford's frauds were uncovered when Police were called to a domestic incident, at his home, for which he later received a suspended prison sentence.
Detectives found a letter written by Crawford which alluded to him having stolen money from the swimming club. The discovery of the letter then sparked the Police's fraud enquiry.

Detective Inspector David Keegan, who led the Sefton CID investigation, said:- "John Crawford has completely broken the trust of all the members of this swimming club. In breaching his position of trust he has systematically and callously stolen the entire worth of the club and left it in financial crisis and near to collapse. He used his knowledge of the banking world to his own advantage and out of pure greed he manipulated innocent people who were running a community facility into thinking he was acting in the best interests of the club when in fact the opposite was true. I hope today's sentencing shows John Crawford to be the criminal that he is and sends out a clear message to other people who try to steal money in this way that Merseyside Police will investigate you and will put you before the courts where you face a very real prospect of jail."

As well as a 3 year prison sentence, Crawford was also ordered to pay the swimming club £26,000 in compensation.
The figure is based on the equity released from his share of the sale of his house.

Healing power of shared reading put to the test at Broadgreen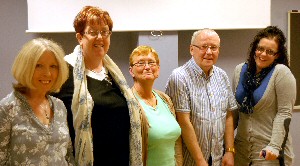 THE power of reading great literature to relieve chronic pain is being put to the test in a pilot study at Broadgreen Hospital. Initial results from a research project conducted in partnership with The Centre for Research Into Reading, Information and Linguistic Systems at The University of Liverpool are already showing a positive link between attending the weekly shared reading group and the alleviation of chronic pain in patients. As a result, the Royal Liverpool and Broadgreen University Hospitals NHS Trust has commissioned The Reader Organisation; a charitable social enterprise dedicated to changing lives through literature; to run the weekly shared reading sessions for the next 3 years, with further research planned.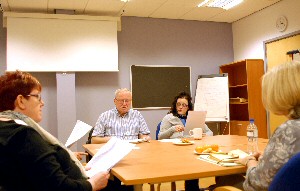 Dr Andrew Jones, consultant in anaesthesia and pain medicine at Broadgreen, said the signs are good. "Early indications are showing that the reading group is making a difference to people in our hospital. But there is something intangible, a deeper impact beyond that, which we can't measure using existing qualitative research methods. People with chronic pain have three times the average risk of developing psychiatric symptoms such as mood or anxiety disorders, and depressed patients have three times the average risk of developing chronic pain. While there is already evidence of the mental health benefits of shared reading, little is known about the benefits for physical health, but the link between chronic pain and psychiatric symptoms indicate it could help." The success of the project means it could be expanded into dialysis wards and other areas of physical health at Broadgreen and the Royal. In the group, stories and poems are read aloud by a trained facilitator, who pauses regularly for the group to share their personal responses. Group members participate as much or as little as they like, taking a turn to read aloud and contributing to the discussions, or just taking the time to relax and listen. The group are currently reading 'The Pearl' by John Steinbeck, led by Kate McDonnell from The Reader Organisation. Kate said:- "Everyone in the group has a different pain story to tell, but in the session the focus is on the book or story we share together and on the wider lives and experience of the people who come rather than just the pain. Group members say that the sessions give them something new and interesting to talk about to people who know them; a different conversational currency; that they're able to forget their pain while we're reading and that it gives them a weekly lift." Helen Cook, 35, from Tuebrook has a tumour in her pelvic bone and has pain in her pelvis, legs and back. Diagnosed two years ago, Helen had to give up her job as a supply teacher in Widnes. She said:- "You can feel isolated with your condition so it's nice to be with people who are in pain but don't talk about it. If we didn't have the reading and just met and talked, it could become very negative; we could all bring each other down. But the reading provides an escape. It gives your brain a break. I was feeling down and in pain, but when I went home none of it was quite so bad." Retired civil servant Alexander Parry, 72, of Bowring Park has had pain in his feet and hands for 24 years. It forced him to take early retirement and often prevents him from sleeping.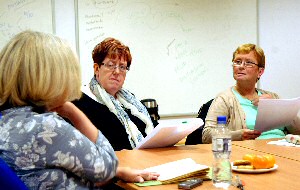 Alexander Parry said:- "One of the problems of having chronic pain is you tend to get depressed, when you're up all night and can't sleep. Coming to the reading group is like therapy. When I go home from here I have a spring in my step. I feel much better mentally." Pauline Jones, 58, from Everton has cerebral palsy and suffers from severe back pain. Dr Jones recommended she go to the group and she hasn't looked back. A former employee of Royal Sun Alliance, she said:- "I enjoy coming here; it keeps us occupied. We've all come here with terrible pain because you know it's taking the pain away." Sally Woodall, 57, from Woolton had a stroke on the bus to work in 2008. Since then, she has had two mini strokes. She now has neuralgia in her back and is no longer able to drive or work full time. Sally, who works weekends as a nurse at the Royal in the out of hours service, said:- "When I first came I was in a right state. Within 6 to 8 months I was back in work again. The reading group certainly played a part in my recovery. This group and the research and what Dr Jones is doing got me back into work."
New nature trail offers much more to explore at RSPB Burton Mere Wetlands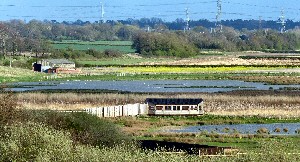 VISITORS can soon discover even more of nature's home thanks to the opening of a new trail at RSPB Burton Mere Wetlands. The Reed and Fen trail will enable visitors to uncover a new area of the popular nature reserve at the South Western corner of the Wirral peninsula. Extending further around the wetland, the new trail runs across wildlife-friendly farmland and links to an older part of the reserve, known to locals as Inner Marsh Farm. The trail is the latest addition to the reserve, which also boasts the picturesque Burton Mere trail with its mature willows, alders and water lilies, plus the beginning of the Reed and Fen trail leading to the Marsh Covert hide. Dan Trotman, Visitor Development Officer at RSPB Dee Estuary reserves, said:- "The opening of the Reed and Fen trail is like 'Chapter 2' for Burton Mere Wetlands. The trails we've had open since 2011 are fantastically varied and full of life, but this new path opens up so much more space for visitors to really get a feeling of exploring the wild. With Inner Marsh Farm being a separate part of the reserve until now, many of our visitors have not yet had chance to enjoy the rich crop fields we plant for wildlife to thrive, or the winding avenue of willows down to the Inner Marsh Farm hide, overlooking the shallow pools and wetland that the RSPB created here more than 25 years ago. The lower part of the Farm and Willow trail is probably where visitors have the best chance of seeing a water vole on the reserve, whilst striking orchids and dancing dragonflies will decorate the new stretch of the Reed and Fen trail in the summer. The extended trails allow a walk of nearly 5 kilometers on the reserve, all the while immersed in tranquility and surrounded by a variety of wildlife. It's a fantastic place for all ages to come and explore." The Reed and Fen trail will be open from:- 9.30am, on Good Friday, 18 April 2014. For more information on the reserve and its activities, please call the reserve on:- 0151 353 8478 or check out the website.