KIRKBY COLLABORATIVE OF SCHOOLS WINS PRESTIGIOUS COMMUNICATION AWARD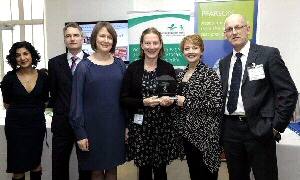 THE Kirkby Collaborative of Schools and 5 Boroughs Partnership NHS Foundation Trust are celebrating after winning the Commissioning Award at the 2013/2014 Shine a Light Awards. The team were rewarded for their innovative work supporting schools to improve the language and communication skills of children aged 4 to 7 years old.

The Awards, held in London on Thursday, 3 April 2014, and hosted by Broadcaster and Health Campaigner, Anne Diamond, are run by Pearson Assessment in partnership with The Communication Trust to honour individuals, teams, campaigns, communication friendly settings and communities that have excelled in their support of children and young people's communication.

The Kirkby Collaborative of Schools and 5 Boroughs Partnership NHS Foundation Trust were joint winners of the Commissioning Award for their involvement in the A Chance to Talk (ACTT) project alongside the Reading Borough Council Children's Commissioning Team.

A Chance To Talk is a whole-school commissioning model for supporting speech and language development that ensures language rich school environments, targeted support for children with delayed language and specialist interventions for children with speech, language and communication needs (SLCN) by Speech and Language Therapists.

In Kirkby, the impact of A Chance to Talk has been widespread. Nearly 80% of children with SLCN met the majority of their individual targets, the number of referrals to the Speech and Language Therapy Service has reduced and children made on average 50% more progress in reading at Key Stage 1 exceeding progress expected nationally.

When the A Chance to Talk pilot ended in 2012, Kirkby schools commissioned a continuation of the model ensuring that more staff are trained to recognise and understand SLCN and support is given to 'hard to reach' families whose children would not otherwise get into clinic to receive Speech and Language Therapy Support.

Jill Dancer, Performance Manager, 5 Boroughs Partnership NHS Foundation Trust and Steve Dixon, Kirkby Collaborative Development Manager said:- "We are honoured to receive this prestigious Shine a Light Award in the Commissioning Category for the A Chance To Talk in Kirkby initiative. It is a reflection of the hard work completed by staff working for the 5 Boroughs Partnership NHS Foundation Trust Community Health Services and The Kirkby Collaborative of Schools over the last 4 years. The initiative has resulted in improvements in the speech, language and communication skills of all children in primary school aged 4 to 7 years including those with additional needs in this area."

Chris Hall, Managing Director of Pearson Assessment and Shine a Light Award Judge, says:- "Congratulations to the Kirkby Schools Collaborative and 5 Boroughs Partnership NHS Foundation Trust for winning this prestigious award. Joint commissioning is one of the best ways to offer children's speech, language and communication services to prevent children slipping into the organisational gaps between education and health departments. At a time where health and SEN services are going through significant reforms, the Kirkby Collaborative of Schools and 5 Boroughs Partnership NHS Foundation Trust success focuses attention on what can be achieved through commitment, joint working, a successful model and the involvement of third sector organisations. Their important work will help to motivate and inspire others." For the full list of Shine a Light winners and highly commended finalists, visit:- shinealightawards.co.uk.

Work begins on new 'Greatie'
WORK is underway on the relocation of Liverpool's 'Greatie' market on Great Homer Street to a new, £2.2m facility on Dryden Street. Demolition work has started on buildings at 18 to 22 Dryden Street, creating space for the delivery of a new outdoor market with 178 outdoor stalls, some of which will be covered by a canopy to provide shelter from the elements. The new market; which is being built by Kier Construction; will also see an existing building at 16 Dryden Street being refurbished, to provide space for 78 indoor stalls, a café area, toilets and an office. And land on Virgil Street to the south of the market will be laid out to provide 163 car parking spaces and 61 van parking bays. The new Dryden Street market, a short distance from the Great Homer Street site, has been designed in partnership with market trader representatives, and is expected to be operational by late June/early July 2014. The existing market site is being released for redevelopment as part of Project Jennifer regeneration scheme, which will revitalise the area and bring in major investment which has been needed for decades.

Liverpool City Council's Cabinet Member for Regeneration, Councillor Malcolm Kennedy, said:- "This will be a fantastic facility, which will allow us to deliver a better quality market, complementing the wider development at Great Homer Street. There is plenty of room here to provide a market that is as big as the existing one, with parking for customers and traders, all on the same site. We have been talking to traders for months, taking on-board their views and where practical, incorporating their ideas for Dryden Street into the plans. And this is an on-going conversation: we will continue to talk and to listen to their views about how we can further improve the scheme. We are determined to make the market a tourist attraction, which is why we are delivering a self-contained site with space for coaches to park safely, located close to a key gateway in and out of the City. And we are building in room for expansion, using property already in Council ownership. It has been challenging to meet the needs of so many traders, but we've worked extremely hard to deliver plans which respond to their needs. I'm confident that once the new facility is completed, traders will see it as the right way forward to build a successful, thriving future for the market."

The Dryden Street scheme will deliver 78 indoor stalls, 178 outdoor stalls, 163 car parking spaces and 61 van parking spaces. There is scope to change the actual mix of stall numbers and sizes and the split between car parking and van parking. Consultation with traders on these issues continues, as well as over the possibility of expanding the new market site. The Project Jennifer scheme, which is being led by regeneration specialist St. Modwen in partnership with Liverpool City Council, will transform the Great Homer Street area in north Liverpool. It will create an estimated 1,000 new jobs, new homes, significant public realm improvements and includes a new flagship Sainsbury's supermarket, which will be the largest supermarket in the City. For more information, visit:- greathomerstreet.co.uk.
5 arrested for tax evasion and benefit fraud
5 people from Liverpool have been arrested on suspicion of failing to pay any personal or business taxes. The 3 men and 2 women, who ran a bar and a garage in Liverpool, are also believed to have received over £250,000 in unemployment benefits. 1 of the women, the mother, was arrested yesterday at Manchester airport as she returned from a trip to the United States. 3 other family members and a friend were arrested last week after an investigation into tax and benefit fraud by HM Revenue and Customs (HMRC) and the Department for Work and Pensions (DWP). The 5 are suspected of fraudulently claiming £250,000 in benefits while running a licensed bar and MOT garage and renting out properties, but failing to pay any VAT, Income Tax or National Insurance. HMRC officers searched 6 premises in Liverpool and seized business and personal records and cash.
Sandra Smith, Assistant Director, Criminal Investigation, HMRC, said:- "HMRC investigators, DWP and Liverpool City Council are working together to identify benefit fraud and associated tax evasion by individuals and businesses who think they can live and operate outside the law. These people failed to pay any taxes but had no issue claiming benefits they weren't entitled to, at the expense of honest taxpayers. The message is clear; if you choose to defraud the tax system or claim benefits you are not entitled to, we can and will track you down. If you know anyone who is evading their taxes, you can tell HMRC via the Tax Evasion Hotline on:- 0800 788 887."