Guarding against a silent killer
A hundred Liverpool households are being protected from a silent killer; carbon monoxide. CO detectors are being fitted in the homes of vulnerable residents who have been identified by the Healthy Homes Advocates teams. The detectors were supplied by local charity Dying to Keep Warm which has raised money from Liverpool churches and businesses to provide a range of assistance for people who need help in reducing risks in their homes. They are being fitted free of charge by Liverpool City Council's Handyperson's service, delivered by social housing provider Riverside who are also giving advice about energy suppliers who provide free gas safety checks.

One of the residents who has had a detector fitted in his home is Mr Laurence Brereton, of Liverpool 14. He said:- "I'm very impressed with this service and glad the opportunity to have a carbon monoxide monitor fitted has been brought to my attention."

Councillor Ann O'Byrne, cabinet member for housing, said:- "We are very grateful to Dying to Keep Warm for supplying these detectors and our Healthy Homes team has worked with Riverside to ensure that more of our residents are safe in their homes. Carbon monoxide is known as the silent killer because it can kill quickly and without warning if gas appliances and flues have not been properly installed, maintained or are poorly ventilated. These detectors will bring greater peace of mind for vulnerable people."

Claire Richards, Riverside Service Development Leader, said:- "We are very pleased to support this project. It takes very little time for our Handypersons to fit a carbon monoxide detector, but it can make such a difference to peoples' lives. This project helps to demonstrate the wider importance of our Handyperson service across Liverpool, to help people to stay safe in their own homes."

Please call the hotline on:- 0151 295 6102, for further information about the Handyperson service.
Wirral sees a significant rise in company closures in 2013
THE latest Duport Associates Ltd. Business Confidence Report for Wirral shows there was a significant rise in company closures during 2013, as well as a drop in company formation. Recent research from the Bristol based group showed that there was a rise in company closures in Wirral over the course 2013, with 597 companies closing. The report also shows that after a record number of new company registrations in 2012, but in 2013 the area saw a 17% drop in company formation. This led to an overall reduction in net company growth (the number of new company formations minus the number of company closures). In addition, the UK company share of Wirral also fell over the course of the year, as did the percentage of young director appointments and female director appointments. Managing Director of Duport, Peter Valaitis said:- "Although rising company closures isn't good news for Wirral, we should remember that 2012 saw a record number of new company formations. Naturally, some of these companies have not survived their first year of trading, which has led to a higher than usual number of closures during 2013." The Duport Business Confidence Report for Wirral gives a valuable overview of the local business landscape and an insight into trading conditions. More information and statistics can be found online.

Did you know? Duport Business Confidence Reports are generated and released by Duport Associates Ltd? The data contained in these reports are assimilated and analysed by Duport using public record data, from sources including Companies House, Office for National Statistics and Ordnance Survey. Duport Associates Ltd. is a leading UK company formation agent, established in 1997 and registering around 10,000 new companies each year through its Companies House approved software.

'Baby garden' dedicated at Southport crematorium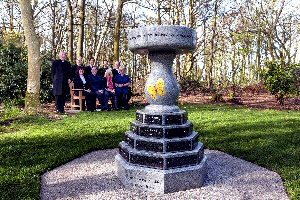 A woodland garden of remembrance for babies lost in early pregnancy was dedicated at Southport Crematorium on Wednesday, 9 April 2014. The service was conducted by the Rev Martin Abrams, chaplain at Southport and Ormskirk Hospital NHS Trust. It was attended by representatives of the Trust, Sefton Council, Scarisbrick Parish Council and Clare Birley, from the local branch of the Still Birth and Neonatal Death Society.
The centrepiece of the "Forget-me-Not Glade" is a stone bird bath paid for by an anonymous Southport benefactor.

Mr Abrams said cremation services had been held on the last Wednesday of each month at the crematorium since 2009 for parents who had experienced an early pregnancy loss. Previously, they were held at Emmanuel Church in Southport and the Ormskirk Parish Church. "Since then, the Trust has been working with the Council at ways to create a focus for a baby garden in the crematorium woodlands," he said. "Last year we were fortunate to secure a charitable donation that allowed us to purchase a memorial bird bath."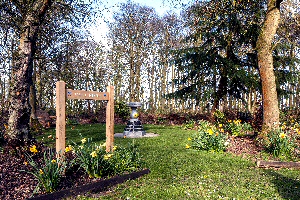 At the end of each monthly crematorium service, families will be invited into the garden and invited to plant bulbs or sow forget-me-not seeds "as a symbol and sign of hope." At a later date, any ash remaining from the cremation may be scattered in the garden.
As well as being used as a place of significance for early pregnancy loss, the garden will also be a focus for when a service is requested at the crematorium after either a loss later in pregnancy or a still birth.
Mr Abrams added:- "Our hope is that the garden will become a helpful, peaceful place for bereaved parents and their families and friends."