Wards at Royal receive recognition for support of older people
2 wards at the Royal Liverpool University Hospital are among 5 in the country to become the first to receive a quality mark hailing the support given to older patients.

Wards 2X and 2Y have been recognised with the Elder Friendly Quality Mark, run by the Royal College of Psychiatrists and developed with the Royal College of Physicians, Royal College of Nursing and British Geriatrics Society. It encourages hospital wards to improve the quality of care for older people and uses patient feedback to recognise good care.

The initiative was set up in response to reports, such as the Francis Inquiry Report, which highlighted the need for improvements in the quality of care among wards.

Patients over 65 were asked for feedback, including their experiences of comfort, food and drink, support from staff, getting help when needed, and privacy and dignity. They were also asked if they would be happy if a friend or family member was cared for on the ward.

To achieve the Quality Mark wards were assessed for areas of achievement and what could be improved. They also had to demonstrate continued focus on improving care for older people. Information was collected from patients, carers and visitors, ward staff and members of the multi-disciplinary team, the ward manager, a lead consultant working on the ward, hospital governors and the senior managers of the trust.

The wards' efforts to achieve the quality mark began in July 2012.

Lisa Grant, chief nurse at the Royal Liverpool and Broadgreen University Hospitals NHS Trust, said:- "Staff attended study sessions, observed care on each other's wards, handed out patient and staff questionnaires and had visits from hospital governors. This enabled us to carry on to the next stage. The trust has made environmental changes such as introducing day and time clocks, and different lighting. The positive patient feedback we had encouraged us to strive to do even better and we have improved communication with patients, family and all team members."

Lisa said much has been done to improve care for patients with dementia. She added:- "Specialist training on dementia is provided to all nursing staff. It outlines symptoms of dementia, early detection and how to manage challenging behaviour. A 'This is Me' document, which outlines a patient's likes and dislikes, their family and home life and their hobbies and interests, is kept with patients wherever they are being cared for. We also have specially trained volunteers who will sit with patients with dementia and keep them occupied with games or historical items like ration books to help stimulate conversations."

The award is for 3 years with an interim review. Wards joining the quality ward mark scheme commit to continuous focus on improving essential care based on feedback from patients.

Professor Mike Crawford, director of the Royal College of Psychiatrists Centre for Quality Improvement, the Royal College of Psychiatrists, said:- "At a time when many general hospitals are providing poor quality care to frail older people, it is great to see the work that staff have done on these five wards to make sure that they properly look after their most vulnerable patients. We hope that other teams will follow the excellent work being done on these wards and start to provide frail elderly patients with the high quality of care they deserve."

Dr Anita Donley, clinical vice president of the Royal College of Physicians, said:- "Congratulations to the wards who are the first to achieve the Elder friendly quality ward mark. The Elder Friendly Quality Ward mark measures aspects of care, such as comfort, nutrition and support given by staff. Participating in a scheme such as this shows commitment to the quality of care provided to patients. Wards achieving this quality ward mark are places where we listen to patients, carers and staff; actively encourage feedback, and act on the information in order to drive improvement."
£23m awarded to Liverpool City Region
THE Liverpool City Region has today been awarded £23 million from the government's Regional Growth Fund. 3 companies in the region will benefit from the investment, which will be used to develop the business as well as create more than 400 new jobs - Glen Dimplex Home Appliances Ltd in Prescot, Redx Pharma Ltd in Liverpool and Unilever UK Central Resources in Port Sunlight.

Glen Dimplex is planning to significantly increase its manufacturing commitment in Merseyside for brands such as Stoves, Belling and New World, as well as develop medical refrigeration applications. The project is expected to create up to 300 jobs.

Redx Pharma will create a new pharmaceutical research and development centre for metabolic disease alongside its existing facilities for cancer. It is expected to create 107 new jobs. The project will focus on new therapies in areas of high need in an ageing and increasingly overweight population, such as cardiovascular disease, inflammation and diabetes.

Unilever will use the funding to grow its product design capabilities in Port Sunlight, working closely with the University of Liverpool, University of Manchester and Sci-Tech Daresbury.

Councillor Phil Davies, Chair of the Liverpool City Region Combined Authority said:- "This is a fantastic boost for our region. One of our key objectives for the Liverpool City Region Combined Authority is to grow the economy and create jobs and today's investment is a fantastic example of what can be achieved. By working together, I am confident that we will see many more investments like these in the region which will help the Liverpool City Region grow and prosper."

Liverpool Scare City Has Set the Stage for a Terrifying October in Newsham Park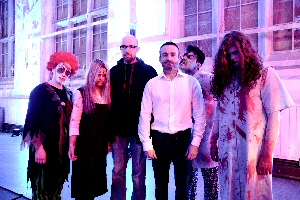 ON the evening of Wednesday, 9 April 2014 a hundred guests, including members of the press and local business people, gathered at the old Royal Liverpool Seaman's Orphanage in Newsham Park for taster of the fearful frights that lie in store for visitors to the foreboding, Gothic building when it transformed into Liverpool Scare City this October.

Previously a hospital and prior to that a home for orphaned children, the building has stood empty since the late 1990's. This year, for 1 month only, the almost definitely haunted, most certainly menacing, Victorian building will be transformed into the City's biggest and best haunted attraction.

Tours of Liverpool Scare City will begin on Friday, 3 October 2014, and run 6 days per week (Tuesday to Sunday) for the rest of the month, taking visitors on a journey into the intriguing past of one of Liverpool's most impressive, forgotten buildings.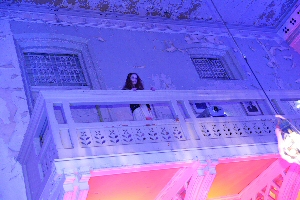 Opened by HRH the Duke of Edinburgh in 1874, at its height the orphanage was home to almost 400 children. Later, when it became Newsham Park Hospital in the 1950's, there were beds for 400 patients. The next chapter in the building's history came in 1992, when Rainhill Lunatic Asylum closed down and its operations transferred, filling 90% of the Newsham Park site with severely mentally ill patients. Largely untouched for years, the building still displays signs of its former inhabitants. The 'punishment corridor' – a narrow passageway on an upper floor - is fitted with cubby holes where naughty orphans were incarcerated for hours at a time. The wards and the morgue remain intact and the sprawling site is connected by winding staircases with anti-suicide grills that provide a further chilling reminder of its past.

Guests at the launch event were treated to a drinks reception before being lead away for a tiny, terrifying taste of things to come. By the time the dark nights roll around again, Liverpool Scare City will comprise three themed tours, exploring all three eras of the building's history. Using actors, sets and the dramatic location itself visitors will experience the most hair raising tales that the building has to offer.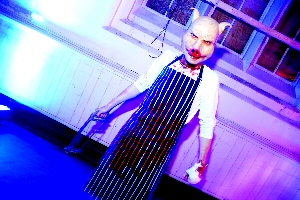 Tony Carter, Director of Liverpool Scare City, said:- "We are really excited to be launching Liverpool Scare City and took great pleasure in taking our first unsuspecting guests round to tour the sites and screams on Wednesday! The old Seaman's Orphanage is a huge, impressive building just a stone's throw from the City centre that has been forgotten for way too long. In October we will be injecting it with a new lease of life... and death... so that the people of Liverpool can experience it in all its glory for the first time ever in its history."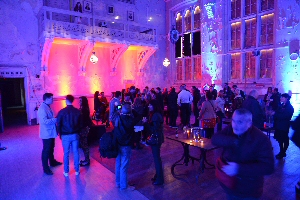 Liverpool Scare City is haunted attraction surpassing anything that the City has seen before in size, scope and scares! Tickets are now available for purchase on liverpoolscareCity.com. Each ticket entitles the holder to take all three tours, The Orphanage, The Hospital and The Asylum; in one night during October 2014. A full bar and various food and drink stalls are available between tours. Tickets are available for the early bird price of £14.95 until the end of July 2014.