BHS in Southport Go Green this April for the NSPCC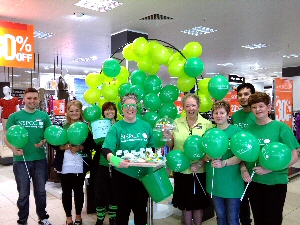 BHS in Southport are turning NSPCC Green this April, to help raise money for children and young people and customers are being urged to come along and support their fundraising efforts.

The Southport store are taking on an emerald hue for the month, and holding a host of special fundraising activities including staff wearing green, cake sales, raffles, fancy dress and bucket collections to raise money for the children's charity.

Simon Moss Head of Retail Operations at BHS said:- "Our staff at BHS stores are always keen to raise money for the NSPCC and we're looking forward to hosting a series of fun green themed activities to support such a worthy cause. We hope that all our customers will get behind us and join in the green themed fun to help us raise even more."

Their Go Green activity is taking place throughout April and the high street retailer hope their efforts will help raise awareness for the NSPCC.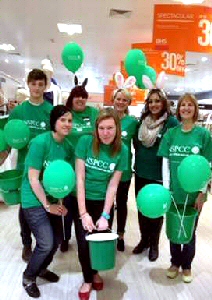 Alison Roberts, NSPCC Fundraising Account Manager, said:- "It's great that BHS are 'Going NSPCC Green' for us and are committed to raising vital funds to support children and young people in Merseyside and across the UK. As a volunteer-led charity we rely on the generosity of the public and we are especially grateful to all those donning their fundraising caps and helping to bring in the pounds for our charity."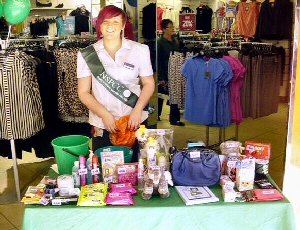 BHS, the UK's major high street retailer have been supporting the NSPCC since 2006 and have raised over £1million for the NSPCC. They have committed to continue to raise more money through 2013/2014.

The BHS Go Green activity will help raise money to support the NSPCCs services across the region and the UK. It could pay for more ChildLine counsellors to answer contacts from children by phone and online; help the NSPCC answer more calls from adults with concerns about a child; and enable the charity to develop innovative and pioneering services for children who have suffered abuse and harm. For further ways of supporting the NSPCC locally please visit:- nspcc.org.uk.

Success for mortgage 'top-up' scheme
A £3 million initiative to assist first-time buyers onto the property ladder is proving to be a big success in Liverpool, with 80 families helped to secure a home in just 2 years.

The Council's 'Local Authority Mortgage Scheme', delivered in partnership with Lloyds Banking Group, was launched in 2012. It sees the Council placing funds with Lloyds to underwrite 'top-ups' of up to 20% on mortgage loans. It means Lloyds can boost the amount made available to first time buyers, offering them 95% mortgages on similar terms to a 75% mortgage, but without the need to provide the large deposit usually required.

Liverpool City Council has so far invested £2 million pound in the scheme; with £1 million more to come; as part of the Mayor's pledge to support house buyers and help kick start the housing market in the City. The latest figures, with 80 families helped into their first house, show the scheme is having a real impact in making the housing market more accessible to first time buyers.

One young couple who have benefited from the scheme is David Kelly, 26 and his partner Jennifer, 25, from Anfield. Living with Jennifer's mum's, and with a baby on the way, they were finding it difficult to find the money they needed for a deposit for their first home. Then, 7 months ago, David got the details about the Local Authority Mortgage scheme from the City Council's website and contacted Lloyds. On Christmas Eve last year, David and Jennifer moved into their new house in Norris Green; just in time for the arrival of their baby.

David said:- "We did have some savings towards a deposit, but it wasn't enough. It was a real struggle, and we were thinking that we were going to have to rent. This scheme has been a real help. Once we contacted Lloyds, the whole thing was really straightforward and there were no issues. This scheme has made it possible for us to get onto the property ladder, and it has also freed up money that we've been able to spend on the house. We're really pleased, because without this help, we'd still be renting, rather than having our own home."

Cabinet Member for Housing, Councillor Ann O'Byrne, said:- "It's great news that our mortgage scheme is making such a difference to house buyers in Liverpool, and that it's helping so many local people get onto the property ladder. This investment from the City Council is about helping people overcome the difficult economic times, supporting first-time buyers who are finding it increasingly difficult to become home owners, and stimulating our housing market. It's another great example of how we are working creatively with partners to deliver services which improve people's lives. This is an on-going scheme, which is open to all first-time buyers in the City, so I'd urge anyone who is struggling to find the deposit for their first home to get into touch with Lloyds. Even better, we'll be investing a further million pound in the initiative in the future, so we can help even more local families make their dream to purchase a house a reality."

Raising a deposit has become a major hurdle for many first-time buyers, because, in the current climate, most lenders are only prepared to provide a maximum of 75 to 80% of the value of the property, even if the applicant can afford a 95% mortgage. This means that buyers have effectively needed to find a deposit for 25% of the purchase price, which is out of the reach of many.

By taking on the role of 'helper' through the Lend a Hand scheme, the City Council is helping relieve the burden on housebuyers. It means that, for a £100,000 property, buyers only have to pay a deposit of £5,000, rather than £25,000.

The money invested in the scheme from the City Council is placed in a high interest account which can be used to cover any defaults in payments from lenders. The indemnity would only be called upon if a loss is made by Lloyds. Any interest made by the Council is ploughed back into the scheme to help fund further mortgages.

Subject to Lloyds' usual lending criteria, first-time buyers are able to select a property within the local authority area, and borrow up to a maximum loan size of £125,000. They will put down a minimum 5% of the property price, and the City Council will provide a cash backed indemnity; in place for a fixed five-year period for each mortgage granted; of up to 20%, as additional security.

The scheme specifically targets older houses in the City and is not available for new-build properties. The scheme is also not available for buy-to-let or right-to-buy purchases.
Those interested in the scheme should visit their local branch of Lloyds Bank for more information.