MP meets Liverpool women rebuilding lives after abuse and addiction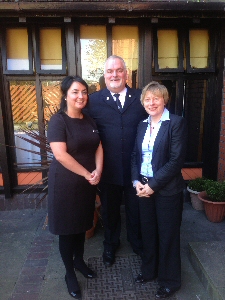 THE Shadow leader of the House of Commons spoke to women in Liverpool impacted by homelessness, domestic abuse and addiction and heard how they were being supported to rebuild their lives. Residents at The Salvation Army's Ann Fowler House Lifehouse, Fraser Street, Liverpool, met with Angela Eagle MP on Friday 11 April 2014. They shared with her their experiences of homelessness and how abusive relationships and addiction had affected their lives. The Lifehouse, which is a Salvation Army residential centre for homeless women, offers more than a safe, secure home for 38 women, it offers practical support through training in such basics as literacy, cooking, computer skills, confidence and self esteem building, as well as employment skills as part of a wider resettlement programme. Project workers assist residents in working through problems and enhancing their independent living skills, in order for them to move on to more appropriate, permanent accommodation. In association with specialist agencies, Ann Fowler House also facilitates programmes to help women who have been abused or worked in the sex trade. Support workers aim to assist residents in working through problems and enhancing their independent living skills, in order for them to move on to more appropriate, permanent accommodation. In association with specialist agencies, Ann Fowler House also facilitates programmes to help women who have been abused or worked in the sex trade. Angela Eagle MP said:- "The Salvation Army provides a safe space to some of Liverpool's most vulnerable women, offering them an opportunity not just to find sanctuary after their lives have been impacted by addiction or abuse, but equipping and empowering them to rebuild their lives and move on."

Liverpool Homelessness Services Manager Stephanie Phillips said:- "In welcoming Angela to our Lifehouse, we hope she has been able to see for herself the challenges women face when fleeing domestic violence or facing addictions. We hope that meeting our residents; who are being empowered as they regain control of and rebuild their lives; has inspired her in her work as the Government considers the impact alcohol makes on individuals and communities. The Salvation Army works to support some of the most vulnerable people in every community, and at Ann Fowler House we want to ensure that the women we meet our empowered to reach their God-given potential and find their way in life."
Easter campaign targets fly-tipping
THE CLA in the North is calling for action on fly-tipping as farmers and landowners throughout the region gear up to clear piles of waste dumped in their gateways, fields and hedges over the Easter weekend. As the traditional time for DIY, gardening and spring cleaning approaches, the Association is renewing its campaign for tougher action against those who illegally dump waste. CLA North Regional Director Dorothy Fairburn said:- "Fly-tipping happens all year round but it hits a peak at this time of year. It is staggering that so many people think it is acceptable to dump their waste in the countryside rather than at a recycling centre. CLA members frequently have to dispose of anything from black sacks to furniture, televisions, garden waste and piles of rubble." According to Miss Fairburn, the DIY season brings its particular problems as most recycling centres have limitations on the amount of waste that can be dumped free of charge. Obviously it is very tempting to take what you can for disposal and then dump the rest in the nearest hedge or gateway... But we are asking everyone who has waste to dispose of to do the right thing as it is the countryside that suffers and it is our members who have to clear up and foot the bill." The CLA is lobbying government to create a new ticketing scheme that would enable landowners to take fly-tipped rubbish to their local tip free of charge. Miss Fairburn added:- "The CLA's action plan to tackle environmental crime calls for the Government to ensure local authorities can accept fly-tipped waste without charge to landowners as well as an end to the prosecution of landowners who have waste dumped on their land and have to pay to remove it." New guidelines from the Sentencing Council, urging magistrates to make more use of the highest levels of fines for fly-tipping cases, are due to come in to force from 1 July 2014. The CLA is seeking evidence of fly tipping that has taken place on private land in the North. Farmers and landowners should send photographs of the result, with details of date, location and any further information to:- north@cla.org.uk once the crime has been reported to the Police.

CCTV APPEAL; ARMED ROBBERY - DONNA'S CONVENIENCE STORE, HAWTHORNE ROAD, BOOTLE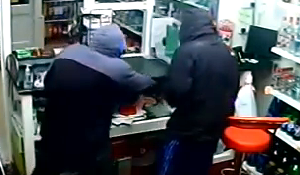 MERSEYSIDE Police Detectives have released CCTV of 2 men they are hunting after they robbed a family business in Bootle. The 2 offenders appear in the footage brandishing a metal coat stand and an iron bar which they used to smash the protective screen in Donna's convenience store in Hawthorne Road. At 1 point, the owner of the shop was nearly struck on the head by the offenders as he tried to lock the door separating the customer area from the counter and back office. The man and his wife, who are both local to the area, escaped injury and managed to activate the store's panic alarm before retreating into the back office. The 2 offenders removed the till before running out of the shop, across Hawthorne Road into Mill Road. Detectives believe the offenders then left the area in a silver car. The offenders stole £400 in cash from the till yet face around 6 years imprisonment if arrested and convicted of robbery and possession of an offensive weapon. Detective Constable Kevin Reppion from Sefton CID said the offenders wore distinctive sportswear and hopes someone might recognise them from their clothing, build or gait.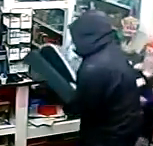 He said:- "This was a terrifying incident for the couple who run this business. This is popular, well used shop run by a local, hard-working family. They are simply trying to make a living yet have suffered the ordeal of 2 criminals coming in brandishing weapons and stealing their takings. The 2 offenders were extremely aggressive and the CCTV shows their total disregard for the victims themselves. It is only through sheer good fortune that the gentlemen who is trying to shut the security door is not seriously injured by the offender wielding the coat stand. Thankfully neither victim was hurt, but both have been left distressed by what happened and I am calling on the local community to help us catch these offenders before they can commit further offences against decent, hard-working people."

The robbery happened at 8.30pm on Thursday, 3 April 2014, following the 1st day of the Aintree festival when many people will have been in the area having a drink or visiting a local bookmakers ahead of Ladies Day.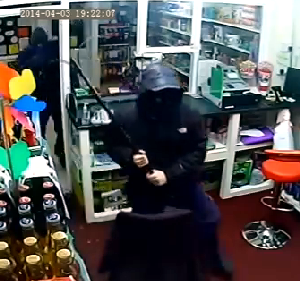 The force is currently cracking down on robberies against local businesses and Chief Inspector Jenny Sims is leading the operation. She said:- "Robberies against local businesses greatly affect the hard working people who own and work in them, as well as their customers who are local people themselves. The perpetrators of these robberies care nothing for their victims, only for what they can steal from them. Merseyside Police works with businesses to ensure they have comprehensive CCTV systems and other security measures to deter such crimes. These measures also aid in the police when it comes to catching the offenders, such as the 2 men in this case. The technology alot of stores have allow staff to alert the police while the incident is in progress, and business owners are increasingly keeping only small amounts of cash on site, meaning criminals are risking many years behind bars for the sake of just a few hundred pounds. My question to them would be: 'Is it worth it?" Call DC Reppion at Sefton CID on:- 0151 777 3823 or Crimestoppers anonymously on:- 0800 555 111.