TITANIC HOTEL TO OPEN ON HISTORIC DOCK SITE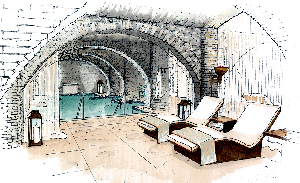 A multi million pound renovation of one of Europe's most historic maritime sites is set to unveil its 1st Phase; Titanic Hotel Liverpool. The £36 million transformation of the North Warehouse at Stanley Dock, will see the opening of the 153 bedroom four star Titanic Hotel Liverpool and adjoining Rum Warehouse events and exhibition space, in June 2014. The highly-anticipated hotel launch at Stanley Dock, Liverpool will be the 1st of a multi staged redevelopment at Stanley Dock Village, which will transform the former Tobacco and South Warehouses, into an innovative residential, business, retail, educational and leisure complex.

Pat Power, Director of the Development for Stanley Dock Village, said:- "This is set to be a spectacular addition to the tourism and leisure landscape, not just for Liverpool but for the UK. We have created a hotel which will be generous in size and expressive in its personality, with a genuine devotion from quality and to customer service. It is a hotel much like the City of Liverpool, which we believe will be imbued with the warmth and hospitality of the Liverpool personality."

The Grade 2 19th Century North Warehouse, was designed by Jesse Hartley and built in 1855 and has been renamed in recognition to the City's connection to the famous liner. Titanic Hotel Liverpool name cements its connection to the world-famous Titanic Visitor Centre in Belfast.

Pat added:- "This development is a Unesco World Heritage site and was one of the storehouses of the Empire and reverberates with character and history. We have ensured those qualities are carried into its reinvention as a place where people can meet, sleep, do business and enjoy themselves."

Titanic Hotel Liverpool will include a sumptuous luxury spa and will be the home of a distinctive new restaurant destination and the City's new hideout called:- "The Rum Bar." Its standard sized hotel rooms will be twice as big as a UK standard 4 Star room; a result of the unique design of the original building which stored goods from across the world such as rubber and tobacco. The renovation project has retained the original brick and iron features of the warehouse, complementing them with high quality fittings and an open plan design approach, making the best use of the building's huge spaces and vaulted brick ceilings. The hotel's waterside terrace; situated on the historic 19th Century dockside; has views across the dock to original Pumping Station and to the immense Tobacco Warehouse, described as the largest brick building in the world when it was built in the early 1900's.
The ground floor of the hotel will include a huge, light filled open plan reception area and foyer with an exclusive VIP area and Italian-inspired coffee destination. The restaurant and Rum Bar will also be on the ground floor, serving a unique menu created by industry acclaimed head chef Alex Worrall along with craft beers, fine wines and open theatre kitchens.

Ian Wynne, Head of Hotel Operations, said:- "We believe the hotel's quality and historical connections, combined with Liverpool's brilliant offer as a tourist destination, will draw people from across the world. This is about a local culture, genuine friendliness, style and chic in quantities that matter. Our people will reflect who and what we are, and will have genuine love and passion for what they do."

Heritage consultant John Hinchcliffe, the former World Heritage Site officer for Liverpool City Council, said:- "This is probably the last major collection of historic waterfront buildings in the UK, if not Europe, to undergo reinvention for the 21st Century. It is an absolutely integral part of the City's World Heritage Site status and can certainly be described as globally significant."

Sara Wilde-McKeown, chair of Liverpool City region's Visitor Economy Committee, said:- "The opening of the Titanic Hotel and Rum Warehouse conference and exhibition centre is a hugely significant development for the region's leisure economy. It creates an entirely new visitor destination and will be a huge asset as we continue to drive the City's reputation as a destination for both leisure and business visitors."

Liverpool Mayor Joe Anderson said:- "The Stanley Dock Village development will breathe new life into the City's historic dockland and will play a pivotal role in the International Festival for Business so will be showcased to a global audience in June and July 2014. It is evidence that Liverpool is a City continuing to enhance its reputation as a tourism destination and as a City where we make things happen."

For more information and advanced bookings call:- 0151 559 3356 or send an email or visit:- titanichotelliverpool.com. For the latest updates visit their Facebook Page at:- TitanicHotelLiverpool and also find them on Twitter: TitanicHotelLiv.
What's The Time Mr Wolf?
Report and photo by Liz Ferris.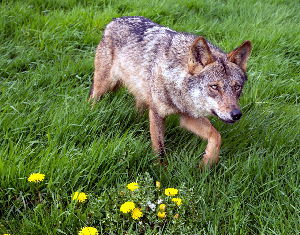 THE siblings arrived at Knowsley Safari in December, from Gaia Zoo in Holland, and were initially housed in a smaller wooded area that provided extra shelter to help them settle in, until they were used to their new surroundings. The keepers have been monitoring them daily and are now safely encouraging them to enjoy the full habitat. Indigenous to Northern Portugal and North Western Spain, Iberian Wolves were hunted close to extinction in the 1950s. Since then, curbs on hunting, people moving from rural areas into Cities and protection from zoos and safari parks have helped the population to recover. Eveline de Wolf, Head of Animal Management at Knowsley Safari comments:- "Maria and Morena are settled in, and exploring their full habitat. They enjoy a regular feast of beef and rabbit, but keepers have also spotted them catching the odd mouse or other small resident in their enclosure. Like all wolf species, Iberian wolves live in packs consisting of adult pairs and their offspring. We are working towards bringing in a male in the future, with the long term aim to foster a small breeding pack."

40 North West England infrastructure projects art to get major government investment
A total of 40 major infrastructure projects are due to start in the North West this year, the government has announced.

Construction work will begin on more than 200 rail, road, local transport, flood defence, broadband, airport infrastructure and waste management projects across Great Britain in 2014/2015. More than 200 major projects are also due
to be completed this year, including 45 in the North West.

The schemes due to start construction this year are part of a £36 billion planned investment, which is made up of £5 billion from the public sector, £21 billion from the private sector and £10 billion from joint public and private investment.

They include the Mersey Gateway which will see a new 6 lane suspension bridge being built over the River Mersey between Runcorn and Widnes. Work on the £589 million project is due to start this month, with the government contributing £215 million towards the scheme.

The national schemes are expected to support over 150,000 jobs in construction and many thousands more in other sectors following completion. This includes the start of a £38 billion programme of rail spending over the next 5 years.

The £600 million 'Northern Hub' rail project began last month and includes electrification, new platforms, additional track and upgraded stations across the North.

The investment will increase the capability of the network between Manchester and other major towns and cities, providing
space for 700 extra trains every day and 44 million more passengers a year.

The wider economic benefits are estimated at over £4 billion to the region, with the potential to create between 20,000 and 30,000 jobs. The project is due to be completed by the end of 2018.

Prime Minister David Cameron said:- "Ensuring Britain has first class infrastructure is a crucial part of our long term economic plan: supporting business, creating jobs and providing a better future for hardworking people. This Government is backing business with better infrastructure so that more jobs and opportunities are created for hardworking people, meaning more financial security and peace of mind for families."

Chancellor of the Exchequer George Osborne said:- "As part of our long term economic plan, we are investing in infrastructure around the country to create a more balanced, resilient economy. Because of the tough decisions we have taken in day to day spending, we can prioritise public investment where it is most needed and create the right conditions for private investment in infrastructure where it brings value for the taxpayer. So this year over 200 new projects; worth an estimated £36 billion – are due to start, creating thousands of jobs, securing future growth and delivering the world class infrastructure Britain deserves."

If you did not know, the £36 billion of public and private investment is the projected infrastructure investment for 2014 to 2015 in the published infrastructure pipeline, which is in 2012 to 2013 prices and can be found online.

These are following projects are due to start in the North West in 2014/15:-

A556 Knutsford to Bowdon

Manchester Smart Motorways, M60 J8 to M62 J20

A5036 / Bridge Road Improvement, Sefton

A55 / A483 Interchange

A585 Bourne Way

A585 Windy Harbour Junction Improvement

A590 Barrow

A595 Mirehouse Rd Junction Signalisation

M56 / M53 Interchange

M56 J7 EB Merge

M56 Junction 11 Daresbury Improvement

M56 Junction 5

M56 Thorley Lane Bridge

M57 / M58 Interchange

M6 J26 East Roundabout

M6 J32 Northbound Widening and M55 J1 Signals, Preston

M6 Junction 16 to Junction 19

M6 Junction 17 Sandbach Improvement, Cheshire East

M6 Junction 20 to Junction 21 (Thelwall Viaduct)

M6 Junction 23 enhancements

M6 Junction 27 to Junction 28

M6 Junction 35

M61/A580 Merge

M62 Junction 6

M65 Junction 5

Crewe Green link Southern Section

Mersey Gateway Bridge

A500 Widening Scheme

A57 Hyde Road Localised Widening

Cutacre (Logistics North) - M61 Junction 4/Watergate Lane/A6 Salford Road Junction

M57 Extensions A5300 Knowsley Expressway - Access to Opportunity and Employment

M57 Hyde Road Localised Widening (between Far Lane and Reddish Lane)

Salford Central - Irwell Street Junction

Greater Manchester - Construction Phase

Crossens Pumping Station Refurbishment

Croston Village FAS

Gategill Beck, Threlkeld

Northwich Town Centre

Salford Flood Alleviation Improvements

Wigan Council Waste to Energy Project