Councils urged to apply for £168 million pothole repair fund
EXTRA Government funding to fix more than 3 million potholes. Councils are being invited to bid for a share of a £168 million Pothole Fund to repair local roads, making them safer and smoother for motorists, cyclists and other road users. Successful local authorities will sign a Pothole Pledge as a condition of the funding, setting out the number of potholes they will have repaired by March 2015.

Transport Secretary Patrick McLoughlin said:- "Part of this government's long term plan is investing in our roads. Potholes are a menace for all road users which is why this extra funding is provided in addition to the £10 billion already committed for councils for road maintenance. I want councils to rise to the challenge and to reward councils who come up with new and better ways of making repairs quickly and effectively. With this new pothole fund councils will need to clearly set out the scale of the work they are doing, and local communities can have certainty that the money is being spent fixing potholes on their local roads."

The £168 million fund, announced in the Chancellor's March Budget statement, is enough to fix more than 3 million potholes. It is in addition to the £10 billion for local roads maintenance that the Department for Transport is already providing to councils in England between 2010 and 2021. The guidance for the application process for local authorities is now available on the GOV.UK website. Councils have until 4pm on Thursday, 22 May 2014 to submit a bid to the Department for Transport. A track record of best practice or proposals for innovative solutions will be recognised as part of the bidding process, potentially resulting in increased funding for those councils. Through its Highways Maintenance Efficiency Programme, the department also provides clear guidance to councils to make the most of available funds and ensure they use the money efficiently.
Sport England calls for bids for 'City of Football'
FROM Monday, cities across England will have the chance to bid to become the first 'City of Football'. Up to £1.6million of National Lottery funding will be invested by Sport England in the successful City to run a pilot programme that unites public, private and voluntary organisations to do whatever it takes to get more people; particularly those aged 14 to 25 years; playing all forms of the grassroots game.

Phil Smith, Director of Sport, says:- "Whilst the number of people playing football regularly has declined, it is still one of England's most popular sports and the unmet demand to play is high if the offer is right. From kick about in the park to 5 a side friendlies to 11 a side leagues, we want to find the City that wants this title more than any other, that will do whatever it takes to get more people playing the game regularly."

Expressions of interest are invited from consortiums of local partners that are committed to working together to deliver a 'City of Football'. Applications should demonstrate commitment at the highest level and explain why this mix of local partners can together increase the number of people playing football in their City.

Further information about how to bid will be available at online. The closing date for applications is 23 May 2014. A shortlist of cities will then be selected to explore in more detail their potential to be the 'City of Football'.

Lord Mayor's Search for WW1 Heroes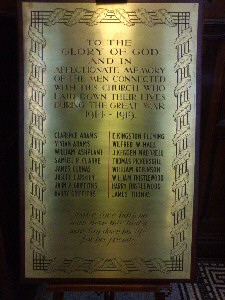 AS the City prepares to mark the 100th anniversary of WW1, Lord Mayor of Liverpool, Councillor Gary Millar is searching for families of some of its forgotten heroes. A memorial plaque, thought to be from St Peter's Church, High Park Street, in Toxteth has been unearthed in the nearby garden of the former church caretaker. Upon close inspection it was discovered that half of the names are not listed in the City's Hall of Remembrance, situated at the Town Hall, which honours Liverpool soldiers who died in the world wars. Lord Mayor of Liverpool, Councillor Gary Millar is hoping for families of those named on the plaque to come forward and claim their relatives place in Liverpool's Hall of Remembrance.

Councillor Gary Millar said:- "I think it is fitting that in the year we commemorate the start of the First World War this plaque, and those named on it, should take their rightful place in the history books. The existence of the plaque was originally brought to my attention by local resident Irene Milson and initial detective work was undertaken by Paul Ford from the Bootle History Group; sadly Paul recently passed away, but without his efforts the names of these soldiers may never have been known. It is all too easy to forget the sacrifices made by those who fought for our freedom but this is the perfect opportunity for friends and relatives of the men on this plaque, to do their duty, come forward, and ensure that the names of all of these men live on in the Hall of Remembrance. I hope we can do the right thing by these men and their loved ones and ensure that they are never forgotten."

The plaque features the names:-

Clarence Adams, Vivian Adams, William Asplant, Samuel R Clarke, James Clunas/Cluness, Joseph Eardley, John H Griffiths, Harry Griffiths, E Kingston Fleming, Wilfred W Hall, J Keggan Maddrell, Thomas Stanley Pickersgill, William Robinson, William Thistlewood, Harry Thistlewood, and James Thomas.

It is believed that the plaque was taken from the church for safekeeping sometime before 2006/7 when the church and its land were sold to make way for apartments. It was apparently kept by caretaker Mr Harry Gardam, who was a loyal servant of the Methodist church. Mr Gardam, who lived at 133 High Park Street, died in 2010.