St George's Day Parade 2014 - Southport
Photograph by Patrick Trollope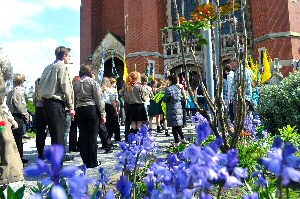 THE annual St George's Day Parade was held in Southport by Southport's Beavers, Cubs and Scouts. The parade took place on 27 April 2014, but this year they had no Police escort, so they had to change the tradional route as a result. Despite the lack of Police, many motorists were extremely accommodating to the volunteers who marshalled the District parade as it headed from the Waterside Lodge on the banks of the Marine Lake, over the road bridge and down Southport's Promenade. "This with the sun made a fantastic backdrop for them to be pictured passing." one of the parents commented. The new route then took them up Leicester Street and passed the Fire Station. On Manchester Road the group moved on to the pavements and had to wait at the traffic lights, due to their being no Police Escort. They then headed into Holy Trinity Church on Houghton Street for the annual St George's Day Parade Service. These are some of the photographs taken by Patrick Trollope of the parade.
To see our photograpic coverage of this event please click on here now! Also for a related report about Formby's Parade, please click on here.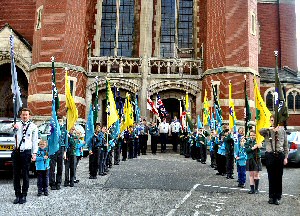 Please let us know your views on the Parade and also, as we requested last week. Please also let us know what you think about St George's Day and this event by emailing our newsroom via:- news24@southportreporter.com.
For more information about Southport's Beavers, Cubs and Scouts, please go to:- southportdistrictscouts.org.uk
| | | |
| --- | --- | --- |
| | Click on to read on! | Click on to read on! |

KEEP up-2-d

ate




with our free daily news emails.



Are you subscribed? Si

g

n

u

p

today

to

our daily email news service via...
Formb

y

-

Re

p

orter

.com



If you subscribed you can keep in up-to-date with what's going on in and around Merseyside. It is free and we do not send out massive amounts of emails. Your email is kept under the UK's Data Protection Act, so you can be sure that you will not have problems.