Lord Mayor of Liverpool performs one of Liverpool's highest abseils
THE Lord Mayor of Liverpool, Cllr. Gary Millar to a plunge off the roof of the City's main hospital, blindfolded, in aid of charity. The event had over 200 volunteers scale the 12 storey Royal Liverpool hospital building before making the 200ft descent from the hospital's roof and was run over 26 April and 27 April 2014. The blindfolded abseil, was in aid of the St. Paul's Eye Appeal, which is a charity that funds research at the Hospital to reduce disability through eye diseases. Cllr. Millar said:- "I hope that this event helps to promote the positive aspects of just what can be possible for those who have lost their sight. I admit that I was somewhat full of trepidation ahead of the event, but after seeing extraordinary achievements of visually impaired people had achieved at the Winter Paralympic Games, I knew I could do it. It has now given me a better understanding into the challenges associated with sight loss and raising money and awareness for the cause along the way." If you want to help you can make a donation to the Royal Liverpool and Broadgreen University Hospitals Trust fund for specialist equipment and facilities to ensure the best care for their patients by going to the JustGiving website or by logging onto:- the trusts website to see what events are being run and to learn more about them.
Sentencing of Shaun Hopkins for rape
MERSEYSIDE Police have welcomed the life sentence handed down to Shaun Hopkins at Liverpool Crown Court for 2 counts of rape on Monday, 28 April 2014. Hopkins, 27 years old, of Third Avenue, Fazakerley has been jailed for life with a minimum term of 9 years for the rape and 2 assaults by penetration of a 19 year old woman in Allerton, South Liverpool on Saturday, 5 October 2013 and for the rape of a 37 year old woman in Fazakerley on Monday, 18 April 2005. He was arrested and charged following an extensive investigation by the force's Unity rape investigation team, which is part of Matrix Serious and Organised Crime (MSOC) and a widespread media appeal.

Detective Inspector Kathy Goodwin said:- "The sentencing of such a dangerous and predatory sexual offender like Shaun Hopkins to such a long time in prison undoubtedly means that our streets are now safer as a result. Hopkins used extreme violence against his victims both during and after the brutal sexual assaults he inflicted on them, and the impact on their lives will be unimaginable to all but their closest family and friends. Both of the women that he attacked have showed incredible bravery in giving their evidence to the Police, and the courts, so that Hopkins could be brought to justice. Their courage throughout what has been a lengthy ordeal for them, has been integral to this successful prosecution. I truly hope that the knowledge that Hopkins is now behind bars for a very long time provides some kind of comfort to them as they try to rebuild their lives with the love and support of their families and friends. I would also like to take this opportunity to appeal directly to other victims of rape and sexual assault out there who may be suffering in silence. You may have been attacked recently, you may have been assaulted some time ago. I want you to know that there is help and support available to you, both from Merseyside Police, where we have specially trained officers who will listen to you and treat you with sensitivity and compassion, and from reliable and trusted support groups who will support you from your initial report and for as long as you need. Rape is a terrible crime which ruins the lives of innocent victims. It is imperative that we keep doing what we can to support victims in coming forward so that we can put perpetrators of sexual violence before the courts."

Both victims have given the Police permission to use extracts from their impact statements to show other victims what they have gone through.
The victim of the attack in Fazakerley in 2005 said:- "If I saw a group of males I couldn't walk past them and felt anxious around them. Apart from this I did my best to get on with my life and move on from what had gone on. However, when I heard about Shaun getting arrested for rape on another person my case then got re-opened and, when it was, I constantly thought about it and became really anxious again. As the court case was coming up I had nightmares. It took me a long time to meet another man and trust him. I feel like only a life sentence would be good enough for me to be satisfied that justice has been done. My life completely fell apart and I am now going to have to rebuild a new life for me and my children. Now he is in prison I actually feel relieved that finally I have been heard and believed."

The victim of the attack in Allerton last year said:- "On the night it happened I seriously thought I was going to die. I had accepted what he was doing to me but I just didn't want him to kill me. When I was fighting back I just remember being so scared and upset that my mum would find out that I had been killed. Once the Police became involved it was horrible having to go over it again and again, answering questions. I don't blame the Police for this. I understand they have a job to do. I blame him. I felt embarrassed and ashamed about talking about what happened to me. I had to stay awake all night in the hospital and the next day at the clinic being examined. After being violated so much, having to go through an examination was the worst thing ever. Once I came home I just wanted to sleep as I was so exhausted. But I couldn't sleep and I didn't really sleep properly for about a month afterwards. When I did manage to I became scared to close my eyes because I did not want to remember the night. Occasionally I have nightmares about that night. Being choked, that was the worst part. I just felt so low after what happened to me, I couldn't even get out of bed. I lacked the motivation to do anything. I didn't even want to talk to my family or friends. My relationship with my boyfriend changed. What happened to me on that night changed my personality towards men, including my boyfriend. Before this happened I was independent, adventurous, always wanting to go and try new things. Now I don't want to do anything. For a long time I did not want to leave the house. A week before it happened I'd had an interview for a bar job. I was so excited at the prospect of working to save for a year abroad and also excited for what the future could hold. I couldn't take the job and had to cancel other interviews. I watch friends getting on with university and the social life that comes with it and I wonder: why did it happen to me? I worry about ever being able to trust anyone ever again. I find it really disturbing that he could do what he did to me, a young girl. It was disgusting and horrific. How am I meant to learn to trust anybody again? Not a day goes by when I do not think about what happened to me on that night. It is something that will remain with me forever."
Early Intervention approaches to be discussed
SOME ground breaking ways to drive forward early action in Lancashire are set to be discussed by partners from across the Lancashire county have been looked at over this week. Organisations all over Lancashire have already recognised the importance of intervening early to get vulnerable residents help before they reach crisis point and now Lancashire's Police and Crime Commissioner wants to look closer at what that help will look like. Together with Lancashire Constabulary, the Commissioner organised a consultation event on Thursday, 1 May 2014, to look at what early action means for Lancashire and how agencies can work together to achieve the best outcomes for the county's residents.
Clive Grunshaw said:- "Early intervention means engaging with Lancashire's most vulnerable residents before they reach crisis point; the point at which they place the most demand on the county's public and voluntary services. It's no secret services county wide; including the Police – are having to make changes because of cuts to budgets, but this does not mean we can simply abandon vulnerable residents. Instead, we have to change the way we approach problems, and that means tackling them earlier, before they escalate. Not only will this reduce demand on services, but more importantly it will vastly improve outcomes for the county's residents. However, it is an approach which requires multi-agency working, and it's something we have to get right for it to be effective. That is why my office and Lancashire Constabulary have joined forces to bring partners together to discuss how we can make early action work for Lancashire."
Last year, the Commissioner was successful in securing Pioneering Place status for Lancashire from the Early Intervention Foundation. Blackpool Council and Blackburn with Darwen Council were also chosen as Pioneering Places, meaning Lancashire was awarded three of the 20 places available nationwide. The status secured the county expert help from The Early Intervention Foundation and Carey Oppenheim, the Foundation's Chief Executive, will be the keynote speaker at Thursday's consultation event. Assistant Police and Crime Commissioner Amanda Webster, who has responsibility for Early Intervention on the Commissioner's behalf, and Deputy Chief Constable Andy Rhodes will also be addressing delegates at Blackburn's Dunkenhalgh Hotel.

£5 million illegal tobacco fraud foiled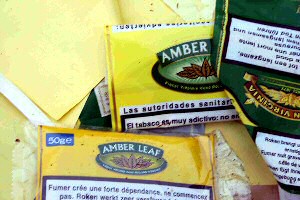 5 men have been arrested after the discovery of equipment used for producing illegal cigarettes and tobacco products in Greater Manchester and Essex. HM Revenue and Customs (HMRC) officers raided a farm in Essex this week as well as 4 premises near Bury and another in Blackburn, Lancashire two weeks ago and seized cash, chemical agents, counterfeit packaging and tobacco packing machinery. The officers dismantled a tobacco processing plant in Essex and seized over three tonnes of raw tobacco that was in the process of being converted into counterfeit hand rolling tobacco from an industrial unit in the Bury area. The estimated loss to the Exchequer is around £5 million in unpaid duty and VAT. Sandra Smith, Assistant Director, Criminal Investigation, HMRC said:- "It is clear from the chemicals and machinery we found that this gang planned to produce and sell illegal tobacco products across the UK. Illicit tobacco factories hidden in our communities are packaging low quality tobacco and I'd urge people to be wary. Cheap tobacco may seem like a bargain, but there are no controls over what is mixed into the counterfeit product and by buying it smokers are funding international organised crime gangs. Anyone with information about the transport, storage or sale of cheap cigarettes or tobacco in the North West or further afield, can help us by calling the Customs hotline on:- 0800 59 5000."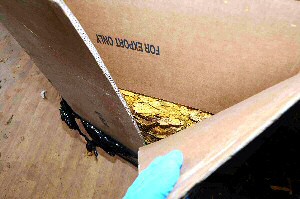 The tobacco processing and packing equipment was removed from the Essex farm, the Bury industrial unit and three private addresses, along with a van used by the gang. A further eight tonnes of tobacco valued around £1.8 million in evaded duty and tax was seized in Preston in 2013 as part of this operation. All the tobacco seized will be burned to fuel the National Grid.

Details of seizures and arrests in this HMRC operation:-

► On Wednesday, 23 April 2014, extensive plant equipment and counterfeit tobacco packaging seized at a farm in Halstead, Essex. One man, aged 42, was arrested on suspicion of taking steps to evade excise duty contrary to the Customs and Excise Management Act (CEMA) 1979.

► On Thursday, 3 April 2014, 3 tonnes of tobacco, plant equipment, cash and counterfeit packaging were seized in Bury,
Greater Manchester. 4 men were arrested, 2 from Bury, both aged 35, and two from Blackburn, Lancashire, aged 41 and 29, on suspicion of taking steps to evade excise duty contrary to CEMA.

► In November 2013, 8 tonnes of raw tobacco was also seized in the Preston area of Lancashire. Enquiries continue into all these seizures.