MERSEYSIDE MUSIC EXPORTS STRIKE A CHORD ON THE WORLD STAGE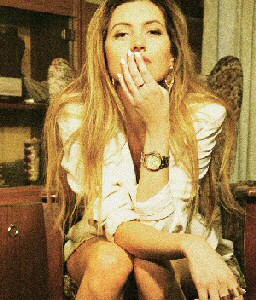 The singer and songwriter Charli Taft is 1 of 14 talented UK signed acts receiving financial help to support international touring and promotion, announced the government's Trade Minister, Lord Livingston, this week.

Charli is one of a group of musicians hoping to build on the high-charting achievements of British artists such as Bastille, Passenger, London Grammar and Alt-J who all enjoyed breakthrough success overseas in 2013.

She is a graduate of the Paul McCartney Institute for Performing Arts (LIPA) in her home town of Liverpool, and is now one of the successful applicants from the second round of the Music Export Growth Scheme. The announcement was revealed as many of the acts prepare to set off on the festival circuit. Almost £250,000 will be awarded to support artists spanning the worlds of alt-rock, indie, soul, electronic, folk, heavy metal, jazz and hip hop music.

Charli said:- "I am delighted to have been chosen as a BPI funding recipient. This opportunity will be very important in helping me take the next step in my career, facilitating my various upcoming writing trips to Seoul, Copenhagen, L.A. and New York. I'm very grateful and excited to have the support of the BPI in my endeavours to help create and promote the best of new British music overseas."

Also benefitting from BPI funding is Liverpool based Alastair Goldsmith, manager of artist Lulu James. He says:- "The BPI funding for Lulu James represents a significant opportunity for us to capitalise on an existing demand for Lulu's music on the Continent. It will facilitate the promotion of new music to new audiences, which otherwise, would not be possible. As a result of this funding, we expect Lulu James to grow her European fan-base, and are grateful to the BPI for affording us the opportunity to promote some great new music in a Territory outside of the UK."

The Music Export Growth Scheme has been established by UK Trade & Investment (UKTI) and the BPI (British Recorded Music Industry) to help small and medium sized independent music companies promote their artists overseas as part of wider government efforts to get another 100,000 businesses exporting. The first round of funding was distributed to successful applicants across the UK in February 2014 to support activities in North America and Europe.

Trade & Investment Minister Lord Livingston said:- "The British music industry is a global success story. From The Beatles to Adele to Mumford & Sons, Britannia rules the airwaves and sells more records around the world than almost any other country. This exporting strength brings jobs and economic growth to the UK and the Music Export Growth Scheme lets up-and-coming British artists up the tempo on the international stage."

The decision to allocate funding to a specific campaign was taken by a panel of music industry experts, independently chaired by John Kennedy OBE, with advice and guidance from BPI, UKTI, the Association of Independent Music (AIM), the Music Managers Forum (MMF), and representatives from some of the UK's leading independent record labels.

John Kennedy, Chair of the Board for the Music Export Growth Scheme, said:- "As we go through these applications it is refreshing and invigorating to see the breadth of talent enthusiasm passion and determination. Yet again demand for funds far exceeded our ability to fund which shows how important the monies are but also means that the chosen projects have a responsibility to deliver on their promise as that will help the industry as a whole."

In 2013 the wave of British acts riding high in the charts continued around the world. UK acts accounted for one in ten of all artist albums sold in the US and 24% of all European album sales. New artists making an impression overseas in 2013 included London Grammar and Alex Hepburn in Europe whilst Bastille, Alt-J, Passenger and Ellie Goulding charted amongst the Top 30 UK acts proving popular in North America.

Commenting on the potential of the Scheme to support UK talent, BPI and BRIT Awards Chief Executive Geoff Taylor said:- "Very few countries can boast the same levels of musical excellence as the UK, in 6 of the last 7 years we have produced the world's best-selling album, made chart history in overseas markets and have been responsible for developing the careers of some of the biggest names in music. We break bands who go on to break records. BPI is at the centre of initiatives to support British artists and music companies and we hope that the Music Export Growth Scheme will help a new wave of British artists to define the sound of success in 2014 and beyond."

The Scheme, funded by UKTI, will make up to £2.5 million of grants available over a 2 and a half year period. It was announced in October 2013 at a Number 10 meeting with music executives chaired by David Cameron.

Further application rounds will take place periodically over the next two and a half years, with the next round opening for submissions on Monday, 12 May 2014. Applications are open to all UK music companies meeting the application criteria. Full details can be found online.

LIVERPOOL BASED SEFTON PARK AND RICKY TOMLINSON GET ANIMATED OVER LOTTERY FUNDING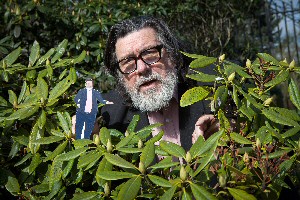 'JUST Imagine' campaign asks the nation to imagine how different lives might be without the £31 billion raised by The National Lottery. RICKY Tomlinson has launched a new animated film on behalf of the National Lottery with star turns from Olympic athletes Chris Hoy and gymnast Beth Tweddle.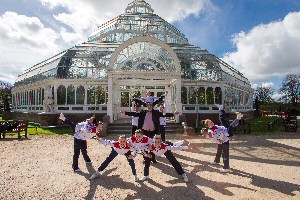 The short film, starring Ricky as the narrator, dramatises how every person in the UK has been touched by Lottery funding in one way or another and features local Liverpool based project, Sefton Park. The 90 second animation has been created by BAFTA award winning animation studio Blue Zoo, which has itself received National Lottery funding. The story connects people from different regions of the UK and features Lottery funded projects across the arts, sport, heritage and voluntary sectors; from a young gymnast inspired by the 2012 London Olympic Games to schoolchildren learning about old bones at the Natural History Museum.

Sefton Park is one of the Lottery funded heritage projects that features in the animation. The Liverpool park has received over £290,000 in funding over the past 15 years. Most recently funding was secured for a preservation trust to maintain the Palm House and its grounds, and to help fund audio kiosks to provide information to visitors. Director of the Palm House in Sefton Park Moira Leonard said:- "I would like to say a big thank you on behalf of the staff members, volunteers and visitors of the Palm House - we are truly grateful for the on-going support that is provided through National Lottery funding. Many of our past and present projects would not have been possible if it wasn't for the generosity of the scheme. As a result of the funding, we are able to continue hosting a varied assortment of exciting events for all members of the public to enjoy."
Actor Ricky stars as himself in the animation and lends his instantly recognisable voice to the narration. Ricky has been a supporter of National Lottery funding since visiting a Lottery-funded project, Gartnavel Chapel Cancer Support Centre, in Glasgow last year. Commenting on the 'Just Imagine' campaign, he said:- "National Lottery players raise an astonishing £33 million every week for good causes, improving lives in so many different ways. National Lottery funding has helped causes close to my heart like literacy projects, cancer support charities and even my local park, Sefton Park. Even if you're not a big prize winner when you play the National Lottery, you're helping other people win big."

A number of celebrities and Lottery funded projects are taking to social media today, tweeting simultaneously to raise awareness of the importance of Lottery funding. Local gymnast, Beth Tweddle is also supporting the campaign, commenting:- "For me, National Lottery funding was an integral part of my life. Without it, I wouldn't have been able to compete in the sport I love. I hope that my involvement with this campaign will encourage my followers to pause and find out more about the crucial work that National Lottery funding makes possible."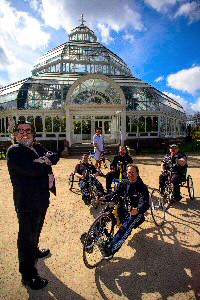 The National Lottery has launched a 'Good Cause Finder' to enable people to find out more about the National Lottery funded projects in their area at:- lotterygoodcauses.org.uk.

Vicki Kennedy, Director of The National Lottery Promotions Unit, said:- "This film demonstrates how everyone's life has been enhanced by National Lottery funding in one way or another. It features a number of projects including a dance group, disability charity and a project supporting older people. But they are just the tip of the iceberg when it comes to the impact of National Lottery funding. People can see for themselves how lives are being changed in their own community by inputting their postcode to the new good cause finder on our website."

To watch the film starring Ricky Tomlinson, Chris Hoy and Beth Tweddle, visit:- youtube.com/watch?v=tdK-H0RBPlo.