Sefton Football Cup Final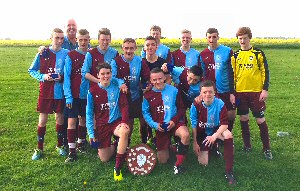 THIS Year's Year 10 Sefton Cup Final was played recently between Range High School and Maricourt High School. It turned out to be an epic cup final, finishing 6-5 to Range.

Range scored first, with captain Elliot Jones finishing off a neat move with a good finish, but soon Maricourt came back to make it 1-1. Range played more of a passing game, and a great strike from outside the box from Tom Croughan put Range 2-1 ahead. Maricourt favoured the more direct approach and soon found the equalizer to make it 2-2.

Range then had a good spell of controlled football and two goals from Jack Stewart, who was a constant problem to Maricourt with his pace, made it 4-2 to Range. However, Maricourt are a tough side and they responded with 2 goals to make it 4-4.

This match could go either way as Range went back on the attack and Jack Stewart got his hat-trick with a great goal into the top corner of the net. With 10 minutes to go surely Maricourt could not come back again … yes they could, with another goal to make it 5-5. With not long to go, and extra-time on the cards, Range had one more chance and they took it, with the move of the match – a great cross field pass from Harry Blackburn found Elliot Styche and in one move he beat the full back and sent over a great cross to the back post. Dominic Giblin was at the back to volley home what turned out to be the winning goal, making the final scoreline 6-5.

What a match! It was a game that was played in the right spirit throughout the match by both teams, but you can only have one winner and that was Range, who have won this Trophy for the 3rd year on the run and that is a great achievement. Well done to both teams in what was an epic cup final.
2 Males charged following Assaults in Bootle
2 men have been charged with Section 18 wounding with intent, robbery, attempt robbery, and possession of a bladed instrument following an incident on Stanley Road/Park Street, Bootle, on 30 April 2014, according to Merseyside Police. Adam Carter, aged 22 years, from Merton Road, Bootle, and Craig Moorcroft, 24 years, from Merton Road, Bootle, appeared at South Sefton Magistrates Court on Friday, 2 May 2014. The 20 year old woman who was arrested following the incident has been released on Police Bail pending further inquiries.

The Mark Wright Charity Football Event
Report and photos with thanks to Bond Media Agency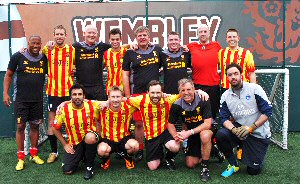 FORMER England international and LFC legend Mark Wright was joined by John Barnes, Jan Molby, John Durnan and Alan Kennedy at Goals in Speke for a corporate football tournament followed by a dinner at Anfield in the evening. The competitors in the tournament battled it out to win an opportunity to play against the LFC Legends in the final; a team skippered by local dentist Liam McGrath won the competition after beating the Legends on a penalty shoot out following a 2-2 draw. The teams were later entertained at Anfield by local impressionist Darren Farley and comedian Les Gibson. The auction at Anfield saw some unique memorabilia pieces being sold to support projects to help children in foster care - Mark Wright and his wife sue are also foster carers. Mark said:- "the whole day has been enjoyable from the beginning to the end - I can't thank enough all the many teams which came from all over the UK to compete in my tournament - everyone thougherly enjoyed themselves - and the best team won - but only just!!" Anyone interested in football events with Mark Wright should contact him via twitter mark5wright or via:- markwrightevents@yahoo.com.