TITAN has been given a 'Licence to sell' James Bond's car!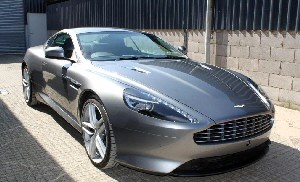 MERSEYSIDE Police Detectives from the elite crime fighting Unit called TITAN hopes to get thousands more for it than at a traditional auction after listing a car that is the same type as James Bond's car on eBay! The Aston Martin Virage Silver (61 plate), was seized as part of an investigation and agreement has been reached that it is sold pending the outcome of the ongoing proceedings.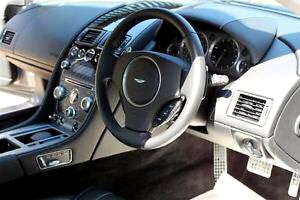 The sale will also see other times including 2 other cars, BMW 120I SE Auto Silver (10 Plate) and a slightly less glamorous Vauxhall Vectra Navy Blue (56 plate). The cars are now listed on eBay with respective starting prices of:- Aston Martin £79,000, BMW 120 Convertible £13,765 and the Vauxhall Vectra £3,350.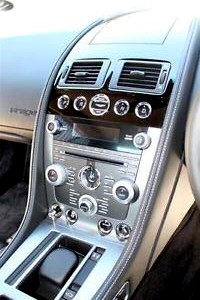 It is the first time that Titan has sold a sports car under the new under Proceeds of Crime Act legislation. Bit it is not just cars being listed, as the unity will also be selling luxury watches and jewellery seized from North West criminals, as a result of other operations, Titan over 2013. In one of these cases, Operation Ash, a Jacobs and Co diamond set watch fetched £9,500 and a white gold diamond set bracelet sold for £3,900. Smaller items such as iPads and Sat Navs have also ben seized from North West criminals and sold, with all the proceeds going back into a crime fighting pot, that is shared between the Police, Crown Prosecution Service, the Courts and the Government. Detective Superintendent Jason Hudson, the Head of Operations at Titan, said the auctioning of such a luxury and famous car was a big step forward for Titan's eBay initiative. D/Sgt. Jason Hudson told the media that:- "Although we have already been selling jewellery and other items from our cases this is the first time we have been able to sell vehicles. We currently have over 25 vehicles that have been seized as part of ongoing Titan investigations that we hope to sell over the next 12 months. There will be a range of vehicles to suit all budgets. We are using existing legislation to seize assets but instead of a traditional auction where there are costs and fees involved and you only reach a small market, we are increasingly using our eBay shop on the Titan website to reach a far wider set of buyers. The Aston Martin is a particularly nice car and obviously comes with the prestige of being the car of choice for a certain Mr James Bond! I'm sure plenty of people will be keen to view it via our website and be tempted to put a bid in. The BMW and Vectra are also good cars of course and I'm pleased and also relieved that our seller rating is high and that previous customers have had a good experience!" The cars will be listed on eBay until Monday, 12 May 2014.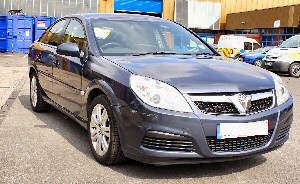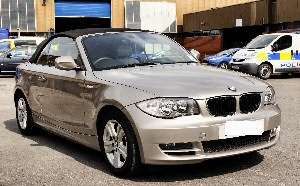 Fast and Furious with Galloway's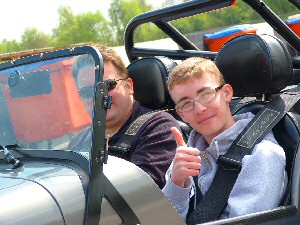 THE Galloway's Society took over the track for the day and volunteers offered their cars for visually impaired people to drive. They were put in control of dual control cars and were able to experience the thrill of driving; something that many visually impaired people say they really miss when their sight deteriorates or have never had the chance to experience at all. Zubeda Adams, another visually impaired person who attended jumped at the chance to drive around the race track. Zubeda said:- "I never thought I'd be able to drive a car again after my sight deteriorated. It's like a dream come true driving again today and I've had a fantastic time."

Zubeda also took the chance to ride pillion on a performance motorbike being driven by volunteer, Phil McEntee. There were also sports cars on the track including a Caterham, an E Type Jaguar and an Austin Healey as volunteer car owners took visually impaired people for a spin at top speeds giving them a thrill to remember. Activities Coordinator for Galloway's, Terry Myles said:- "Galloway's aims to provide visually impaired people with opportunities to lead an independent and active life. It's great to give people with sight loss the opportunity to get behind the wheel of a car – something many of us take for granted. Our fantastic volunteers ride with them and of course safety is always our top priority. We have been running this day for a number of years and many people come back year after year because it is something they cannot experience anywhere else to my knowledge. The Three Sisters Track is just amazing to host this and all the drivers give their time and, perhaps more importantly, their precious cars and motorbikes for free to help people with no or little sight experience the thrill of speed."

Galloway's is a local charity with a centre on Wright Street in Southport and relies on donations and legacies to continue its services for people living with sight loss.

Wine fans see double as twins launch Cheshire Mersey Wine School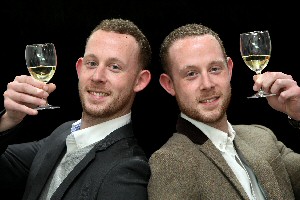 IDENTICAL twins are pouring their passion for wine into a new venture for those who would like to know more about the popular tipple. Entrepreneurial brothers Mark and Richard Winnington, who hail from Congleton, are opening Cheshire Mersey Wine School; an independent wine education company; to offer a range of fun tastings and courses for people who are keen to learn about wine.

The graduates; both former assistant managers at Majestic Wine; are the newest franchisees within the successful and rapidly expanding LocalWineSchool.com family; a UK wide network of independent wine schools providing evening tastings, Saturday events, 4 and 8 week courses, private parties, bespoke tastings and corporate events for beginners and experts alike.

The brothers' school will cater especially for the Cheshire and Merseyside areas with venues based in the vibrant heart of Liverpool's Albert Dock and in the beautiful historic city of Chester.

The school's first Liverpool event, an Introduction to Wine Tasting evening, will take place at 7.00pm on Friday, 11 July 2014, at Jury's Inn, Albert Docks, L3 4FN. The first similar Chester event will take place at 7.00pm on Friday, 18 July 2014, at The Pitcher and Piano, St John St, CH1 1DA. Tickets are now on sale at:- CheshireMerseyWineSchool.com.

The 24 year old twins' love of wine stemmed from a trip to Italy in 2010, when they visited Franciacorta; a regional vineyard specialising in sparkling wine. After taking a tour of the vineyards, the presses and production facilities and experiencing a tasting session, they were completely hooked on the world of wine and were determined to pursue careers in the industry.

The duo both achieved places on Majestic Wine's graduate management scheme, based in separate branches, where they gained Wine and Spirit Education Trust (WSET) qualifications, honed their retail skills, visited wine making countries, ran customer tastings and were promoted to assistant manager roles.

Mark, who holds a degree in Media and Marketing from Liverpool John Moores University, worked in Majestic's Kendal, Birkdale and Macclesfield branches. His twin Richard – who studied Hospitality Business Management and Events at Sheffield Hallam University - worked throughout the Clitheroe, Macclesfield, Chester and Ashbourne stores.

Mark said:- "At Majestic, we most enjoyed hosting tastings, interacting with customers and talking about hundreds of different styles, grape varieties and regions. We decided to look for a new challenge this year which would enable us to work for ourselves and create our own tasting experiences. We found localwineschool.com when browsing online, and thought it presented an ideal opportunity to do what we love most; talking about and tasting wine; within a fun, relaxed environment in the local area we know best. At Cheshire Mersey Wine School we aim to offer an entertaining, informative and local wine tasting service, designed to helpeveryone enjoy learning about the most exciting liquid on the planet."

Richard said:- "We're really looking forward to bringing more people into the wonderful world of wine and wine tasting. Few hobbies are as much fun as learning about wine, and it's a great pleasure to go out and open up this world that many people find confusing and complicated, so that this fantastic product can be enjoyed and understood by anyone with an interest in it. We want to bring a contemporary, fresh twist to wine tasting; and to get rid of any notions of these events being intimidating, formal experiences."

The localwineschool.com network has schools in London, Edinburgh, Glasgow, Manchester, Bristol, Birmingham, Newcastle, Lancashire, Hertfordshire, Yorkshire, Cambridgeshire, Sussex, Surrey, and Hampshire. Chris Powell, the founder and owner, set up the first school in Newcastle in 2000.

Chris said:- "The twins bring so much energy and passion to the wine school network and we're delighted to have them on board. Their enthusiasm and customer-facing skills, as well as their in-depth knowledge of the Cheshire and Merseyside areas, made them the ideal candidates to launch our newest franchise."

The brothers will also be appearing at the Congleton Food and Drink Festival on Sunday, 15 June 2014, from 10.30am to 4.30pm in Congleton Town Centre.

Richard and Mark's top 10 wine tips:-

1. Don't be afraid to try new wines

2. Ask plenty of questions and no question is a stupid question.

3. Try pairing regional dishes with regional wines – it works!

4. Screw caps are just as good as corks despite what people say!

5. The more you spend on your bottle of wine, the more 'wine' you're paying for after all the tax & duty.

6. Share it – Good wine is always drunk best with good company.

7. Drink what you enjoy, doesn't matter if it's cheap and cheerful – Wine is completely subjective.

8. If you struggle to match the right wine to the right food then follow the basic principle of 'Red Wine – Red Meat' and
'White wine – Fish, White meat.'

9. The colder your wine the less flavour and aromas you'll detect. Whites can come across quite watery and reds become
very tannic and alcoholic (whites between 8 to 10 degrees also reds between 14 to 18 degrees Celsius).

10. Monks were the best wine makers; Thanks to Dom Perignon we have one of the finest champagnes and its principles and
production are still used today.
Job Advert:- "Charity Shop Manager in Northwich"
THE charity Relate Cheshire and Merseyside is seeking a Charity Shop Manager to be part of an exciting new venture in Northwich where we have set up a furniture and homeware outlet, Relate at Home. The shop is located in Northwich and is for 25 hours per week on pay of £13,468 – pro rata. To be considered for this post you must have retail experience, the ability to motivate and work as part of a team, good administrative and organisational skills, and the creativity and enthusiasm necessary to help develop a new shop successfully. A working pattern will be agreed with the successful candidate but applications are sought from those with the ability to work flexibly and provide additional time to help keep the shop trading six days a week. This post is subject to a Basic Check conducted by Disclosures Scotland (an office of the Scottish Government which is acting on behalf of the UK). You must agree to promote strong and healthy relationships as the basis of a thriving society. Closing date for this job is:- 19 May 2014 (9am). Interview date is on:- 30 May 2014. For an application pack please contact:- enquiries@relatecm.org.uk. Relate is committed to equality of opportunity. It is a registered charity in the UK, number:- 1064180.