Make Your Mark on Liverpool's Light Night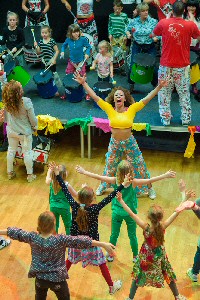 ON Friday, 16 May 2014, Liverpool will once again be throwing open the doors of its internationally renowned museums, galleries and heritage sites for its annual late night celebration of the regions arts, culture and heritage. If you went to last years then you will know just how good this event is and this years promises to be better still. Light Night 2014 offers over 130 free cultural events that aim to inspire and delight visitors of all ages, and there are plenty of activities you can take part in and make your mark.
Head to the Museum of Liverpool for a plethora of hands on activities from 4pm; celebrate 80 years of Bayko, the Liverpool invented model construction set, with the great Bayk-over. Or make your own little Liver Bird in the window overlooking the Royal Liver Building.
The Big Dance Pledge at the Anglican Cathedral at 6.30pm. Merseyside Dance Initiative invites you to be part of a worldwide performance. Join the open dance workshop when you can lean the moves ahead of the main performance at 7.15pm Chinese Calligraphy at Open Eye Gallery, learn about this century old art, use traditional tools, ink and paper and take your beautiful work home with you.

Meet the 'stars' of Tate Liverpool from 6.15pm in an interactive stellar evening of Collective Stargazing. You can create your own word clouds that could include Pablo Picasso, Henri Matisse, Barbara Hepworth and Jackson Pollock. Your ideas could replace the existing ones, offering new interpretations of the artwork on display. A diverse mix of artists and performers will collaborate to create a vibrant showcase entitled Make Your Mark at the Brink. Taking place inside and outside of the venue, with a service user's exhibition, poetry, singing and hip-hop by host Nikki Blaze and Writing On the Wall Festival guests, along with live graffiti from Zap Graffiti Arts. All ages can run away to the circus at the Black-E where you can try out the trapeze, the tight wire, juggling, diabolo and more from 5pm.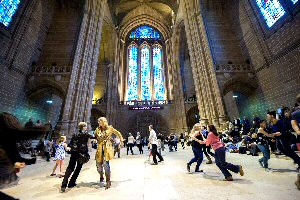 Belt out sea shanties with Up for Arts and Liverpool Shanty Singers outside Liverpool Central Library as part of the Big Big Sing. You'll be helping to celebrate the Commonwealth Games, Glasgow 2014. Join the rehearsal at 6pm and then sing along at 7pm.

Friends of the Flyover invite members of the public to join design professionals and students to create a temporary lighting installation on the walkways of Churchill Way Flyover, view the exciting results from 10pm.

Ropewalks Square will be transformed into a large-scale, interactive light show entitled SYNDROME. Visitors will be able to influence or disrupt the live audio-visual performance with their movement from 9.30pm. This is a new collaborative project between glitch artist Antonio Roberts, Mercy, HIVE and FACT. Open house at Mello Mello from 4pm, a great chance to explore the entire building, meet some of the residents and enjoy taster dance workshops courtesy of Tilt Dance Studio. Liverpool's acclaimed Young Actor's Company 20 Stories High invite you to JAM at the Bluecoat. Calling all Young Poets, MCs, Musicians, Singers, Actors, Beat Boxers and Dancers. Come and join 20 Stories High Young Actors, and some very special guests from 7pm, for a mixture of performances from new and emerging artists. Walk under the stars with the ever-popular Candle Lit Labyrinth, which is in the walled courtyard of Blackburne House this year from 7pm, and promises to be even bigger and better than before. Head to the Bluecoat at 8pm for the Sense of Sound for their Big Sing, it's a great chance to hear this incredible a cappella choir plus join in if you wish. Multi-arts organisation as creatives invite you to 'We Will Remember', their family-friendly hands on activities at Baltic Creative. Taking place from 4pm creating written and visual memories using the theme of WW1 centenary commemorations. Dance around the world and feel the energy at the Movema Dance Class in the Black-E, which follows their thrilling performance with the free runners from Airborn Academy at 7.45pm.

Julia Bryan, Senior Education Manager at Museum of Liverpool said:- "The Museum of Liverpool will be a hive of activity for this year's LightNight, staying open until 9pm. We're pleased to host the Bayko Collectors Club who will stage a Bayk-over of the Museum with their amazing models to celebrate 80 years since the start of Bayko in Liverpool. There will be lots to do for all ages including children, who can get creative with Liver Bird crafts and stay up late in Little Liverpool. Pacific Swing and the Night and Days will also be joining us to fill the Atrium with music."

LightNight visitors can also download a FREE LightNight iPhone app to make their own customised tour of the events and activities. TicTocTourist is an exciting FREE iPhone app for tourists, impromptu visitors and residents alike. TicTocTourist enables visitors to have the whole LightNight programme in the palm of their hand, select a detailed itinerary and plan the shortest possible route on a handy map.

LightNight is Liverpool's one night arts and culture festival takes place annually in May, 2014 is the 5th edition. This year, visitors can also enjoy pop up street performance, light projections, a fire performance, walking tours, live music, open studios, exhibitions and much more. The FREE programme is online at:- LightNightLiverpool.co.uk or available from all participating venues. You can also find out lost more by visiting:- MuseumSatNight.org.uk and Culture.org.uk.

Did you know:- Light Night Liverpool is part of Museums at Night which is the annual national after hours festival of arts, culture and heritage when hundreds of museums, galleries, libraries, archives and heritage sites open their doors for special evening events? Also did you know that this year events for Light Night Liverpool at the Museums take place over Thursday, 15 May to Saturday, 17 May 2014?
The Page to Stage Festival in Liverpool is looking for theatre directors
PAGE to Stage is a festival of new writing that will be staged in Liverpool during 2 weeks in September. 10 1 act plays and 2 full length plays will be performed a number of times during the fortnight, by professional actors. Each production company will share the profits from ticket sales with the cast and crew. The festival is now calling for directors who are prepared to work closely with the writers to stage high quality productions and who will do it for the love of theatre rather than for a guaranteed income. The festival organisers are also looking for a small number of producers. Anyone interested should contact:- john@pagetostage.org.uk with the subject heading "Directors" or "Producers" as soon as possible.

Liverpool charity gives people the chance to win £25,000
PEOPLE are being given the opportunity to support a valuable Liverpool charity while being in with the chance of winning up to £25,000 at the same time. Ronald McDonald House at Alder Hey Children's Hospital has been providing accommodation totally free of charge for 21 years for the parents and carers of the most critically sick children who are in patients in Alder Hey. With 84 rooms the house is the largest Ronald McDonald House in Europe. Annual running costs are £600,000, all of which has to be raised from voluntary donations. To help the charity raise the funds it needs to do its valuable work, it has become part of the Unity lottery scheme run by Sterling Lotteries.

Sterling runs Unity on behalf of charities all over the UK. Players who enter Unity pay as little as £1 a week for a unique 6 digit number. Every Saturday the winning numbers are selected at random giving players the chance to win up to £25,000. For every pound players spend 50p goes towards the charity.

Jan Thomas from Ronald McDonald House at Alder Hey said:- "Imagine having a seriously sick child, you would want the best possible treatment and that might mean travelling from another part of the country to somewhere where you would need to sleep, cook, wash and look after their brothers and sisters. Ronald McDonald House can provide all of this for as long as it takes, keeping families together at the most traumatic time of their lives. We are proud and privileged to work closely with the busiest children's hospital in Europe and by supporting our lottery you will be helping us develop still further."

Richard Dixon managing director of Sterling said:- "We are really pleased to be working with Ronald McDonald House at Alder Hey to help them raise much needed funds to continue their work. I hope people get behind the charity by signing up to Unity and giving themselves the chance of winning at the same time."

To begin supporting the charity's lottery go to:- unitylottery.co.uk.
Firefighters go on Strike again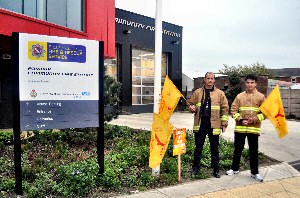 THE Firefighters from the FBU where out on strike again over government attacks on their pensions and other funding issues. The walk outs took place on Friday, 2 May and on Saturday, 3 May 2014, marking the 12th period since the dispute began. Matt Wrack, FBU general secretary, said:- "Yet again firefighters have shown the strength of their anger over government attacks on their pensions and have been united in standing up for a fair, workable and affordable deal." The anger is not just felt at the lower end of the Service, but earlier this year even Cllr. Dave Hanratty, who is the Chairman of Merseyside Fire Authority, has been on record this year sating that:- "Personally I would rather not be imposing cuts. This is a national thing that is being forced upon on us by the Government. Sadly we have a legal responsibility to have a balanced budget and we have tried our best to protect the front line. We will continue to challenge the Government about the consequences of the cuts we are having to make." One of the local Firefighters said:- "It is also a very dangerous time for the public and our members. The public do not understand and the national media is not covering it. A significantly reduced fire service ultimately puts the public at risk, as are the ways they are wanting us to work to get to pension age. this is a National Strike not just affecting us on Merseyside, but how many people understand it and why we are doing it? Please can you ask your readers to sign the online petition and help us to protect you, by protecting our members."
Firefighters have several concerns over the government's pensions proposals:-

1. The amount firefighters would be expected to pay in employee contributions. These are among the highest pension costs anywhere and are making Firefighter pensions unaffordable.

2. The pensions of existing firefighters are not sufficiently protected from the proposals and existing agreements are being ripped up.

3. Firefighters face the risk of the sack simply because their fitness declines as they get older.

4. Anyone who wants to or must retire after 55 faces losing almost 50% of their pension.
The Stroke Association calls for Southport to step out for Action on Stroke Month
THE Stroke Association is calling on residents in Southport to take part in the charity's Step out for Stroke event at Dunes Leisure Centre, The Esplanade on Wednesday, 21 May 2014, at 2pm. The fundraising walk is part of Action on Stroke Month, when the Stroke Association aims to promote stroke awareness and prevention as well as raise vital funds for the charity. BBC Radio Merseyside's Frankie Connor will be helping to officially start the fundraising walk which is part of Action on Stroke Month, when the Stroke Association aims to promote stroke awareness and prevention as well as raise vital funds for the charity.

Susan Fitton, Step out for Stoke organiser said:- "Step Out for Stroke walks are fully accessible whatever your walking ability, wheelchairs and pushchairs are more than welcome too. People taking part in the walk set their own pace and distance they want to cover. Anyone can take part, and we are really keen to invite stroke survivors and people affected by stroke to join in with their family and friends. Being part of a Step Out for Stroke walk is an inspiring experience, but there's a serious purpose behind it; stroke is the leading cause of complex adult disability in the UK. At the Stroke Association we want to be there for everyone affected by stroke, so please do join us and raise the funds that will help make that possible."

For more information on Step out for Stroke visit:- stroke.org.uk/stepout. Action on Stroke Month 2014 is supported by Legal and General. To find out more, please visit:- stroke.org.uk/strokemonth.
INCIDENT ON SOUTHPORT ROAD, BOOTLE, MERSEYSIDE
MERSEYSIDE Police confirmed that a 32 year old man from Tuebrook has been arrested on suspicion of of theft from a dwelling and attempted theft of a motor vehicle, following an incident on Southport Road in Bootle on Thursday, 1 May 2014. The man, who requires treatment for an existing injury, was been taken to hospital for treatment and then interviewed by detectives.