RICS UK Residential Market Survey, April 2014
DESPITE a 4th consecutive fall in new property coming onto the market in April, sales continue to rise, according to the latest RICS Residential Market Survey. The figures from the Royal Institution of Chartered Surveyors (RICS) reveal a constrained property market, which continues to be marred by weak supply and high demand; while respondents across nine UK regions reported declines in new property for sale coming onto the market, the average number of homes sold per surveyor hit 23; the highest since February 2008; while in the North West surveyors sold an average of 27. Nationwide, 26% more chartered surveyors reported increased agreed sales in March, with 28% reporting increased sales across the region. In the month that also saw new lending regulations brought into effect (the Mortgage Market Review), respondents reported that the average 'perceived' Loan to Value (LTV) ratios among first time buyers climbed to 86% and potential new buyer demand remained firm with 20% more chartered surveyors reporting an increase in new enquiries. Significantly, there does now appear not just a broadening out in the recovery away from the capital, but also increasingly upbeat responses on the likely price trend going forward.
In the North West, 62% more chartered surveyors predict prices over the next 3 months will rise, rather than fall, and in East Anglia the figure is 57%. By comparison in London, 49% more respondents conveyed similar expectations (down from 61% in March). In the rental sector, there continues to be modest growth in tenant demand although greater mortgage availability and the 'Help to Buy' Scheme have seen the appetite to rent lose some momentum in recent quarters. Even so, the shortage of property also continues to be felt in this area, with new landlord instructions broadly flat and rent prices over the next 12 months expected to increase by around 2%.
Simon Rubinsohn, Chief Economist RICS, said:- "House prices in general look set to remain firmly on the upward trend, although interestingly, there are some tentative signs that the price momentum in the London market may begin to slow in the second half of the year. The critical issue for the market remains the lack of second hand supply with our numbers suggesting that the picture is, if anything, getting worse. It is too early to conclude whether this will undermine the positive trend in transactions volumes, but clearly the absence of properties to buy will ultimately be a factor in influencing the ability of people to move homes. That said, despite the disappointing trend in instructions, a net balance of 33% of surveyors expect to see sales levels increase as we head into the summer."
New threat to affordable rural housing
GOVERNMENT proposals threaten to reduce the delivery of much-needed affordable housing in the countryside, the Rural Services Network has warned. The network issued the warning in response to a government consultation on a proposed 10 unit threshold for so called Section 106 affordable housing contributions. "From a rural perspective, this is a hugely significant issue." said the network's response. The proposal means developers would not be obliged to provide affordable housing on smaller sites of 10 houses or under. Network housing spokesman Andy Dean said:- "Rural affordable homes are difficult to deliver for a variety of reasons and it is critical that existing routes to deliver such homes are not cut off. Implementing the 10 unit threshold would significantly impact on the delivery of much needed affordable homes in the countryside." A large proportion of the delivery of affordable housing in communities of less than 3,000 population was through Section 106 sites that were 10 units or less, Mr Dean added. In the 2008/11 Affordable Housing Programme, for example, 75% of rural homes were built using this method. Removing it would have a potentially massive impact on delivery. At the same time, Section 106 had proved to be an increasingly important mechanism to ensure that affordable homes were built even though public resources had reduced. "Introducing the threshold threatens to drastically reduce the provision of affordable homes in rural areas." concluded Mr Dean.

Twin Girls Write Alzheimer's Charity Single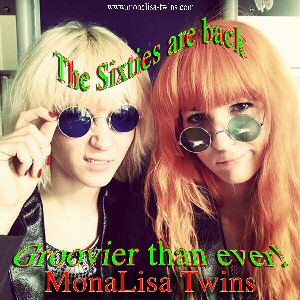 19 year old twins Mona and Lisa have written and recorded a charity single for the Alzheimer Society's Awareness week that runs from 18 May to 24 May 2014. Based in Birkdale, the twins are already established singer/songwriters with a huge internet following across the world, and 2 albums to their name. They were inspired to write the song after losing their grandmother to the disease. The single will be released on 19 May 2014, at the Alzheimer's Awareness event staged at Burnley Football Club and broadcast by the BBC. Take a look and listen at them on YouTube.
Leafing through books in the park
A special area designed to be used by children and adults for reading opens at Croxteth Park in Liverpool on Friday, 9 May 2014. The Reading Space is the 1st of 5 which it is hoped will be developed in parks across the City, using the natural environment to encourage children and adults to read outdoors. It has been designed by students at Myerscough College, with seating made from tree trunks and is split into a number of distinct areas; the Den, the Lawn, the Field, the Circle and the Nook. The initiative is part of the City of Readers campaign, which aims to make Liverpool the foremost reading City in the Country. Pupils from a number of local primary schools – Wellesbourne, Emmaus and Our Lady and St Swithin's; will be the 1st to use it this Friday for a special reading lunch, dubbed a 'booknic'. During the event, children will be taking part in reading activities led by 6th formers at West Derby and Broughton Hall High Schools on a special 'reading train'.

Councillor Lana Orr, Mayoral Lead for Reading, said:- "We are fortunate enough to be blessed with fantastic parks in Liverpool, and this is a simple and effective way of encouraging old and young alike to use our open spaces for reading. This is a really great scheme which we hope will get enable people to come together in a park to share their love of literature. Reading is a lifelong habit and through the City of Readers campaign we hope to encourage it at an early age and get children and parents reading together."

A special reading kit has been devised which will be loaned to schools. It includes lanterns and other props to help bring literature to life, as well as a guide to reading outdoors and a journal to record and celebrate activities. Students from Myerscough College have also launched a lunchtime book club and will be using the space as well. At the launch, a competition will be held for pupils to name the new reading space. For more information about City of Readers, visit their website.