Whizz-Kidz celebrates their charity of the year success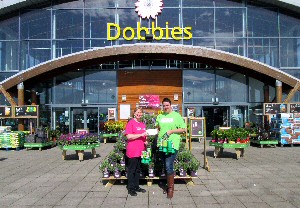 THE Children's charity Whizz-Kidz received a cheque for £1413.42 from Dobbies Garden Centre, Southport. Over the last year staff and customers have been donating to ensure the lives of disabled children across the North West are at the forefront of peoples minds. Throughout this time Dobbies staff have held tombola's, raffles, family fun days, face painting to try and raise as much money to help transform the lives of local disabled children. Jacqui Schober Thomson, Community Champion at Dobbies Southport store said that:- "Each year Dobbies Garden World, Southport selects a worthy cause to become their local Charity of the year. Whizz-kidz were chosen as Dobbies' Local Charity of the Year from March 2013 to February 2014. We are delighted with the total raised this year. Our customers have always been extremely generous in supporting our charities. We would like to thank all our customers for their overwhelmingly positive response and look forward to the next year." Emma Jones, Regional Fundraising Manager says:- "It has been a true pleasure to work with the staff at Dobbies. Their enthusiasm to make a real difference was infectious. Through their fantastic fundraising efforts, Whizz-Kidz can continue providing the vital mobility equipment and life enhancing skills to the children of the North West" For further information about Whizz-Kidz, please visit them online.
Crosby Lakeside saves the day for Southport theatre's first ever stage wedding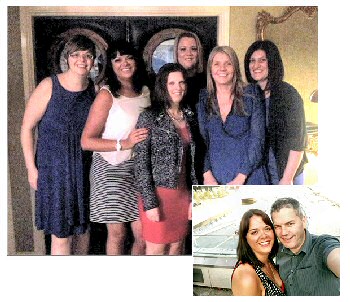 SOUTHPORT Theatre's stage will be playing host to a different kind of performance; the theatre's 1st stage wedding which will be nautical themed. Following an appeal from the bride and groom, Anne and Nic, Crosby Lakeside Adventure Centre has stepped forward to help dress the stage to make sure the perfect seaside setting is achieved. Crosby Lakeside Adventure Centre is a stunning watersports and visitor centre located in Waterloo. The Lakeside team are supplying a boat, oars and other nautical accessories for props which will enable the couple's unusual nuptials vision become a reality. Anne and Nic are set to marry next bank holiday weekend, on Friday, 23 May 2014, and like any other happy couple, they've chosen a unique venue to ensure their special day is unforgettable. Southport theatre opened back in 1973, and after undergoing major refurbishment it offers a whole host of conference and event facilities in addition to spectacular shows. Mr and Mrs Wilson-to-be's nautical civil ceremony will be a small affair on stage in front of family and friends who'll be watching from the stalls. However theatre lovers are welcome to come along to witness this historical event, which starts at 12.30pm. Anne Kelly a Communications Officer, and Nic a Maths teacher, live in Waterloo, a stone's throw away from Crosby Lakeside which inspired their water based wedding theme. The bride, Anne says:- "We can't thank Crosby Lakeside enough for offering to help dress the stage, and with just 2 weeks to go we are confident that the creative theatre team will make our wedding day spectacular." Darren James, Operations Manager at Southport Theatre and Convention Centre says:- "After months of careful planning, we are all very excited here to see Anne and Nic's big day go brilliantly. This will be our first stage wedding, so it's literally going to be history in the making for us!." In keeping with the theme, Anne held her hen do at the newly opened Titanic Aparthotel – 30 James Street.

Galea pens a new 2 year deal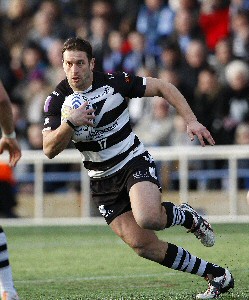 WIDNES Vikings have been given a major boost ahead of the Club's trip to Hull KR this afternoon as Australian back rower Danny Galea has signed a new 2 year deal. The 30 year old put pen to paper this week and he's says it was the easiest decision he's ever had to make after enjoying an excellent start to the 2014 First Utility Campaign and his Widnes career.

Galea, who joined the Vikings in November 2013 from Canterbury Bulldogs, said:- "I'm excited at signing the new deal and
I'm really looking forward to playing a part in shaping the future at the Club. We have a good group here and it makes coming in to training fun, easy and enjoyable and that's hard to achieve sometimes. I didn't look anywhere else as I just wanted to sign at Widnes. I'm enjoying my footy here and it didn't take long at all to get things through as I'm happy, my family is settled here and things are going well in Super League and in the Cup. We've made a really solid start. It's a long year, we know that, and the biggest challenge is continuing that start for the rest of the season. I think we can do it too, and if we keep producing the level of performance that we have shown already this year then it's going to be a pretty good season."

Denis Betts, Widnes Vikings Head Coach, said:- "Danny has really played a big part of what we have achieved this year. He came in as a bit of a unknown quantity, in the sense that we had lots of information and knowledge on his culture and we knew he was a player that would enhance our environment both off and on the field and that has been the case. We knew he was a really good Rugby League player but I think he has even gone beyond all expectations that we had of him, which is a credit to how hard he's worked. He's established himself as one of the senior players, his experience is impressive and every week he's not far off being the best player on the field. The quality in his game and the things he does means he's a player we want to keep around our place as his standards are so high. He keeps making the team better."
GamCare and Beacon Counselling Trust Free Gambling Support service off to a flying start in Liverpool
THE Beacon Counselling Trust, in partnership with GamCare recently launched a free support service for individuals and families affected by problem gambling from Liverpool Town Hall on Thursday, 17 April 2014. The new service, whch offers face to face problem gambling treatment, including free one to one counselling, couples counselling and group counselling, is currently delivered from a central hub in Liverpool. Neil Platt, Clinical Lead at Beacon Counselling said:- "The response since the Launch in Liverpool has been overwhelming which just goes to show that there is a real need for this free service. The service is now being extended beyond Liverpool and we are taking referrals from across Merseyside." The GamCare network of treatment partners provides services across Great Britain for those who need sustained help to deal with their gambling problems. This service is free and confidential and is available to anyone affected by problem gambling. The service has the support of Lord Mayor of Liverpool Councillor Gary Millar and Liverpool Councillors Nick Small and Peter Mitchell, as well as a wide range of statutory and local community organisations. Since the Launch on the 17th the Service has been welcomed with open arms by service users and community support services alike in Liverpool. The next step is to extend this free service across Merseyside and offer it to the residents of Knowsley, Sefton, Wirral, Southport and St Helens. To find out more about the service offered by Beacon Counselling Trust visit:- beaconcounsellingtrust.co.uk. Anyone wishing to use the service should contact them on:- 0151 321 1099 or the GamCare helpline on:- 0808 8020 133 (gamcare.org.uk).