LIVERPOOL PRIDE TICKETS ON SALE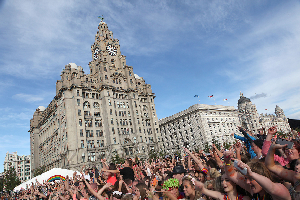 FOLLOWING the recent announcement that Liverpool Pride 2014 will now be a part ticketed event, organisers have confirmed that tickets for this year's festival on Saturday, 2 August 2014, have gone on sale with a limited number of early bird tickets on sale at just £5.

This year marks the 5th anniversary for Liverpool Pride, which was established in 2010 and takes place each year to coincide with the date of murdered gay teenager Michael Causer 6 years ago. The theme for this year's event is Glam Fairy Tales, with those attending encouraged to come dressed in their most wild and wonderful interpretations of the theme.

The main ticketed sites have also been confirmed and Liverpool Pride will be returning with their popular festival sites, with the Waterfront Stage at the Pier Head, where attendees can soak up the music and atmosphere of the main stage area, alongside a number of bars, food outlets and market stalls, the Stanley Street Stage in Liverpool's thriving Gay Quarter, which will showcase up and coming talent alongside entertainment provided by the bars and venues of Stanley Street and Dale Street and finally the Garlands & Gbar Stage in the Eberle Street area with guest DJ's and a huge open area to dance the day and night away.

There is plenty of free family friendly activity too with the Liverpool Pride March through the City centre streets which kicks off the day in celebratory style at 12pm from the Plateau at St George's Hall. Organisers encourage as many groups, organisations and individuals to participate, entertainment and activities are also planned for the muster at St Georges Hall. Also at the Pier Head is a free non-ticketed area which will contain a community stage, food concessions, cafe, market, information stalls, community activities and children's entertainment.

As the main staged areas are now ticketed, Liverpool Pride 2014 promises the biggest and best year yet. Ticket prices have been kept to a minimum and cost as little as £5 for early bird bookers and the LGBT community is encouraged to book fast to get the best possible deal on tickets. The decision to ticket the event was not taken lightly, first and foremost it is to ensure the event will take place this year as well as safeguarding sustainability, the organisers aim to attract bigger name artists and performers, and also to improve safety and facilities at what will become the largest single-day Pride event in the UK.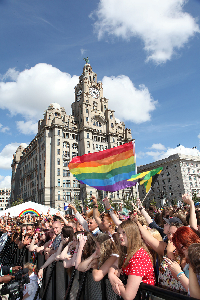 Lucy Day, Chair of Liverpool Pride Charity said:- "Liverpool Pride is a campaign for LGBT equality and to raise awareness of hate crime which many members of the LGBT community face on a daily basis. The free march through Liverpool City Centre will be followed up by a big celebration of LGBT culture in the heart of Liverpool and the LGBT community. Whilst increased costs and scarCity of funding have meant that we're unable to offer a totally free event this year, we have ensured it is an affordable and sustainable event, if attenders book now they can get tickets as little as £5, we do have sections of the site that are totally free and we encourage everyone to take part and enjoy".

Liverpool Pride are also looking for an army of volunteers who will be proud to assist the events team, over 200 people are needed in roles ranging from March Stewards, General Stewards, Bucket Shakers to name but a few.
If you are interested in taking part and helping this much loved event run as smoothly as possible you can register online or contact James Licence, Volunteer and Fundraising Co-ordinator via sending an email.

The line-up of acts for Liverpool Pride 2014 will be announced in the near future, as will a programme of film and fringe events. With the changes ahead, expect Liverpool Pride 2014 to be the biggest and best event yet!

Ticket Prices:- Limited 3000 Early Bird tickets at £5, Advanced Tickets £8 and £11 entry on the day. (No booking Fees, a handling charge may apply of £2.25 per transaction)

For tickets go to liverpoolpride.co.uk or call the Liverpool Pride Ticket Hotline on:- 0844 8000 509. Tickets also available in person at TicketQuarter, Queen Square, Liverpool.
To see the 2013 coverage, please click on here now.

Nearly half of employees know a colleague who has quit work due to stress
48% of employees in the North West say they know a colleague who has had to quit work due to stress. The research, by Capita Employee Benefits, also reveals that 78% of workers have been stressed at work in the past year.

Findings show employers in the North West are failing to support their stressed workforce as 23% of people, who have personally suffered with stress, say after they addressed the issue with their employer nothing was done.

Based on findings of a survey of people in full time employment in the North West, the research shows 50% feel that their employer has a responsibility to help them manage their personal health and wellbeing.

Alistair Dornan, head of health and risk management at Capita Employee Benefits, commented:- "A shocking 15.2 million working days were lost to stress, depression and anxiety in 2013* and, as these results show, employees clearly feel they're not getting the support they need to be able to deal with stress to the point where people know colleagues who've been forced to quit. Considering the cost of absenteeism, lowered productivity and talent leaving organisations on organisations' bottom lines; it's vital employers start taking stress seriously. To tackle the growing stress epidemic organisations must encourage an open dialogue about stress with staff. Half the problem with stress is that it can be a silent issue; with people simply taking time off because they can't face work. Employers need to be able to spot stress trends so they can look to create ways of mitigating that stress before it takes hold. Conducting a detailed risk assessment and auditing the health and wellbeing of an entire workforce will help an employer to spot patterns. For example, if once a year a department has higher than average absenteeism rates, then stress could be a contributing factor. Providing targeted health benefits for the whole of workforce such as expanded access to private healthcare, health coaching and even simple personal health awareness events; could help to deal with stress and prevent absenteeism, potentially saving an organisation thousands of pounds in lost days. It may also mean organisations are able to hold on to talented staff who may be tempted to quit."

A report into the findings from the employee insight research was published earlier this month and is available now via Capita Employees Benefits' website.
Asics Southport Seaside 10k supports Galloway's Society for the Blind.
YOU don't need a runner's body, just a fundraisers heart! That is the message from local charity, Galloway's Society for the Blind, based in Southport, who are appealing for runners, joggers and walkers to join team Galloway's at the start line of this years Southport Seaside 10k.

Emma Wilson, Fundraiser at Galloway's, commented:- "This year is the 10th anniversary of the race and we are honoured to be the charity supported at such a popular event. The race course is a flat two laps of the Promenade and Marine Lake, starting and finishing in Princes Park and is suitable for all abilities, there is also a 2k fun run for younger runners or for anyone wishing to try a shorter distance."

Cat Fearnley a local lady who is registered blind with less than 30% vision and visits Galloway's regularly, has signed up to run the 10k race to raise sponsorship for the charity. Cat has completed a number of runs and even a half marathon in the past, using the treadmill in her local gym but due to her sight loss has never felt confident to run outside before.
Cat told the newspaper "This is a huge personal challenge for me and I am excited to give the race ago and raise funds for Galloway's. I am looking for someone to run with to act as a guide to point out any obstacles around the track, if you are interested in running with me please do Emma at Galloway's on:- 01704 809109."

If you are interested in running either the 10k or the 2k fun run for Galloway's or you would like to find out more about either race please contact Emma Wilson via email or phone:- 01704 809109. "Your support means we can continue to provide advice, specialist equipment and activities to local blind and visually impaired people, to help them maintain their independence."
Practice Makes Perfect Free Sign Classes Update
THIS is a quick remind to our readers that if you are near enough to get to Southport, then take note that Practice Makes Perfect are still offering FREE Sign language and communication skills classes. The classes are held every Monday at 6pm to 8pm, at Salvation Army, 61 Shakespeare Street, Southport, PR8 5AJ. Children are welcome, but under 16s must be accompanied by an adult. Please note that Entrance by the little steps (also disabled access by the graduated pavement area at the front of the church and follow the pathway on the right.) Also on Friday's from 1.30pm to 3pm. They will be based at The New Salvation Army Community church, in the Blue Room. If you want to attuned please contact Maureen Doyle on:- 01704 546626 text/mobile 07960984306. Also please note that they are Children's University approved.. Children welcome with parents/guardian through the summer holidays, but they are closed on Bank Holidays.