"Fracking industry must prove current access system doesn't work." says CLA
THE CLA on 23 May 2014 said the shale gas industry has provided no evidence to demonstrate Government proposals to simplify access for fracking are necessary. The organisation said landowners must also be protected from any liability if fracking causes any negative long term effects on their land.

CLA President Henry Robinson said:- "The oil and gas industries have used the existing system for years with little problem. The shale gas industry is yet to prove why it can't do the same, and has only provided hypothetical scenarios so far. Extensive fracking is new to the UK and carries an element of risk as with any oil or gas extraction. The impact over a long period of time is unknown. Landowners must not be held liable for something that was not of their doing if there are problems decades down the line. It is appalling the consultation does not address these fundamental issues."

The CLA also warned that fracking must not become a quick route to profit for private companies and said flimsy proposals surrounding compensation were unacceptable.

Mr Robinson said:- "Despite all the time spent on the fracking debate the Government has made no concrete proposals for compensation on which to consult. This is wholly unacceptable. Bizarrely the Government has left it to the industry to make compensation proposals as part of its response to the consultation. It seems the consultation explores only what operators want rather than the implications of fracking for landowners and others."
NSPCC fundraising head challenges trekkers in Southport to join him and take on Hadrian's Wall in aid of the charity
NSPCC Fundraising Director Paul Farthing is asking people from Southport to follow in his footsteps and join him in completing a 2 day trek along Hadrian's Wall to raise vital funds for the children's charity.

Paul, 47, who became Director of Fundraising at the NSPCC last year, will take on the Hadrian's Wall Challenge in September, walking 84 miles for the charity, and wants others to sign up to completing 26 miles of the walk with him. He said:- "This is a tough but rewarding event with those taking part able to complete the challenge whilst taking in the history and beauty surrounding Hadrian's Wall. This will be my first fundraising event I have taken part in for the NSPCC. I decided to take it on as I know how important the charity's work is and I'm looking forward to the sense of achievement on finishing. The charity relies on donations from the public and I feel proud to get involved and join in the event."

The Hadrian's Wall Event provided by Discover Adventure is a 26 mile, two day trek on 26 September to 28 September beginning at Lanercost Priory. The challenge will see participants trek across the only remaining sections of the wall, admiring ancient monuments and the skill of the Roman Engineers who built this famous landmark which is now a UNESCO World Heritage Site.

Paul added:- "This is a great opportunity for everyone from history enthusiasts to rambling experts to raise money for a great cause whilst immersing themselves in the spectacular surroundings of Northumberland's National Park."

The entry fee for the Hadrian's Wall 26 mile Event is £75 with a sponsorship target of £500 per person which could help answer over 100 calls to ChildLine.

By taking part in this unique event, you can help the NSPCC to protect vulnerable children and prevent abuse through its projects and services including ChildLine; the UK's free, confidential 24-hour helpline and online service for children and young people.

To register for the NSPCC Hadrian's Wall Trek 2014, visit:- nspcc.org.uk/hadrianswall or for further information, please call our Challenge Events team on:- 020 7825 1343 or send an email

2 TT racers are continued to be supported by Steam Packet Company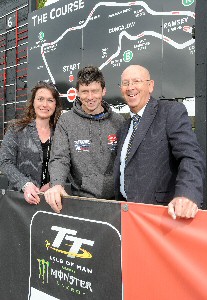 WITH the 2014 Isle of Man TT in full swing, the Isle of Man Steam Packet Company is celebrating its continued support of 2 leading Manx road racers.

Conor Cummins and Dan Kneen have both been supported by the Company in recent years, receiving assistance with their travel to off-Island race events and commitments.

That support is continuing in 2014 and sees machines raced by both Manxmen carrying the Steam Packet Company logo throughout the TT as well as at all other meetings.

Conor and Dan took the opportunity to meet Steam Packet Company representatives during Practice Week to say:- 'thank you' in person for the ongoing support.

'Ramsey Rocket' Conor said:- "I've been fortunate to have had backing from the Isle of Man Steam Packet Company with the Jackson Racing Supersport 600, and it has been a massive help in ensuring I can get to off Island race meetings and test sessions. There have been some ups and downs in the past couple of years, but I've got everything in place for a fantastic 2014 Isle of Man TT and brilliant season, so thanks to everyone at the Steam Packet Company for their continued support."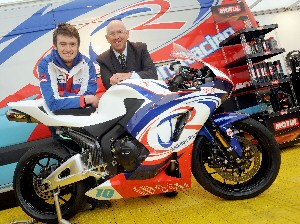 Dan, of Braddan, added:- "I am fully focused on the roads for 2014, and it has been a fantastic start to the season for the BE Racing Team with wins at Cookstown and Tandragee. The support of the Isle of Man Steam Packet Company makes it possible for me to compete in the off Island races like those, and I hope the success shows everyone at the Steam Packet Company how much I appreciate their continued support."

The Isle of Man Steam Packet Company supports a wide range of charities, organisations, performers and sports people every year.

Steam Packet Company Chief Executive Mark Woodward said:- "Whenever it is possible, we are pleased to help talented people in the Isle of Man community achieve their potential with support, including assistance with travel costs. Conor and Dan are excellent ambassadors for the Island, and we are delighted to have been able to support them over the years and will be cheering them on around the TT Mountain Course and throughout the rest of the 2014 season."