Lesley Williams author of 'The Adventures of Hercubear' Interview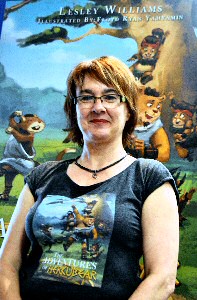 FORMBY played host to a book signing by Merseyside based author Lesley Williams, who also visited The old Book shop in Formby Village on the same day. First off what is the book? Well is a easy to read book, with a very colourful story like based on the hero from Ancient Greece, Hercules. The storybook tells the story of a strong and fearless bear, called:- 'Hercubear', who travels around and fights for justice, freedom and the occasional free makeover. Author Lesley Williams describes him as:- "well built with muscles and a scar over one eye from one of his earlier battles when he was a little cub." But who was or what was the Greece Hercules, Hercules is the Roman name for the Greek hero, who was the son of Zeus (Roman equivalent Jupiter) and the mortal 'Alceme'. so of course you find out the 'Hercubear' just as the classical mythology character, 'Hercubear' is also special. He like his namesake is famous for his strength and for his numerous far ranging adventures. So in this book he is he travels around and fixes problems with his strength and wisdom. Along the way he 'helps' a misunderstood rabbit. But Lesley tells us that he is no ordinary rabbit, he is in fact the 'Cyclops Rabbit', who is extremely smelly... Lesley Williams in the video interview below also lets slip that he also helps many others, including the 'Hamazons', a race of fierce female warrior hamsters. The book is published by Authorhouse and you can find out more by visiting the book's official website.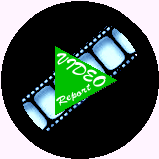 If you want to by a paperback copy of this book, you can do so via the independent book shops in Formby, on our Mersey Reporter Shop, and also via Amison, who also do a Kindle copy of the book. But if you are quick, we might have some signed copies of the paperback available, unless the 'Cenpaw' run off with them.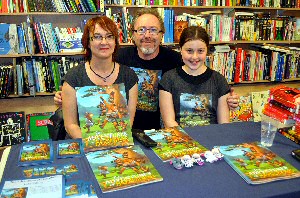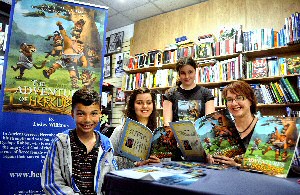 If the above Flash play does not work or you want to see the footage in higher quality, please use our Silverlight player.
Did you see this L.A.P.D car in Formby?
THIS Los Angeles Police Department patrol car was spotted by our Editor in Formby Village just after the interview... Did you see it?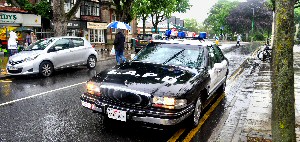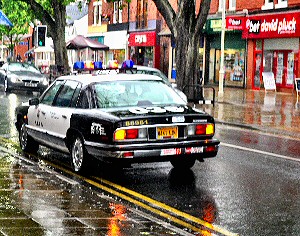 Arthur Smith brings the house down at The Atkinson in aid of local charity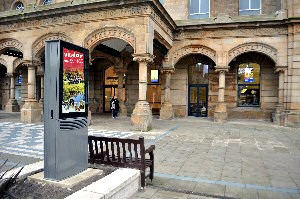 THE TV and radio personality, Arthur Smith, has hosted an uproarious comedy night at Southport's Atkinson Theatre in aid of local charity Vitalise Sandpipers.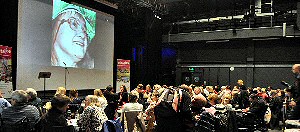 The event, that took place on Thursday, 22 May 2014, was well received and Arthur Smith also performed in a 50 minute slot to an enthralled the audience with jokes, poetry and songs. Also on last night's bill was special guest, Hayley-Jayne Standing, a character comedian and Edinburgh Festival veteran, who captivated the crowd with her famous alter ego, Britain's Youngest Grandma. Another highlight of the evening was the stand up debut of much loved Sandpipers staff member, Sharon Bolton, who gave a confident and engaging performance in front of the 100 plus audience. A late addition to the bill was former Britain's Got Talent competitor, Steven Hall, who generated much hilarity with his novelty dance act.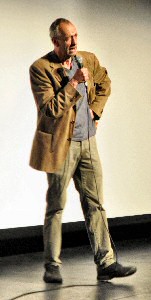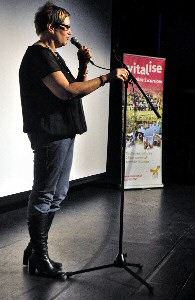 Before the comedy night Arthur dropped into Sandpipers to meet the guests, volunteers and staff, who were enjoying Music Legends Week at the centre. Music Legends is just one of many themed weeks the centre offers all year round, with specially themed excursions and entertainments laid on for the guests. During his visit Arthur took part in a session of archery with the guests enjoying breaks at the Centre, which is located on Southport's Marine Lake.
Commenting on the event, Arthur, who is a Vice President of Vitalise, said:- "I had a fantastic time, so thank you Sandpipers for inviting me. It was a real privilege to help raise money for the centre, which does so much good for people with disabilities and their carers. As a former carer for my mum I know how important it is for carers to get a break, which is why I support Vitalise. They not only give carers a break, but also provide a proper holiday for the person they care for. Everybody wins! I've been to the other Vitalise centres but this was my first visit to Sandpipers. I was very impressed by the atmosphere of the place and of course the warm Southport welcome. I really hope I can come again soon."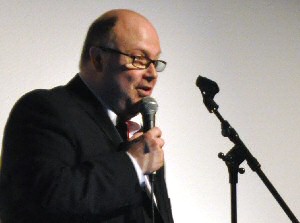 Vitalise Chief Executive, Chris Simmonds, added:- "A huge thank you to Arthur, Hayley-Jayne, Sharon, Sparkey, Steven and everyone else who made this event such a brilliant success! It's so fitting that this fundraiser was a comedy evening, because fun, laughter and togetherness are what Vitalise is all about. At Sandpipers and our other centres our aim is to give our guests exactly the same holiday opportunities that anybody else would expect, including coming to an event like this, so it's great to see so many of the guests from Sandpipers here this evening. We're now on the lookout for new centres around the country because we want to give more people with disabilities and carers the opportunity to experience the Vitalise effect and hopefully many more evenings like this one!"

Vitalise Sandpipers is a well known feature of Southport's seafront. The centre, which celebrated its 25th anniversary last year, provides much needed respite breaks in a holiday environment for people with disabilities and carers from the North West region and across the UK. So it is good to know that all the proceeds from the comedy night have now gone towards the 'Vitalise Sandpipers Respite Break Centre', on Southport's Marine Parade. Vitalise is a national charity providing essential breaks for people with disabilities and carers at Vitalise Sandpipers and 2 other accessible UK centres. Each centre offers a wide range of accessible activities and excursions in a holiday environment. For more information about Sandpipers, as well as other fund raising activities and voluntary opportunities, visit the charity website at:- vitalise.org.uk. For more photographs taken at the event, please click follow the link below.

Page 1 of 2
Please help us to keep our copyright intact and to keep this site online. Click on here now. We hope you liked the photos, but please, don't copy them.