World Host Training gets Airport staff ready for an international welcome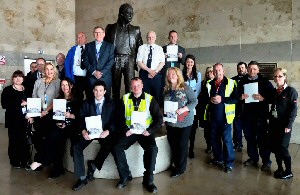 THOUSANDS of visitors from across Europe will get an extra warm welcome when they arrive at Liverpool John Lennon Airport this summer thanks to an internationally recognised training course coordinated by Merseytravel.

Over 500 members of staff at the airport are set to take part in WorldHost training by the end of June, improving their customer service skills and helping them to make sure guests coming to the Liverpool City region for big events, such as the International Festival for Business and the Open Golf, receive the best possible welcome.

The training is still open to other employers across the City until the end of July, free of charge, and Carol Dutton, HR Director at Liverpool John Lennon Airport is encouraging other businesses and organisations to take advantage:- "The training has been extremely useful for staff to improve customer service skills, from those working in ground handling to retailers and caterers; all roles which can impact on the journey experience. It has been a useful way for workers across the airport to learn more about what's happening across the Liverpool City Region and it has also helped the 'airport community' all work together and share our experiences, which we don't often have the opportunity to do."

Cllr Liam Robinson, Chair of Merseytravel said:- "We're delighted that Liverpool John Lennon Airport are encouraging businesses to put their staff forward for the WorldHost training course which we are coordinating as part of an employer partnership. It's vital that visitors are given the best possible welcome from the moment they arrive, and staff have a real appreciation of how their roles can help showcase the Liverpool City Region in the best light, ultimately encouraging them to return."

Originally developed in Vancouver, Canada, to support customer service for visitors to the region, WorldHost Training was used to train the hugely successful "Gamesmakers" at the London 2012 Olympics.

The training offers employers the choice of a range of different programmes, including working on the basic principles of customer service, ambassador workshops, customers with disabilities and service across cultures. 2 bespoke training solutions have been developed for the Liverpool City Region; an Ambassador Workshop covering the International Festival for Business and events information, and a World of Different Customers, covering how to deliver great customer service to people with disabilities or from different cultures.

Funding for the courses has come from the government through the Skills for Growth Bank, which was jointly applied for by Liverpool ONE, Merseytravel and VisitLiverpool as an employer partnership, with the aspiration to become the first WorldHost accredited City region in Great Britain. The project has been supported by People 1st, the Sector Skills Council for passenger transport, tourism, hospitality and retail.

There are still a number of open courses available through until the end of July, which local employers can sign up their staff for.

More information and details on how to register for the courses can be found at:- merseylearn.net.
City Leads in helping troubled families
LIVERPOOL is the top performing City in helping troubled families turn around their lives, new figures show. Troubled families are:- "those that have problems and cause problems to the community around them, putting high costs on the public sector" and the government introduced a programme in 2011 to work with councils to help them change their lives. The programme includes getting children into regular school attendance; reducing youth crime and anti social behavior; helping adults back into work and cutting the high costs these families put on the public sector.

The latest figures show that:-

► In Liverpool, where 2105 families have been identified as being troubled, 1185 have had their lives turned around based on statistics for crime, anti-social behavior and education; the highest number in the UK by volume.

► Based on rates per 1000 population Liverpool had the highest figure (2.54) of all the major Cities for turning troubled families' lives around.

► Liverpool came top for families achieving continued employment.

The City's success has been achieved through the strength of its partnership working supported by a Families Programme Governance Group, chaired by the City council. A new Schools Family Support service has been created and the Family Intervention Programme enhanced.

The Mayor of Liverpool, Joe Anderson, said:- "Troubled families not only have difficulties for themselves but can cause real problems for the communities in which they live so it is very good news that we have helped so many change their lived. Liverpool is giving a lead in this area. We try and help families change their lives by coordinating services to work with them rather than the approach of 'doing things' to them or for them. We need to look at families' problems in the round rather than dealing with individual issues. For example, a child's poor school attendance may be related to a parent's drink problems and we have to tackle those in a coordinated manner. And we are trying to avoid duplication and have streamlined services using information from different partners for more effective targeting of issues. Working closely with the DWP has meant more families have found work and become more confident in getting back into work, volunteering and training. The results of this work is reflected in the latest figures; however, we are not complacent and recognise that we need to continue with this progress to help more families turn their lives around."

The line up revealed for Live on the Waterfront 2014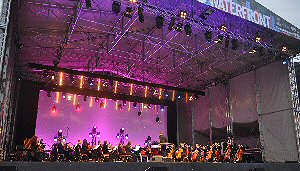 A homecoming, a soul legend, a Liverpool favourite and an X-Factor finalist will be part of one of the City's most popular outdoor festivals. The full line up has been revealed for this year's FREE musical extravaganza, Live Music on the Waterfront event, which is part of the International Mersey River Festival. The event will take place from the evening of Friday, 13 June 2014, until Sunday, 15 June 2014, at the Pier Head, Liverpool, on the banks of the Mersey. For the latest information, like Facebook Page, or follow then on Twitter:- poolwaterfront.
The times and schedule is as follows:-

► Friday, 13 June 2014 from 6.30pm to 10.30pm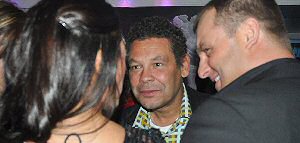 The events kick off at with Liverpool born actor who is best known from BBC's Red Dwarf and ITV's Coronation Street, and surprisingly a DJ, the one and only Craig Charles bringing a special edition of his BBC Radio 6 Music Funk and Soul Show. Craig will be joined by modern soul heroes Smoove and Turrell and, on a special diversion from his European Tour, soul legend Lee Fields. The event will also feature some of the listener's favourite sections from Craig's weekly 6 Music show and will culminate with a DJ set from the man himself; guaranteed to be filled with some of the most soulful and funkiest tunes around. Craig said:- "I can't wait to unleash the funk in Liverpool. Open air gigs always have an amazing atmosphere, but with this being a homecoming show it is going to be a really special night for me and, I hope, everyone in the crowd."

Before Craig takes to the stage, BBC Radio Merseyside will be getting the party started with an hour of music from 2 local acts with a huge future; vocal harmony 5 piece, MiC Lowry, will join Esco Williams who was the 2012 winner of MOBO's Unsung Award. Together this will be 4 hours of amazing live music and performances.

A 3 hour special of the show will be broadcast on The Craig Charles Soul and Funk Show on BBC Radio 6 Music from 6pm to 9pm on Saturday, 14 June 2014.

► Saturday, 14 June 2014, running from 1pm to 7pm...

Saturday is hosted by Smooth Radio and the line-up includes:-

► Rhydian – The double platinum selling Classical Brit nominee will headline the show, performing tracks from his new album 'One Day Like This'.

► The Christians – The Liverpool band always guarantee a strong performance and are sure to get a warm welcome from a home
crowd.

► Leee John - Lead singer of 80's super soul funk group Imagination, sold more than 50 million records, and will bring a
disco feel to the afternoon.

► Jaki Graham – This will be Jaki's third appearance at the event and will sing her upbeat 80's hits.

► Heather Peace – The actress and musician will play tracks from her new album, The Thin Line, which is released days before the event.

► Jo Lloyd – A first for the event; Jo will not only host the event but take to the stage to perform some favourites
► Honey Ryder – This will be the band's second appearance at the event, bringing a mix of soulful country and pop to the afternoon.

► The Shires – The critically acclaimed duo formed in the Hertfordshire and Bedfordshire countryside, will bring the sounds
of Nashville to Liverpool.

► Kristyna Myles – this singer-songwriter is no stranger to the big stage having recently supported Lisa Stansfield on tour Caroline
► Harrison – After supporting Texas last year, Caroline is back with her debut album and will open the day's events.

Jamie Griffiths, Brand Programme Director for Smooth Radio, said:- "It's fantastic to be back working with Liverpool City Council on our 4th annual On The Waterfront event and it's doubly exciting when you consider how much we have to celebrate. Last week we recorded our best ever audience figures topping one million weekly adult listeners in the North West. There's no better way of celebrating than with our listeners in a stunning location with great live music; all for free!"

► On Sunday, 15 June 2014, from 1pm to 5pm...

Sunday is all about the bands with the Bollywood Brass Band, Royal Marine Band of Scotland and Rat Pack tribute band.

Assistant Mayor and cabinet member for culture and tourism, Councillor Wendy Simon, said:- "Music on the Waterfront is an incredibly popular event and the audience figures get bigger and bigger each year. This year will be no different with its impressive line up. It's great to be working in partnership with both the BBC and Smooth Radio and it will give the event an extra, exciting dynamic. I'm sure Craig will get a warm homecoming welcome on the Friday night that will kick off the free music extravaganza in style. And, in a change to previous years, the weekend of live music will take place during the day, hopefully opening it up to a new audience who can take time out from enjoying the fantastic maritime offer of the River Festival to enjoy some of the amazing free live music."