THE OPEN 'PUTS' LOCALLY SOURCED FOOD TO THE 'FORE'
CHEFS at one of golf's most prestigious Majors are to tee off the catering with dishes created specially for the event. A range of menus for the official on course hospitality featuring locally sourced ingredients will be par for the course during the The Open Championship at Royal Liverpool Golf Club on 16 July to 20 July 2014. Not only has executive head chef Ben Dutson, who will lead the catering team throughout The Open, tracked down the region's finest honey, meat, dairy and shellfish, but he has even invented a burger named in honour of the Championship. The Open Gourmet Burger, which will be served to guests in The Champion's Club, will be topped with pepper jack cheese and pickles in a glazed brioche bun, accompanied by seasoned potato wedges and a dressed salad. The Champion's Club is 1 of a number of hospitality areas which will operate from a tented village close to the 16th hole and will offer a slightly more informal alternative to that offered in the other packages including The Gallery Restaurant, The 1860 Club and The Premier Suites.

Ben said that:- "We're going to be offering locally caught shellfish, making use of Scouse honey and featuring meat from Cumbrian charcuterie experts Woodall's in a starter. Our speciality, however, is going to be The Open Gourmet Burger. It's a premium event and we've created a premium burger that will be made freshly on site. It'll be a very far cry from fast-food, factory production line-style burgers which get stacked up in chutes: we're delivering a gourmet burger from grill to bun in 10 seconds."

A range of fully inclusive hospitality packages, are available throughout the event and guests can also enjoy a special rate for the practice day in The Champion's Club. Interest in hospitality for this year has exceeded expectations and a number of packages have already sold out. For further information visit:- theopen.com/hospitality or call:- 0844 371 0883 or send an email.
Tribunal tears up Next's tax relief claim
A multi million pound tax allowance claim made by one of the UK's largest clothing retailers has been rejected for the 2nd time by a tax tribunal. Next Distribution Limited, part of the Next Group Plc, claimed Industrial Buildings Allowance (IBA) on £19 million it spent on constructing 2 buildings used for warehousing and other activities. Under the now defunct IBA, businesses could write off some of their construction costs if the sites being built were used to subject goods to a process or to store goods on their arrival in the UK. HM Revenue and Customs (HMRC) refused Next's claim for the allowance on the grounds that unpacking bulk deliveries and repackaging them in smaller packages was beyond the scope of the allowance. The company's appeal against the decision was dismissed by a First tier Tribunal and that decision has now been upheld by the Upper Tribunal. This decision safeguards about £2.8 million of revenue. Jim Harra, Director General, Business Tax, HMRC, said:- "HMRC's decision to reject Next's claim for this tax relief has now been backed by 2 tribunals. "This case shows that, when any business; large or small; tries to claim capital allowances beyond their intended scope, HMRC will challenge it, including through the courts if necessary."
Did you know? IBA was a "writing down" allowance which wrote off the cost of constructing certain industrial buildings or structures on a straight line basis, usually over a period of 25 years. Also IBA was abolished in April 2011 and no similar allowances were made after this date.
North West businesses, schools and colleges urged to sign up to free 'Future of Manufacturing' event
NORTH West Businesses, Schools and Colleges are being urged to sign up for a free conference being run by EEF, the manufacturers' organisation, in partnership with Siemens, at the Hilton Hotel in Liverpool on 25 June 2014. The 1 day event will focus on skills, diversity and attracting more science, technology, engineering and maths students, as well as tackling the key issues facing manufacturing and engineering companies as they emerge from the recession. It will pull together industry experts and business leaders to debate the future of manufacturing, the challenges and opportunities of 'Make it Britain' and how Britain can secure the world class skills and talent required for manufacturing growth to carry on at a pace. The event is part of the prestigious International Festival for Business which will put the North West on the world stage, showcasing the strength of the region and the diversity of its businesses and skills. Darrell Matthews, North West Region Director at EEF, says:- "The IFB will be bringing the world to Liverpool and we want to ensure that businesses, schools and colleges in the wider North West region are making the most of this golden opportunity. Our event with Siemens will be the flagship of Manufacturing, Science and Technology Week at the IFB and I would urge anyone interested in our sector to sign up and get involved." To attend the free conference or to find out more, visit:- eef.org.uk/ifb.

High Sherriff gives high praise to Stick 'n' Step at Hidden Gems awards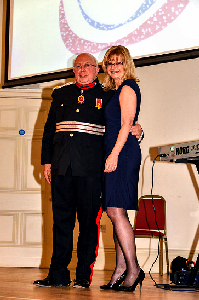 A Wirral based charity, Stick 'n' Step, has received special recognition at the High Sherriff of Merseyside's Hidden Gems Awards this year, which resulted in guests raising £2,000 for the charity.

The Hidden Gems Awards were established to honour previously undiscovered good causes across the borough that the High Sherriff of Merseyside, Ian Meadows OBE DL, encountered throughout his 2013/14 term in office.

The 200 guests on the night included representatives from around 50 good causes along with other special guests such as the Chief Constable of Merseyside, the Bishop of Warrington and all five Mayors, representing each borough of Merseyside. Each of the good causes received a personalised award as recognition of its contribution to society, including Stick 'n' Step; which was recognised for 'optimising lives and giving parents hope'.

Ahead of the Awards, the High Sherriff brought Stick 'n' Step to the attention of everyone in the room and played its promotional video to highlight the work of the charity. He also encouraged guests to enter the raffle, with proceeds going to Stick 'n' Step; which amounted to almost £2,000. The High Sherriff's intentions to fundraise on the night and give special recognition came as a pleasant surprise to Sarah Smithson, Operations Manager, and Kerry Roe-Ely, Community and Events Fundraiser, who both represented the charity at the event.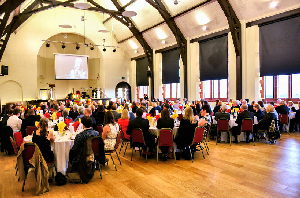 Stick 'n' Step is a nationally recognised charity based in Wirral. It provides conductive education (CE) and support services to 70 children with cerebral palsy and their families. It is the only CE centre in the North West and North Wales to offer its service for free. CE provides a platform for developing coping mechanisms to manage the difficulties caused by the disability, but it is not currently offered by the NHS. The annual cost to fund one child's place at Stick 'n' Step is £3,000 and because it receives no government funding, the charity relies entirely on grants and community fundraising to remain a free service.

Commented Kerry Roe-Ely, Community and Events Fundraiser at Stick 'n' Step:- "Back in November 2013 myself and our ambassador Rob Palmer attended the Merseyside Police Federation's Charitable Trust Dinner, which was raising vital funds for us. It was here that we were introduced to the High Sherriff by the Chief Constable of Merseyside and he was moved by our promotional video.

The Sheriff expressed his eagerness to come and see for himself the work that we do, which we were more than happy to arrange. Having the High Sheriff of Merseyside visit our centre was a huge honour in itself and we were thrilled to later hear that he would be recognising our work at the Hidden Gems Awards.

It was incredibly humbling to receive such high praise and both myself and Sarah were very moved by the generosity of guests who dug deep to support us. The amount raised will go a long way in supporting the development of children with cerebral palsy and for that we are extremely touched and grateful to the High Sherriff of Merseyside for his campaign to support our cause."

For information about Stick 'n' Step, call:- 0151 638 0888 or visit:- sticknstep.org. Alternatively you can view the charity's promotional video mentioned on YouTube.