THE OPEN 'PUTS' LOCALLY SOURCED FOOD TO THE 'FORE'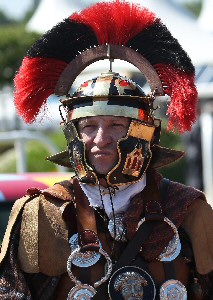 THE Romas will conquer Chester Racecourse on 31 May 2014, in the return of its popular annual Roman Day. Ideal for the whole family, the day will celebrate the City's rich history with super stunts, Roman re-enactments, family activities and plenty of Roman Legionnaires in attendance to entertain the crowds alongside the day's racing. Spectators can also enjoy horse drawn chariot races, as well as jaw-dropping stunts by The Devil's Horseman. In addition to the Roman spectacles, there will also be free family entertainment on the open course, including face painting and balloon modelling. Richard Thomas, CEO of Chester Race Company said:- "Our racecourse is the oldest in Britain, with a rich history, and it's great to celebrate that every year through this unique race day. Roman Day has become one of our most popular fixtures in the calendar, with over 20,000 attending year on year."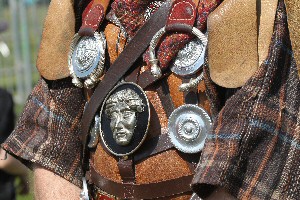 Roman Day is Chester Racecourse's next race fixture and will take place on Saturday, 31 May 2014. Tickets are priced from £12 (Open Course), Children aged 15 and under go free. Group discounts available. For further information, visit their website or call:- 01244 304600.
"It's Blooming brilliant" says Northern Rail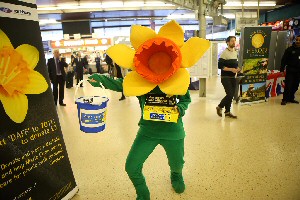 NORTHERN Rail, in a joint venture both Serco and Abellio, has raised more than £15,000 for this year's Marie Curie Cancer Care's Great Daffodil Appeal. Northern created 50 'Daff trains', which reminded those who saw them to donate and wear a daffodil. They travelled the length and breadth of the Northern network to promote the Great Daffodil Appeal that runs annually throughout March and April. A series of fundraising days were held at stations across the north of England, with Northern employees donating an hour of their time to wear bright yellow hats and tabards and collect much needed cash from commuters. A unique 'Text to Donate' number was also set up for Northern and promoted on posters at 150 stations and on 300 trains to encourage customers to donate to the charity, resulting in almost 200 individual donations.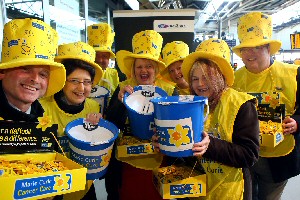 Alex Hynes, Managing Director for Northern Rail, comments:- "I would like to thank our employees and customers who have gone over and above to raise thousands of pounds for a very worthwhile cause. Marie Curie is a fantastic charity which offers vital assistance to families across our network and we are delighted to have been able to help."

Peter Lee, Head of Corporate Development:- "The support of Northern Rail throughout the Great Daffodil Appeal has been truly fantastic. The energy and enthusiasm displayed by staff to donate an hour in collections has raised a fantastic total that will help our nurses and hospices to give free hands on care to terminally ill people and vital support to their families."
Warning to those Dog owner who leave Poop on our pavements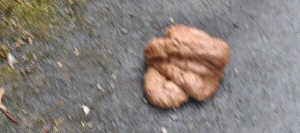 IN the areas managed by Sefton MBC, we have been told a crack down will be taking place targeting dog owners who let their pets leave deposits on our payments. If not picked up and the owner is court, then that owner can face prosecution and a fine of £1,000 or a fixed penalty notice of £75. More information fines regarding faeces deposits can be found on:- sefton.gov.uk.

LIPA students invite audiences into the creative mind of Doors frontman Jim Morrison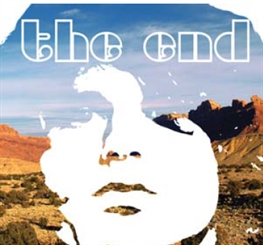 STUDENTS from the Liverpool Institute for Performing Arts (LIPA) are inviting audiences on a journey into the creative mind of troubled Doors frontman Jim Morrison.

Devised dance show The End will use the medium to explore both the artist's enlightened, spiritual side and the dark facet of his character that fuelled his decline into alcoholism, which, in turn, led to his early death. The show is inspired by Ray Manzarek's book:- 'Light My Fire - My Life with The Doors.'

The musical backdrop is an original soundtrack that references some of the biggest hits of the Doors, which became one of the most controversial acts of the 60s because of Morrison's wild stage persona and surreal, poetic lyrics.

LIPA music students have also produced new arrangements of hits including 'Break on Through', 'The End', 'Mr Mojo Risin', 'Light My Fire' and 'Love Her Madly'. The show is performed by second year dance students and music students. The End is the last in LIPA's 2014 Spring/Summer season of public performances.

Director Jacqueline Jones, Senior Lecturer in Dance at LIPA said:- "Alongside revealing the turbulent world of Jim Morrison, The End also explores his spiritual connection to native American Indian culture, and his belief that as a child, the spirits of a family of dead American Indians entered his body, thus creating the Shamanic personality associated with his performance career."

The End is being performed at 7.30pm on:- 30 May 2014 and 31 May 2014 in the Paul McCartney Auditorium, LIPA. There is a 2:30pm, with the matinee on 31 May 2014. Tickets are priced at £6.00 adults/£3.00 concessions and can be purchased via the Unity Theatre Box Office on:- 0844 873 2888 or online via the events and public performances section of:- lipa.ac.uk. Please note, when booking, that this show contains strong language, sexual imagery and references to alcoholism.
Could 2015 see the rise of 'Buy to Let' Pensioners in the UK?
WITH the recent unlocking of rules on how people can access their savings in retirement, could a new breed of 'buy to let pensioners' be ready to enter the local property market?

Nationwide property lettings specialist, Belvoir, is advising caution in the wake of the Chancellor's Budget announcement that savers will be allowed to withdraw their entire pension fund from the age of 55 or over, rather than take the money slowly as an annual income, such as an annuity. "Since the last Budget many financial commentators have speculated that following the new rules; due to come into effect from April 2015; pension savers could draw down some or all of their money to invest in options such as buy to let property. With recent surveys reporting that buy to let has outperformed all other mainstream investments over the past 18 years, this could be an extremely attractive option for anyone wanting to safeguard their capital and maximise their income in retirement. Whilst this may be true, we believe that anyone considering their first move into the sector should take expert advice. Buy to let continues to offer great opportunities, but potential investors must have a clear strategy, and it should never be considered as a 'get rich quick' scheme." says Martin Unsworth who owns the Belvoir office on Allerton Road in Mossley Hill.

This year marks the 18th anniversary of the buy to let mortgage initiative launched by the Association of Residential Lettings Agents (ARLA). Tracker studies indicate that since its introduction, buy to let investment has provided an average return of 16.3%; that is considerably more than most other asset classes.

Over a third of Britain's 1.4 million private landlords already view their buy to let portfolio as the main component within their pension plan; with the relative 'safety' of bricks and mortar investment coupled with regular rental returns as income, making it an attractive investment choice.

Dorian Gonsalves, Commercial Director for Belvoir, comments:- "The Chancellor's recent pension reforms have ignited a great deal of interest in buy to let as a viable and attractive alternative to more traditional pension plans. Market demand for quality, well maintained, private rental property remains high and even before the recent Budget announcement our offices throughout the UK were experiencing a growing number of enquiries from people seeking advice and guidance on how to enter this sector for the first time."

Some industry commentators are predicting returns of around 11% per year over the next decade and a number of specialist, buy to let lenders have also started to reconsider current age restrictions to allow people up to age 70 to apply for long term buy to let mortgages; subject to them meeting certain criteria.

Adam Rastall who owns the Belvoir office on Mill Lane in West Derby, adds:- "With all the excitement generated by the new reforms we would recommend that anyone looking to use pension savings to fund a buy to let investment should; as a first step; take professional financial advice and then sit down with a property lettings specialist, such as Belvoir, to map out a strategy for their future goals. It is important for first time investors to buy property at the right price, in the right location and to identify the type of accommodation that people will want to rent from them both now and in the future. With our local knowledge we can look in detail at potential property 'yields'; taking into account all outgoings, such as maintenance costs; and provide novice investors with a realistic expectation on returns. There are many legislative and other issues to take into account."