LIVERPOOL ARAB ARTS FESTIVAL 2014 OPENS THIS WEEK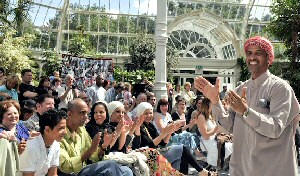 THE highly anticipated Liverpool Arab Arts Festival returns to the City this week, opening on Saturday, 7 June 2013 at the Bluecoat for the start of an impressive 9 day long festival. Now in its 13th year, the festival runs from 7 June to 15 June 2014 bringing a delightful array of events from some of the finest Arabic artists the world has to offer.

Female Arabian Flamenco jazz singer Farah Siraj headlines this year's festival in what is her only UK show this year. A music superstar in the Arab world and many European countries, Farah will be performing in the impressive Concert Room of Liverpool's St George's Hall on Sunday, 8 June 2014, as she brings to the City an eclectic mix of Middle Eastern music, flamenco, jazz, bossa and pop, with lyrics in Arabic, Spanish and English.

The Big Saturday launches the festival on Saturday, 7 June 2014, at The Bluecoat. A hugely enjoyable experience for the whole family, this free event is an exciting day of music, food, culture and entertainment, including music from DJ Funky Pharaoh, Amira Kheir, The Al Awadhel Band and Maya Yousseff. Curator of the Choose Your Own Adventure graphic design poster exhibition which runs throughout the festival, Danah Abdulla, will also be giving guided tours around the exhibition itself.

Saturday evening the Bluecoat will screen the first of 6 films of this year's festival. El Gusto is a feel good documentary about a group of musicians coming together, a simple story that transcends cultural boundaries and cultivates a strong sense of hope. Other films throughout the festival include Crop and Winter of Discontent, a double bill at Fact on Monday, 9 June 2014, introduced by political academic Reem Abu-el-fadl and followed by a post film discussion. Then on Wednesday, 11 June 2014, controversial and action packed film Omar is screened at Fact. When I Saw You tells the story of Talek as he seeks a way out of a refugee camp and is screened at the Bluecoat on Friday, 13 June and the Oscar nominated Wadjda completes the film line up which is shown at the Bluecoat on Saturday, 14 June 2014.

Theatre and dance also has a strong presence throughout this year's festival with some truly gripping and inspiring pieces commencing on Sunday, 8 June 2014, as award winning playwright Hassan Abdulrazzak presents an exclusive reading of scenes from his new play A Fire Blazing Brightly. Experience the magic of Middle Eastern dance at its finest on Tuesday, 10 June 2014, as Funoon Al Arabiya come together to present joyful and colourful folkloric music and dance in Funoon Wa Alwane at the Unity Theatre. Then Swivel Theatre Company present a series of gripping new plays centring on Arab women in revolution in Waiting for Summer at the Unity on Wednesday, 11 June and Thursday, 12 June 2014 and finally, after their sell-out show last year, Diwan are back with a new show Sarmada at the Bluecoat on Saturday, 14 June 2014, based on Fadi Azzam's novel which was long listed for the Arabic Booker Prize in 2011.

There will also be a variety of exciting and thought provoking talks throughout the festival, Freedom Hour will take place every day between 9 June to 12 June 2014, at the Bluecoat and will offer debates on current affairs, culture, freedom and change in the Arab world. An insightful and engaging event on Wednesday, 11 June 2014, with the launch of Book of Gaza at the Bluecoat which brings together ten fiction writers in a unique anthology presented in English for the first time. Finally on Saturday, 14 June 2014, a lively event to launch:- 'Syria Speaks – Art' and 'Culture from the Frontline', a unique anthology of literature, art and culture of self publishing Syrian writers and artists.

There will be 2 major exhibitions running throughout the duration of the festival. The 1st, commissioned by LAAF and devised especially for the Bluecoat of artwork curated by Kalimat magazine editor Danah Abdullah. Choose Your Own Adventure plays with the format found in old board games and children's books and has been extended until Thursday, 29 June. The second, Al Noor-Fragile Vision has been created for LAAF in collaboration with DaDaFest, British Council and Arts Council England. Rachel Gadsden's methodology of creative engagement and delivery articulates the notion that, whilst acknowledging political and religious differences, arts and culture can serve to promote a common ground for discourse and development.

LAAF is also delighted to present a fantastic drumming workshop opportunity led by the distinguished darbuka player Simona Abdallah on Saturday, 14 June 2014 at The Bluecoat.

Bringing LAAF 2014's festivities to an exciting climax is the fantastic Family Day at Sefton Park Palm House on Sunday, 15 June 2014. Fun for the whole family, there will be a huge variety of stalls with an appealing selection of food and goodies to purchase as well as an attractive array of music and performance throughout the day, including Simona Abdallah, Attab Haddad, The Al Awadhel Band with dancers and Nawarra.

As one of the highlight events in the festival calendar LAAF promises to deliver a wide variety of un-missable attractions with family activities, visual arts, film, performance, music, dance, food, 2 book launches and interactive workshops. People of all ages and cultures will find something to interest them so be sure to put all the events in the diary so not to miss out.

For further information please visit:- arabartsfestival.com.
Songstress Thea Gilmore in Concert at the Epstein Theatre for One Night Only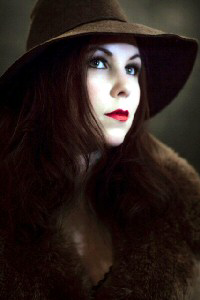 THE Epstein Theatre are delighted to welcome acclaimed songstress Thea Gilmore who will be performing a selection of hits from her extensive repertoire including Juliet and Mainstream on Sunday, 8 June 2014.
Now 15 years since the release of her debut album Burning Dorothy, Thea returns to the limelight with her 14th studio album set for release later this year.
A truly unique and gifted artist and songwriter, she developed a talent for writing in the most eloquent way from an early age, introduce music into the mix and soon certain corners of the British music press were describing her as:- "one of the few world class female singer songwriters Britain has ever produced."
She has toured extensively throughout the US and Canada, returned to the charts in 2006 and 2010 and has collaborated with a number of big stars such as Mike Scott and The Waterboys, Martha Wainwright, Sting and The Cowboy Junkies to name just a few. Her razor sharp lyrics, melodic flair and honey toned voice have been admired by wide ranging contemporaries from Bruce Springsteen, Joan Baez, Richard Thompson, Neil Gaiman, David Baddiel and William Boyd. Join Thea as she performs a selection of her classic songs from her large catalogue of hits including:- 'You're The Radio' and 'Teach Me To Be Bad' plus many more, as well as new material from her upcoming album. Don't miss out! To book tickets please call:- 0844 888 4411* or go online* or in person at The Epstein Theatre Box Office from 2pm to 6pm Monday to Thursday and 12pm to 6pm Friday to Saturday.
* Subject to booking fee.

Over half of people surveyed in Liverpool have experience high levels of long term anxiety
57% of adults surveyed in Liverpool have experienced high levels of stress or anxiety lasting 3 to 6 months or more, according to new survey findings. In addition, 53% of those who have not experienced these feelings themselves know someone who has. Recent figures from the Office for National Statistics also show Liverpool has a high rate of anxiety compared to many other cities across the UK.

The new survey of 501 adults from Liverpool reveals 80% feel anxiety is an increasing issue amongst the local community, and while the majority (85%) are aware some forms of anxiety are recognised medical conditions, only 35% have heard of Generalised Anxiety Disorder (GAD). Affecting nearly 1 in 20 adults in Britain, GAD causes persistent and intense feelings of worry that can be difficult to explain. In fact, it often goes unrecognised because many people fail to talk about their feelings of anxiety. The survey, commissioned by Pfizer Ltd, has been launched as part of 'Let's Talk about GAD', a campaign run in partnership with Anxiety UK to help increase awareness and encourage those affected by GAD to access support. Worryingly, the survey also reveals 91% of respondents feel people with mental health conditions, which can include anxiety, are often stigmatised. Indeed, respondents with long term anxiety seemingly opt to suffer in silence, with 24% of this group afraid of being judged by family and friends. 19% of this group do not believe their anxiety is important enough to talk about, or avoid seeking help in the belief their feelings of anxiety will pass, despite having experienced high levels of anxiety for 3 months or more (19%).

Dr Sarah Jarvis, GP, said:- "The high number of people experiencing long term anxiety or GAD in Liverpool is worrying because, when left untreated, it can be very debilitating. Almost everyone suffers anxiety or stress at some time, but when it reaches the stage where it's having a significant impact on every aspect of your life, it's no longer normal. It's vital anyone experiencing symptoms of GAD such as unrelenting worry, sleeplessness and difficulty concentrating should not be afraid of being judged or wasting people's time, they should talk about their experience and get support from their GP."

Nicky Lidbetter, Chief Executive from Anxiety UK, said:- "We've seen an increase in the number of people with long-term anxiety and GAD coming to us for support. GAD is becoming more common in Britain meaning more people are suffering from the debilitating symptoms that affect their everyday lives. Let's Talk about GAD is an important campaign because it raises awareness of this little known condition and highlights that long term anxiety is not something people have to deal with on their own; help is available."

For those affected, long term anxiety and GAD can have a negative impact on many aspects of their life from personal relationships to their ability to work. This is evident among the survey respondents in Liverpool who experience long term anxiety, with 56% admitting they don't feel like socialising as often, which could lead to further isolation. For 50%, these long term feelings of anxiety also have a negative effect on relationships with their partner, and with family and friends (55%). It can even extend into the workplace, with 31% admitting their condition stopped them from going to work.

"The extent to which long term anxiety or GAD can influence the lives of those it affects is precisely the reason why anyone experiencing this should speak to their GP or contact Anxiety UK to get the right support and treatment. Help is available and no one has to face this alone," concluded Dr Jarvis.

Anyone concerned about severe anxiety or GAD is encouraged to speak to their GP, visit the Anxiety UK website, or call their helpline:- 08444 775 774 for help, support and advice.
101 year old woman robbed in her own home, in Stoneycroft, Liverpool!
MERSEYSIDE Police say that following a burglary at the home of a 101 year old woman in Stoneycroft, Liverpool, on Sunday, 1 June 2014, a 42 year old woman from the Stoneycroft area, has since been arrested on suspicion of burglary.

It is reported that Officers were called to the address, at around 2.25pm, following a report that a female had called at the victim's home and asked to use the phone. She then forced her way into the house, searched downstairs, and asked for money before trying to take the victim's purse from her handbag. The woman living there managed to grab it and hold on to it and told the offender to get out of her house, at which point she left empty handed.
Patrols attended and immediately carried out a search of the area and have since been stepped up in the area to reassure the local community. The house has been forensically examined and house to house enquiries have been carried out. CCTV from the area has been located and reviewed and an investigation into the full circumstances surrounding the incident is continuing. Merseyside Police Officers have also spoken to the victim and her family to offer crime prevention advice and measures to further enhance security at the property.
Detective Inspector Phil Mahon, Liverpool North CID, said:- "The victim is 101 years old and one of only a handful of people in the country who has lived through both world wars, but some deplorable person still thinks it is acceptable to barge into her home and try to steal off her. She bravely fought the offender off and I have nothing but admiration for her determination and remarkable spirit. The victim suffered a slight abrasion to her arm, but otherwise, thankfully, was uninjured. She was however left upset following her ordeal. I know the local community in Stoneycroft will share my disgust at this incident."

Anyone with information about this incident can call detectives in St Anne Street CID via the Police non emergency number:- 101 or call Crimestoppers, anonymously, on:- 0800 555 111.
Appealing for information following an incident in the Huyton on a M62 Junction!
A 22 year old male has been found with serious head injuries, at about 2.35am, on Thursday, 5 June 2014, following a report of a road traffic collision on the slip road, on the M62 Junction 5 Westbound (Liverpool Bound). The injured man is believed to have been a passenger in a black Hackney cab when the incident occurred. Merseyside Police told us that:- "Our Collision Investigators are still working to establish the circumstances leading up to the passenger becoming injured, however one line of enquiry is that he voluntarily got out of the taxi while it was still moving. The taxi driver received minor injuries following the incident. Also the interior of the taxi has been found to have suffered damage during the journey the passenger took, but no collision has been found to have occurred. A full investigation into the circumstances of the incident is underway." At the time of publication of this item, the casualty was in a critical condition, at Walton Neurological Hospital, Liverpool. Anyone with information is urged to call Merseyside Police on:- 0151 777 5747 or Crimestoppers, anonymously, on:- 0800 555 111.
New pocket park for City Centre
THE finishing touches are being put to a new green space in the heart of the City centre. The pocket park has been created on the site of a former pub and gym at the junction of James Street and the Strand. Since the building was demolished about three years ago the land has remained unused. Land owners, Langtree, have given permission for a temporary park to be developed there and it will be completed in time for the International Festival for Business (IFB) which will attract tens of thousands of visitors to Liverpool. "The site is one of the most important routes which will be used by people attending the IFB and now they will see an attractive green space instead of a disused piece of land. But it will also benefit local people; we have had a lot of positive comments from passers by and local businesses and one hotel has already seen its potential for wedding photographs. This is the latest site where we are bringing disused or derelict land back into use. Across the City we have created more than 100 community gardens, pocket parks and green spaces and they have been warmly welcomed by local people." said Councillor Steve Munby, cabinet member for neighbourhoods. A feature of the new park is that it uses recycled material, including granite, which used to be use on highway, which have now been used to create seating areas. The area also features a ship's anchor which was formally a public artwork in North Liverpool. There are also planted areas in the new park. INES (Plus Dane) social enterprise carried out the work on the park and they will maintain it.