Birkenhead based Lovell gains Gold Medal for outstanding safety performance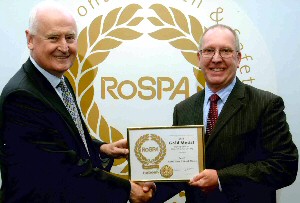 BIRKENHEAD based affordable housing developer and regeneration specialist Lovell has been presented with a Gold Medal by national safety charity the Royal Society for the Prevention of Accidents (RoSPA) in recognition of the company's outstanding safety approach. The Gold Medal marks Lovell's achievement of consecutive RoSPA Gold Awards over the past 6 years for its exceptional health and safety management systems at its site offices and developments across the North West and North Wales. Lovell has its Merseyside office in John Street, Birkenhead.

RoSPA awards manager David Rawlins says:- "The RoSPA awards encourage the raising of occupational health and safety standards across the board. Organisations such as Lovell contribute to a collective raising of the bar for other organisations to aspire to and we offer them our congratulations."

Lovell regional director Nigel Yates adds:- "This award recognises the dedication of the company's health and safety professionals, site teams, staff and subcontractor partners to maintaining the very highest safety standards across all our developments. Extensive training programmes ensure that site and office staff are up to date with the latest working practices and legislation, and we work closely with local communities as part of our overriding commitment to the safety and wellbeing of those living and working near our developments. I am proud that the success of this approach has again been highlighted through the RoSPA awards."

The prestigious Gold Medal award was presented in a ceremony at the Hilton Birmingham Metropole Hotel.

Current Lovell schemes under construction in the region include an £8 million housing complex for older residents in Belle Vale, Liverpool, for social housing provider Riverside. Lovell is also building a £3.4 million development of 34 shared ownership homes in Netherley, Liverpool, again for Riverside. Other schemes in the North West include a £22 million programme for Blackpool Council to redevelop the town's Queens Park estate with198 contemporary houses and apartments.
GMB supports the new pooled pensions and savings schemes, but has questions over interaction
"WE remain to be convinced on whether workers and the wider public will be prepared to buy into a new pooled system where pensions in payment could fall." GMB commented following in the Queens Speech. Phil McEvoy, GMB Pensions Officer, said:- "We can now see the world of pensions move in 2 very different directions. On one hand we have the reforms to free up defined contribution pensions. This means that no one has to buy an annuity and can use their pension savings as they see fit. This will mean that for the 1st time, pension savings are truly individual products. On the other we see the birth of collective pooled defined contribution pensions. As with defined benefit pensions GMB support these as a means of achieving efficiency savings and pooling risks and uncertainty across large numbers of members. However we remain to be convinced on whether workers and the wider public will be prepared to buy into a new pooled system where pensions in payment could fall. No Government has been prepared to do this for state pensions even in times of deflation. It is also unclear if, or how, these 2 pensions will interact. Allowing freedoms to move between the 2 would seriously undermine the principles of collectivism. Government is expanding the marketplace on the types of pension available. However it is critical that reforms are introduced to ensure that pensions are run in the interests of members not pension providers; that workers have a strong voice in selecting and running their pension providers; and that provision of advice, guidance and financial education is greatly improved and is independent."

'The Big Push' Wheelchair Tour Supports Southport Care Centre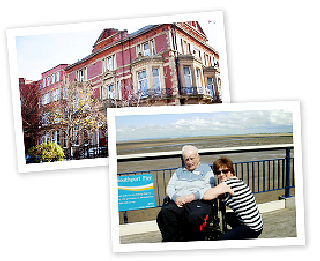 ON Saturday, 14 June 2014 a wheelchair convoy from Southport's Alexandra House Care Centre will set off from Lord Street at 11am heading to Marine Lake, drawing public attention to the Care Centre facility. They also hope to raise as much money as possible to buy new equipment for the Care Centre. Patrons of public houses and hotels on the route can also expect a visit from the BEN branded 4 wheelers as they head for another local watering hole. The event will finish at 3pm.

Alexandra House is owned and operated by BEN, the automotive industry charity, and welcomes non-industry residents as well as former industry employees, their families and dependents. 'The Big Push' was suggested by Pauline Zalewski, daughter of an Alexandra House resident, who in her appreciation of the care received, was keen to raise awareness of the Centre's services and much needed funds.

The residents of the Care Centre will be pushed in the wheelchairs by Alexandra House staff, as well as family and friends; including:- Matron - Jan Habeck, Carers, Nurses, Therapists and Managers, making this a day trip with a difference!

Speaking ahead of the big day, Jan Habeck commented: "Alexandra House was recently given an Outstanding Quality Award by independent auditors and we hope 'The Big Push' will be the perfect opportunity to draw local residents' attention to the fantastic care facility they have on their doorstep." If you would like to show your support please go to:- JustGiving.com. Or for more information about Alexandra House please call:- Jean O'Donnell on 01704 543715 or send her an email:- jean.odonnell@ben.org.uk.
Chance for everyone to shine at Prescot Festival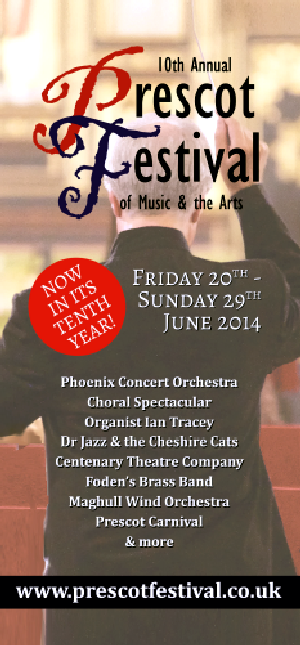 ARTS in Prescot wants you to share some of the limelight at its Annual Festival that now celebrating its 10th year and runs from Friday, 20 June to Sunday, 29 June 2014, in the historic Lancashire Town of Prescot, in Merseyside. The Prescot Festival of Music and the Arts invites sopranos, tenors, altos and basses of all standards to sing excerpts from Handel's Messiah. The 'Come and Sing' Prescot Festival Chorus attracted a spectacular 100 people from across the region last year. Poets can also take to the stage during the festival, for Poetry @ Poco, a laid back evening at Poco Coffee, Prescot, where participants are welcome to recite their own poems or others'. The Proms style finale rounds off the 10 day programme, and everyone can play their part by waving flags and joining in with the rousing patriotic hymns Rule, Britannia and Land of Hope and Glory. Dr Robert Howard, founder and artistic director commented that:- "The diversity of talent; from amateur to professional; has always been a strength of the festival. We're keeping with tradition by giving a chance for everyone to shine." Details of the full line up are online, where you can also find out how to help behind the scenes as a 'Friend of the Festival'.