Partners in place for £200 million housing investment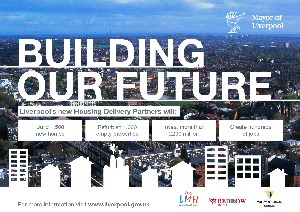 MORE than £200 million is to be spent in Liverpool, delivering 1,500 new homes and bringing a further 1,000 back into use. Liverpool City Council has appointed its official Housing Delivery Partners; a consortium made up of private housing developer Redrow Homes, affordable housing provider Liverpool Mutual Homes (LMH) and its building contractor Willmott Dixon. Redrow Homes and LMH will jointly build 1,500 new homes and LMH will bring 1,000 back into use

The 'Building Our Future' partnership, which will run for an initial five years, has the potential to attract over £200 million of private investment into the City, focusing on building the right homes, in the right place, at the right time.

Redrow will develop housing for sale bringing a range of executive homes to Liverpool and will identify and acquire land to enhance the Council's own development sites. LMH will develop affordable housing by investing their own funding and by attracting grant funding. They will also be seeking to bring 1,000 empty properties back into use. Willmott Dixon will work on behalf of LMH to build new homes and refurbish properties to enable them to be brought back into use.

Liverpool City Council will provide strategic planning and housing need information, as well as selling surplus land to the partnership for development. Land and investment will be brought together in a planned way, with any capital receipts generated by the sale of Council sites and assets reinvested back into the Partnership.

Using their combined experience and expertise, the partnership will provide a wide range of house types from affordable to executive homes, without the Council being required to fund the schemes from its own resources. The partnership will also prioritise employing local people, providing training and supporting local supply chains, as well as developing and delivering complementary economic development projects.

The partnership will work on a wide range of initiatives to tackle empty properties, including those that have not been lived in for a long time, such as maximising investment from property owners and securing funding to bring houses back into use. Areas where groups of empty properties are most heavily impacting on streets will be particularly targeted.

Mayor of Liverpool, Joe Anderson launched the search for a Housing Delivery Partner last summer as part of his plans to work with public and private sector organisations to drive up the quality of housing in the City. He said:- "I want everyone in Liverpool to have access to a decent home, and that's why improving our housing stock is one of my top priorities. I promised to build 5,000 new homes in Liverpool by 2016 and bring 1,000 back into use, and we're already well on course to exceed that target. This partnership will allow us to do even more. We're using this innovative approach to help us build on the fantastic progress we are making in housing in this City. It will unlock new investment opportunities and enable us to pool resources and expertise at a time which is vital when we are facing significant spending cuts. It will create new jobs and deliver new and refurbished properties in the neighbourhoods that need it most, as well as improving the lives of thousands of local people."

The partnership will carry out a comprehensive review of the housing market across the City, to identify development and refurbishment opportunities; taking into account housing need and demand; the Council's Housing Strategy; and the need to complement other actual and planned regeneration projects.

The 2, full delivery programmes for each area of work; for new-build and one for refurbishment; will be agreed by the partnership board, before being recommended to the Council's Cabinet for consideration and approval in September this year.

Assistant Mayor and Cabinet Member for Housing, Councillor Ann O'Byrne, said:- "This new partnership will play a major part in the on going transformation of housing in this City, and will help us build on the fantastic momentum we've created in recent years. It's another great example of how we are finding imaginative ways of providing the type of good quality housing this City needs. Once the partnership is in place, we'll be working together to drive forward some really important schemes which will increase housing choice and breathe new life into communities. The combined experience and expertise that this consortium brings with it gives me real confidence that we can make the partnership a massive success story for Liverpool."

Welcoming the partnership, Redrow Homes (Lancashire) managing director Steve Greenhalgh, said:- "We're delighted to be part of a pioneering arrangement designed to deliver 2,500 much needed homes across the City. We're particularly pleased that Redrow's investment in private sale homes will help stimulate the creation of affordable housing, including the refurbishment of empty housing stock. The City Wide approach and joined-up thinking between the Council, Liverpool Mutual Homes and ourselves is what makes this project so exciting."

Chief Executive at LMH, Steve Coffey, said:- "This is tremendous news for us, residents and Liverpool as a whole; major changes are going to be made to housing right across the City. We've worked very closely with the Council since it transferred 15,000 homes to us in 2008, raising the standard of housing significantly during our initial 5 year, £400m improvement programme. We have continued this approach since with our 1st new build developments. We share the Mayor's vision and ambition to deliver new, high quality, sustainable housing and bring back into use empty homes to meet demand. It goes much deeper than just the physical buildings. We are creating resilient and resourceful neighbourhoods that address a wide range of issues such as tackling anti-social behaviour and helping people into work and training to make sure they are given the chance to lead enjoyable and prosperous lives."

John Frankiewicz, divisional chief executive, Willmott Dixon Capital Works, said:- "Willmott Dixon is delighted to be a part of this exciting and innovative partnership with Liverpool City Council, Liverpool Mutual Homes and Redrow Homes. This partnership builds on our strong track record of delivery within Liverpool, which recently includes constructing Notre Dame Catholic College and a new home for Archbishop Beck Catholic Sports College. It will allow us to unlock employment and training opportunities for the people of Liverpool, an aspect of our business underlined recently when we won a Queen's Award for Enterprise. We look forward to working with our partners to deliver new homes and bring empty properties back into use in communities throughout the City."

Programme delivery will be closely monitored by the partnership, with quarterly and annual reports provided to the Council's Cabinet. The 'Building Our Future' partnership will be for a period of 5 years (2014 to 2019), with the option to extend for a further 5 years (2019 to 2024). It supports the Mayor's target of delivering 5,000 new homes and bringing a further 1,000 properties back into use over the next 3 years.

EQUIPMENT BOOST FOR 5 DISABLED MERSEYSIDE CHILDREN
5 disabled Merseyside children are among the first to benefit from a new charity partnership which has raised more than £450,000 to provide specialist equipment. The equipment is being funded through a partnership between leading UK children's disability charity Newlife Foundation and The Morgan Foundation, which supports organisations across Merseyside including education therapy group Stick 'n' Step, Gilbrook Special School on the Wirral and Activate Arts in Kirkby. The money was raised through a recent (May) Morgan Foundation golf day and gala evening which featured rock legend Robert Plant. It will be used to provide vital equipment for families working with Newlife Foundation and living in The Morgan Foundation catchment area of Merseyside, North Wales, West Cheshire and North Shropshire.* In the 1st tranche of funding, almost £22,000 of equipment is being provided for a total of 13 children. In Southport, 1 child is getting £2,412 to help pay for a wheelchair and another will be receiving a £660 specialist car seat. Car seats will also be provided for 2 4 year olds, 1 each in Bootle and St Helens, with a child in Prenton set to get a £3,600 bed. Newlife Foundation has previously funded 196 Equipment Grants for children on Merseyside, totalling £250,856.

* Wolverhampton Wanderers' charity, Wolves Aid, receives 10% of the annual funding budget to replicate the work of The Morgan Foundation in the Wolverhampton area.
Rogue traders jailed for conning elderly homeowners
2 men who conned elderly vulnerable people over building work on their homes have been jailed. Dean Evans , aged 30, of Manor House Lane, Higher Heath, Whitchurch, Shropshire and Lee Hargreaves, aged 23, previously of Mather Avenue, St Helens, were sentenced at Liverpool Crown Court after pleading guilty at an earlier hearing at the City's magistrates court to offences under the Fraud Act and Consumer Protection From Unfair Trading Regulations (CPR)

Evans pleaded guilty to 9 offences under the CPR and 1 fraud offence, and Hargreaves pleaded guilty to 3 CPR offences and 2 fraud offences.

Liverpool Trading Standards Officers took action after Evans and Hargreaves carried out painting, roofing and guttering work on a number of properties during the summer of 2013 after cold calling in Liverpool 9.

The work was of poor quality, they didn't give the required paperwork or cancellation notices and failed to return and put right faults when contacted by the homeowners.

They were also charged with fraud by North Wales Police following a complaint about overcharging for work they claimed to have carried out on a property in the Wrexham area. All of the home owners targeted were elderly.

His Honour Judge Hatton said that he had to take into account the numbers of elderly victims, the fact the offences were committed over a period of time and in different parts of the country. He said that the only appropriate sentence was custodial and the difference in sentencing reflected the fact that Evans was clearly the ringleader.

He sentenced Evans to 10 months in prison and Hargreaves to 6 months. He ordered that they both be disqualified from driving for 2 years as they were itinerant fraudulent traders and ordered that a vehicle seized from Evans during the investigation be forfeited.

John McHale, head of Liverpool Consumer Protection, said:- "This is an important result for the service and its partners working together to protect vulnerable residents in the City. We will not accept the targeting of consumers and in particular vulnerable members of our communities by rogue traders. Consumers have rights and those rights need to be protected and we will continue to ensure we use all statutory powers at our disposal to deal with rogue trader activity. We would also advise people not to accept work from building workers offering to do work when they cold call. This case is a classic example for homeowners."
Range High School Chemists Create Winning Formula!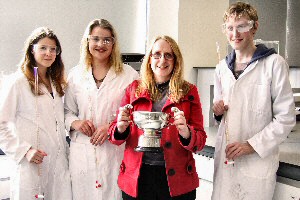 BUDDING chemists from Range High School will represent the North West in the final of a national schools' chemistry competition after beating off hopefuls from across the region. The students from Range won the North West regional heat of the Royal Society of Chemistry (RSC) Schools' Analyst Competition held at the University of Central Lancashire (UCLan) in Preston. The 3 AS level chemistry students; Ciara McQuaid, Chloe Uffendel and Jonathan Baker, and triumphed over 10 schools from across Lancashire and Merseyside and will represent the North West region at the prestigious UK final which will also take place at UCLan in June 2014. Each team undertook various practical analytical experiments based on problems relevant to industrial or social needs. These were judged on skill, understanding and accuracy using tests intended to promote team work and safety in the laboratory.

Jillian Stretch, a chemistry teacher from Range High School, accompanied the pupils to the UCLan event. She commented:- "This was the first time our school has attended the event and so I was extremely proud that they won the North West heat. They are looking forward to representing the region in the national final. The students thoroughly enjoyed working on the tasks and worked well as a team. The one thing they all agreed on was that they had fun. It has increased their confidence in their analytical skills and given them a taste of facilities available at university."

UCLan Senior Lecturer in Organic and Medicinal Chemistry Dr Rob Smith commented:- "Congratulations to the pupils from Range High School. Once again we saw just how capable young chemists from across the North West are and what great lab and analytical skills they have. This year's RSC competition is particularly special for us as UCLan will host the final next month. We are looking forward to welcoming the 20 school teams from across the country to put their analytical science skills to the test and see who will be crowned the overall winner."
You have helped us to donate £96.00 so far to the Liverpool Lord Mayor's Charity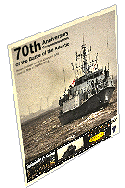 WE have have donated £96.00 to the Lord Mayor's Charity (Liverpool), thanks to your help buying our B.O.A. 70th Anniversary DVD 's. Sadly we did not sell all 50, so we are going to continue to sell them and donate £3.00 from the sales until we have sold all 50 of them. The donation of £96.00 will go towards Councillor Gary Millar's total, that will help the Linda McCartney Centre, The Whitechapel Centre, Variety - The Children's Charity and The Michael Causer Foundation. As Councillor Erica Kemp was been sworn in to the role of Liverpool's Lord Mayor on Tuesday, 11 June 2014, further donations from us to the Liverpool Lord Mayor's Charity will now go to Councillor Erica Kemp appeal fund. We would like to say a big well done to Councillor Gary Millar for his efforts, over 2013 to 2014 and wish Councillor Erica Kemp good luck with her efforts.