Crimestoppers warns the public in the North West not to be caught out in the 'Game of Fraud'
THE independent crime fighting charity Crimestoppers have launched a campaign educating the public about the key scam threats in the UK through an interactive microsite.

Crime figures show a near 60% rise in reported fraud over the past 5 years boosted by a rise in identity theft and online scams costing the UK economy £63m per year. To help tackle these crimes the charity has created a Game of Fraud hub featuring an online survey with information on a variety of frauds, including romance fraud, courier fraud and online shopping fraud, that affect the UK public every day. Through a series of short, simple questions the intuitive quiz identifies which fraud types members of the public may be most vulnerable to and gives a detailed description of how they may be targeted.

The variety of fraudulent activity being carried out by criminals is vast. Advance fee fraud is where fraudsters target victims to request upfront fees for the release of funds, ask for help to transfer money out of another country or offer fake loans.
It is estimated this affects over 26,000 UK residents every year with sometimes devastating financial consequences.

Romance fraud is also on the rise with nearly 3,000[3] older men and women falling victim each year. Unsuspecting adults are tricked into thinking they have met their 'perfect partner' online, but in truth they are being deceived. Once the fraudster gains their trust, they ask for money for a variety of emotive reasons in hope that financial support will be offered. Recently intimate photographs of victims have been used to extort funds from trusting members of the public.

To help promote the campaign, a series of launches will be carried out across the UK, kick started in London yesterday in the prestigious Covent Garden Piazza where members of the public were be encouraged to stay safe through educational tools delivered in a light hearted and entertaining display.

Actors personified some of the key fraud types included as part of the awareness campaign. Information will be distributed to members of the public in a playing cards format so they can learn about the various fraud types.

Lord Ashcroft, KCMG PC, Founder and Chair of Crimestoppers, said:- "New and emerging fraud types are becoming increasingly complex and are frequently being funnelled through online activity. We are working hard to make sure the public is informed and empowered to avoid becoming victims to these scams. These scams affect individuals from all walks of life, anyone can become a victim; for these reasons we are educating the public around this to stop the criminals behind this deviant activity profiting from innocent members of the community."

Gary Murray, Crimestoppers' North West Regional Manager, said:- "Does something seem too good to be true? Do you actually know who you are providing your account details to over the phone or internet? We are hoping that following this campaign the public will change their behaviour in light of the information received and share these insights with friends and family to help them avoid becoming victims. As always we encourage the public to pass on information to us completely anonymously about anyone they suspect of committing fraud. This can be done anonymously on:- 0800 555 111 or via our website."

The Game of Fraud hub can also be found in the Crimestoppers website.

Britain's girls have 'trumped' the boys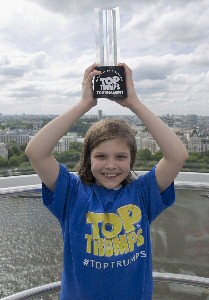 A 10 year old has become the first girl to be the national Top Trumps Champion, after emerging triumphant from 50,000 on Saturday, 7 June 2014, in London. And she partly owes to that bastion of 'Girl Power' Kylie Minogue. Top Trumps has been largely a male preserve since it first hit shop shelves in 1977 and every single national winner of the Top Trumps Schools Tournament has been a boy up to until now. Ironically the 1st girl winner has a boy's name; she is Charlie Worrall, 10, from Warrington, Merseyside. The schoolgirl saw off 50,000 youngsters; the significant majority being lads aged between 7 and 11; to get to the Grand Final made up of an elite final dozen youngsters. This final was played yesterday at London's iconic toy store Hamleys. After studying swopping and slaving over thousands of themed Top Trumps cards the very final card Charlie won on was a Kylie Minogue 'Pop Stars one. She said afterwards:- "I feel on top of the world." And she WAS – literally. Top Trumps bosses whisked her off to the top of the London Eye in a private pod to present her with the winning trophy. She is pictured here atop the Eye along with 'Toppy' and 'Trumpy'; the official mascots of the Top Trumps brand. Her proud mum Tracey, who has four other children, said:- "She has been grinning from ear to ear since lifting the trophy." The 12 eager and excited youngsters had come in from all over the UK in a bid to become Britain's official Top Trumps champ. In this year's final 5 of the 12 were girls; the highest ratio ever. Top Trumps makers put this down to the gender divide "shrinking". Also, they say today's female figureheads like Beyoncé, Lady Ga Ga and Jessie J; who is Charlie's favourite; have struck a chord with girls. There are Top Trumps cards for each of these pop stars. The makers also say packs of 1D have boosted sales amongst girls dramatically.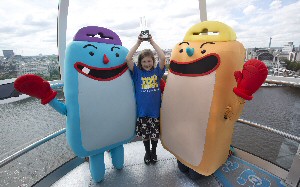 Fiona Hortopp, who manages and runs the Top Trumps Schools Tournament for Winning Moves UK, says:- "The gender gap has shrunk. Thanks to Top Trumps securing more and more wide ranging licenses for their packs we are able to appeal to boys and girls alike. Top Trumps is no longer just about fast cars and planes. We now produce packs on the most popular movies, pop stars and TV crazes, seeking the hottest licenses to appeal to the widest range of children. Girls are just as competitive as boys; and are just as eager as boys to discover crazy facts and figures. That's the unique core brand of Top Trumps. Whatever the kids are into so are we! Very many congratulations to Charlie; a girl has finally 'trumped' the boys and it couldn't have gone to a better champion. She played brilliantly."