Merseyside Police Chief Constable Commendation - June 2014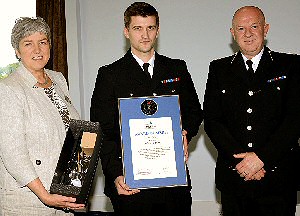 MORE than 60 members of Merseyside Police have been commended by the Chief Constable for their dedication, professionalism and service to the public. The 59 officers and three civilian support staff were joined at the commendation ceremony by a taxi driver who intervened in a mugging and detained the offender. Among the officers commended at headquarters on 5 June 2014 were:-

► Constable Adam Griffiths who risked his life to rescue 2 women from a burning building in Kensington.

► Chief Superintendent Rob Carden for commanding a large scale firearms operation in Aigburth.

► PC Luke Wilson, who along with a colleague, gave life saving CPR to a man who collapsed outside a pub on Rice Lane.

► PC Aimee Jones who, along with four colleagues, disarmed a man who had stabbed his partner during a domestic assault in Moreton.

► Detective Sergeant Richie Jones for leading a 5 year investigation into serial fraudster George Gordon in Sefton.

Other incidents that officers and support staff received commendations for including:-

► The fatal dog attack on Clifford Clarke in Clubmoor last May in which several unarmed officers who blocked a possible escape route for the other large dog who was in the garden at the time of the incident, protecting colleagues (who were also commended) who were trying to deal with the aggressive dog and stop the attack on Mr Clarke.

► A distressed woman threatening to jump off a bridge over the M62 motorway in Prescot last August. The officer, who does not wish to be named, kept the woman talking while a trained Police negotiator was en-route and at one point grabbed her and pulled her to safety.

► The dismantling of an organised crime group from Kirkdale who were trafficking Class A drugs to Scotland and buying and selling firearms. The nine main offenders were sentenced to almost 50 years in prison as a result of the investigation team's tenaCity

► The reduction of bike thefts in Liverpool City Centre following an inititative by PC Dawn Hannon whereby 'trojan bicycles' equipped with tracking devices were left secure in bike racks alongside those belongings to the public. Word spread among bike thieves and offences fell by 49% in the 1st 6 months.

► The reduction in crime and anti social beahviour in Knowsley thanks to the high level of performance of PC Matthew Bernard who arrested 66 people and investigated 42 crimes in just 7 months last year.

Also commended for her consistently outstanding performance since joining the force in 2001 was media manager Donna Dawber, and the force's Crimestoppers co-ordinator (who wishes to remain anonymous) for improving and promoting the independent charity in their 13 years in the role.

Deputy Chief Constable Andrew Cooke, who presented all the recipients with the Chief Constable's commendations, said:- "These commendations highlight the commitment, courage and professionalism of our officers and staff. They do not take their responsibilities lightly and have undertaken their roles with dignity and a quiet determination to ensure they provide an excellent service to the people of Merseyside. Police Officers work in difficult and challenging situations on a daily basis, always supported by civilian colleagues, and must use their training and experience to think on their feet and make the right decision, sometimes in life or death situations. The incidents here show officers and support staff successfully tackling anything from serious organised crime groups importing vast quantities of drugs and threatening rivals with guns to opportunistic thieves and robbers. The brave involvement of a taxi driver during a mugging in April stopped the victim being even more seriously injured during the attack and led to the female offender being arrested and jailed. This member of the public saw a crime in progress, called the Police, then showed immense community spirit in going to the victim's aid. I am immensely proud of each and every one of the recipients of these commendations. They are a credit to themselves, their families and this force."

Police and Crime Commissioner for Merseyside, Jane Kennedy, said:- "I'm very pleased to be celebrating the courage and dedication to duty of Merseyside Police officers and staff today. There are some remarkable examples of personal bravery and commitment and with Councillor Peter Brennan I am proud to represent the public of Merseyside at today's ceremony."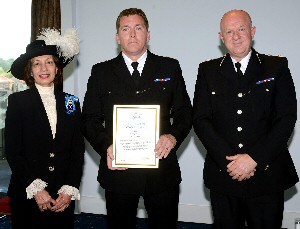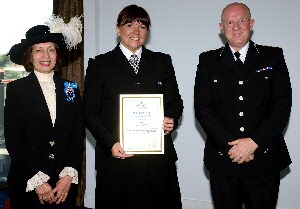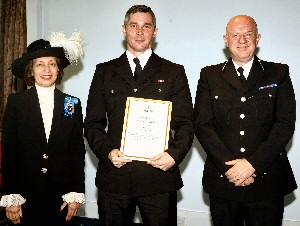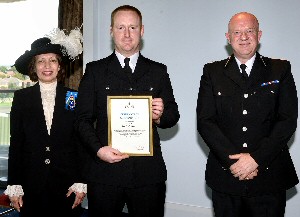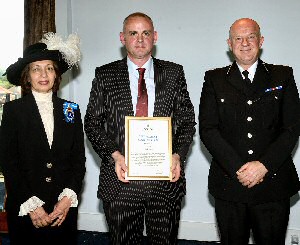 Dave swaps horse power for pedal power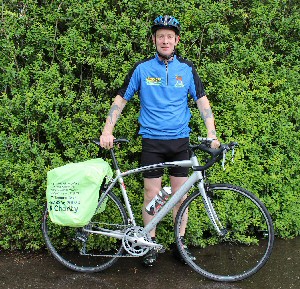 A father 3 is swapping horse power for pedal power by cycling from Italy to Liverpool to raise funds for the hospital that performed a life saving operation on his son. Dave Hind, who works as an animal keeper at Cotebrook Shire Horse Centre near Tarporley, Cheshire donated a kidney to his son Neil, 25, at the Royal Liverpool University Hospital in 2013; 3 years after he was diagnosed with Alport Syndrome, a rare condition affecting the kidneys. After extensive tests on his family, Neil's brother Daniel was established as the best match, but Dave, from Northwich, would not let him undergo the operation and insisted his organ was used instead. Now Dave and Neil have decided to thank the Royal by raising as much as they can cycling to Liverpool from Padua in Italy, where Neil now teaches at the English International School. Dave and Neil, who has to take medication every day and drink extra water, will be joined by Neil's friend Bobby on the 1,300km trip, which includes cycling over the Alps. If you want to help, donations can made online now. Dave's wife Wendy said:- "As a family, we are so proud of both of them and I'd like to thank Dave for giving our son a new life and a new future. And thanks to all the staff at The Royal Liverpool University Hospital for their excellent care throughout the whole process. Without organ donation our son's future was bleak." Loren Slade, events fundraiser for the Royal Liverpool University Hospital's R Charity, Royal Liverpool University Hospital, said:- "This is such an incredible challenge and a great way of raising funds for R Charity. The money Neil and his team raise will help provide the very best facilities and equipment for future transplant patients that we treat at the hospital. Cycling over 1,300km is no easy challenge so we wish Neil, Dave and Bobby the very best of luck and look forward to welcoming them to the Royal in July." Dave and Neil's trip starts on 22 June 2014 and is expected to last 15 days. Janet King, owner of Cotebrook Shire Horse Centre, said:- "We're really proud of Dave and Neil and wish them well on their trip. Dave has been with us for over 10 years and is a very popular figure with our visitors and is an invaluable member of staff at the centre. Amazingly, Dave only had nine weeks off after the operation and it's only 14 months ago he had the operation so for him to go on a trip like this so soon is a fantastic effort. We are looking forward to seeing how much Dave, Neil and Bobby raise for the hospital, and we'll have a collection box in the centre where customers can contribute too."
Do we need action on pay as TUC says we do?
AS unemployment falls in region, the TUC says that pay has failed to keep up with inflation. But many in small businesses, who collectively employ more people than the private sector, are saying that they feel that calls by the TUC and other unions are putting re-employment and business at risk. On Wednesday, 11 June 2014, the North West TUC have called for action on pay, as the latest figures from the Office of National Statistics (ONS) show that unemployment has fallen, but pay growth slowed to 0.7%, down on last month's 1.7% figure. They welcomed the fall in unemployment across the region, but warned that workers will fail to feel any benefit from a 'recovering economy' with pay growth well below the rate of inflation (1.8%). However, as many small businesses who are still struggling have tried and so far failed to point out to the unions, they feel that any rise would mean a freeze on new job creation, or worse still a rise in unemployment as many businesses will really struggle to make higher wage payments. "We would love to increase wages, but many small shops like ours are struggling to make ends meet. Unions only focus on the national businesses and do not see the bigger picture. That picture is that small business are suffering still, and more and more need help to keep going, as they get pushed out by multi nationals and global economics. As a nation we are losing our businesses more and more to multinational companies, and why? But trade unions do not see this... If they call for more help for small businesses to help pay for pay rises, that would be fantastic, but they never do! They forget we employ more than the national businesses, and many of their members make up our workforce. Sadly, we just can't sustain further pay rises any more. What they do not realise is, if wages rise, our costs rise and we lose our trading ability. National and international firms can avoid lots of the losses by dodging tax and other ways including pulling out of the UK! We can't and small businesses are the key to keeping our national independence in all areas of business, from finance to retail and even manufacturing. Just look at the energy market and the banks to see what happens when international business takes over! We lose all competition and also they then have the power to do what they like! We would like to know how the TUC would pay for rises in pay which would not damage small businesses. It is so bad that my staff now get more than I take home each week, than I get in a month, sometimes! So should I close and put my workers on the hunt for new jobs?" one local shop owner told us after hearing the call by the TUC. However the TUC says that:- "During the period from February to April, unemployment fell by 13,000 (4.6%) to 266,000 across the region, with an unemployment rate of 7.6%, higher than the UK average of 6.6%. However despite the fall in unemployment, the TUC remain cautious about what this will mean for workers as pay growth is not keeping up with the cost of living, despite the government claiming last month that the 'cost of living crisis' was over." Lynn Collins, NWTUC Regional Secretary, added:- "It's great to see that more people are getting back into work and we hope that unemployment continues to fall. As important, is providing good quality jobs for people to move into; ones with good terms and conditions, guaranteed hours and a decent rate of pay. What we see from these figures is pay failing to keep up with what it costs workers to get to work, feed their families and pay their energy bills. We've had the International Festival of Business start in Liverpool this week and whilst it's good for potential investment that will create jobs, we want to see employers ensuring they invest in their staff so they don't find it difficult to get by. It's clear that workers across the North West, and indeed the UK, workers need a pay rise, to share in the rewards of any recovery. Instead we see employers holding back on pay rises and the consequences for workers can be severe. As well as tackling the big issue of pay this year, trade unions across the region will be looking at what the consequences of low pay are; increasing debt, particularly on the household essentials, pay day loan use and more people using food banks." So what are your views on this topic? Please email us to:- news24@southportreporter.com and let us know!
Baroness Jones to present a new Land Value Tax Bill in House of Lords
THE Green Party's Baroness Jones of Moulsecoomb is to present a Land Value Tax Bill to the House of Lords today 11 June 2014. The Land Value Tax Bill requires the Government to undertake research into the feasibility of a Land Value Tax.
Baroness Jones said:- "We are looking out for the best interests of our community and the Land Value Tax does that by generating economic activity, creating funds for investments, and distributing benefits equally."
A Land Value Tax is a tax levied on the unimproved site value of the property. This will depend on the value of the land, rather than the property on it. It will also be paid by the owner instead of the occupier. This tax will replace National Non-domestics Rates and Council Tax and would reduce levels of land banking (the practice of developers' hoarding of prime site land).
Research from Andy Wightman, a land reform analyst, suggests that 83% of households across England would receive lower Council Tax bills in the 1st year of operation.
The idea of a Land Value Tax has been endorsed by think tank Compass, the Mirrless Review, and Winston Churchill. It has also been implemented in other countries such as Australia, New Zealand, Estonia and Denmark.