Exciting transport plans for the Liverpool City Region to be discussed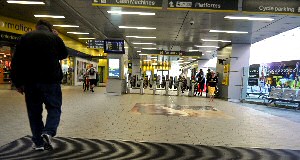 AS preparations are well underway for the second meeting of the Liverpool City Region Combined Authority, a lot has been progressed in a short space of time since its formation in April 2014.

Through joint decision making and improved co-ordination of priorities, the City Region will benefit from far reaching transport plans which will help to support and grow the City Region economy.

At the meeting on Friday, 13 June 2014, members will be discussing three key transport workstreams:-

► A draft long term rail strategy to improve links within the City Region, Merseyside and beyond over the next 30 years; a set of 12 rail packages have been identified by Merseytravel including enhancements to the Wrexham-Bidston line and development of the Halton Curve to connect the Liverpool City Region with Cheshire and North Wales. The strategy also reflects other key programmes already in development such as electrification of the lines between Liverpool and Manchester which will allow for faster journeys.

► Plans for Rail Devolution that will allow for more local control and influence over rail services that operate to and from Lime Street across the North to get a better deal for passengers. Merseytravel, on behalf of the Combined Authority, is working with other transport authorities in the North and Department for Transport on the decentralisation of, specification, letting and management of rail franchises currently held by Northern and First TransPennine Express.

► Ongoing work to ensure that the City Region gets the best deal from HS2 - Headline figures from a draft study demonstrate the economic benefits of a direct high speed line in to Liverpool City Centre and essential improved freight linkages. Initial figures suggest a direct high-speed link could generate an economic benefit of up £8.3bn (£550m a year), creating around 14,000 jobs, and with wider regeneration linked to the scheme having the potential to create an additional 12,000. Once complete, this research, commissioned by Merseytravel and the LEP on behalf of the Combined Authority, will be used to ask DfT and HS2 Ltd to instruct further work on the Liverpool City Region HS2 offer.

► Alongside the transport update, members will also discuss the opportunities around freight and logistics, progress in building houses and measures to tackle youth unemployment.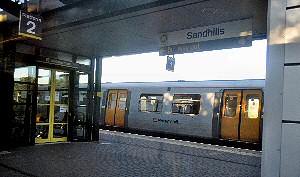 Cllr Phil Davies, Chair of the Liverpool City Region Combined Authority, said:- "Through the creation of the Combined Authority, we are bringing together new ways of working that better benefit businesses and residents in our City Region. This is the Combined Authority getting down to business and focussing on those strategic projects that will bring widespread economic benefit to the whole Liverpool City Region. The Combined Authority enables us to consider transport from a 'big picture' perspective to ensure we have in place the powers and priorities that can be viewed in a connected, transformational way, rather than in the piecemeal approach of the past. Good transport infrastructure and services are key to economic growth and regeneration. They are a way of strengthening not only our City Region but the whole of the north. Rebalancing economies in the north and south will ultimately benefit Britain. The Liverpool City Region has the vision, ambition and commitment to grow and importantly, we have the skills to deliver it."

The 2nd meeting of the Liverpool City Region Combined Authority takes place at No 1 Mann Island, Liverpool on Friday, 13 June 2014, at 11am. The agenda and papers can be found online.

Hate Crime the focus at summit
CELEBRATING Lancashire's diversity and tackling the problems associated with it was the focus as community leaders gathered for a special Hate Crime Summit on Tuesday, 10 June 2014. The summit, at Lancashire Constabulary HQ, focussed on the outcomes of Dr Paul Iganski's research into religious hate crime in Lancashire, and looked at victim experiences, perceptions of hate crime and the issue of under reporting. Dr Iganski's research was commissioned by Lancashire County Council who are supported by the Police and Crime Commissioner and Lancashire Constabulary; and the aim of today's event was to allow delegates to gain a greater understanding of his work and discuss ways the County can work together to tackle hate crime and address issues around under reporting and support for victims. Police and Crime Commissioner Clive Grunshaw said:- "Lancashire is a diverse community made up of people of different ethnicities, faiths and beliefs. This is something we should all be proud of... and it is part of what makes the county such a fantastic place to live. However, unfortunately we know that, as a result, incidents of hate crime do occur. This is not something we can shy away from. Lancashire Constabulary has the highest positive outcome rate in the country when it comes to dealing with incidents of hate crime, and all front line officers and staff have received training. But now we need to ensure everyone in Lancashire is working together to put a stop to this abhorrent crime. Dr Iganski's research and today's event have started that conversation, and encouraged people to think about how we can ensure victims feel confident in reporting incidents either directly or through a 3rd party, and how we can ensure the necessary support is in place for victims. I want Lancashire to lead the way when it comes to tackling hate crime, and the discussions which have taken place today will play a vital role in that."

County Councillor Jennifer Mein, leader of Lancashire County Council, said:- "We commissioned this report because we recognise the importance not only of combating hate crime but doing everything we can to stop it from happening in the first place. We are rightly proud of the religious and cultural diversity here in Lancashire and will continue to work with our partners to promote and maintain good community relations among people of all faiths across the county. Representatives from the Lancashire Council of Mosques and the Hate Crime Hub also addressed today's summit, which was attended by delegates from across Lancashire including victim support services, local authorities, faith groups and the Police."
Century 21 Sponsors Cresswell Motorcycle Racing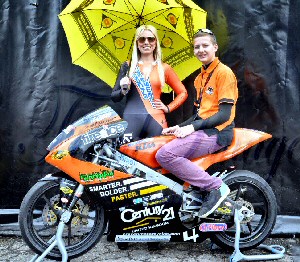 THE Century 21 UK are now the proud sponsor of Cresswell Racing. The motorcycle racing team, based in Derbyshire, competes in the popular British 125/moto3 motostar championship, now with the support of the worldwide estate and letting agency brand. Century 21's local branch, based in Woolton Village, Liverpool, attended the race at Oulton Park in May, to launch the Century 21 bike. Dan Pennington of Century 21 Woolton said:- "It was a really proud moment to see the Century 21 bike launched in front of such a huge crowd at Oulton Park this bank holiday weekend. The Cresswell Racing riders did us proud and even the sun came out for the occasion! We are now very much looking forward to lending our support to the next race in June. Motorcycle racing is an exciting sport to watch and with an ever growing audience it is a fantastic showcase for Century 21, as well as being a great day out." A crowd of 33,000 spectators attended Oulton Park on launch day to see the Cresswell Racing riders Daniel Costilla, Ricky Tarren, Steve Lawton and Bradley Hughes race in the blazing sunshine. Events were also broadcast live on Eurosport 2. The Century 21 bike can be seen at Cresswell Racing's next fixture, at the Knockhill course in Fife, 14 June to 16 June 2014. For a full list of Cresswell Racing's fixtures visit:- BritishSuperBike.com.