Carnival is back!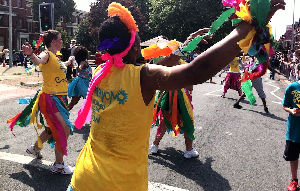 GET ready for Summer Carnivals with exciting dance classes to get you fit and healthy whilst learning some exciting Carnival dance from Brazil, The Caribbean and around the world. Classes are currently running, but it's not too late! Come and join in from Wednesday, 11 June 2014, 6pm to 7pm at The Black-E, Liverpool City Centre. Movema's teachers have travelled the world performing at festivals, events and carnivals, now the Liverpool based World Dance Company have opened a year round programme to give local people the opportunity to have a go!

Co-Director Ithalia Forel says:- "Our 'World Dance Wednesdays' at The Black-E are a great opportunity for everyone to experience different dance styles from around the world and have fun too! Last year's Carnival classes were a huge success, and we hope this year will be even bigger!! The classes run for 8 weeks and culminate in a performance at Brouhaha International Carnival on 12 July 2014. You can pay in advance for a package for £45/ £25 concessions which provides you with the 8 classes and a special customised costume and make-up, or just drop in and pay £4.50/2.50 conc. and buy your costume separately if you decide you want to be part of carnival."

Maria Malone, Co-Director adds:- "Our classes are suitable for over 8's and located right in the middle of the City and we have people coming from all over to make friends and dance together, we really love being able to offer this great opportunity to people in this area. We've had over 50 people of all ages in our carnival groups and we always have a great fun day dancing our way through the City to Brouhaha festival in Princes Park."

You can book your package call:- 07548365869 or find out more online at:- movema.co.uk.

Class programme:-

► Zumba at The Black-E, on Monday and Tuesday nights, from 6pm to 7pm, located on Great George St, L1 5EW.

► World Dance at The Black-E, on Wednesday nights, from 6pm to 7pm - located on Great George St, L1 5EW.

► Zumba at The Black-E, on Wednesday nights, from 7pm to 8pm - located at 1 Great George St, L1 5EW.

► Yoga at the Women's Organisation, on Thursday nights, from 7pm to 8pm; located at 54 St James St, L1 0AB.

► Yoga at The Black-E, on Friday mornings, from 10am to 11am - located on at 1 Great George St, L1 5EW.

Brouhaha International is committed and focused on celebrating diversity and widening participation within the arts, engaging with a wide range of individuals, groups and organizations.
To date, they have produced 22 international festivals and several large scale outdoor projects that now boast an audience of up to 200,000. This year's Brouhaha International Festival runs on 12 July 2014.

SOUTHPORT CARE CENTRE RECEIVES OUTSTANDING QUALITY AWARD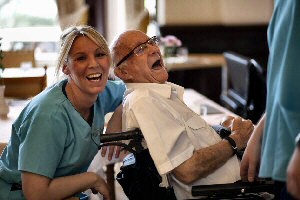 ALEXANDRAA House Care Centre, based in Southport was recently assessed by Prestige Quality Audits (PQR), reviewing all areas of accommodation and care.
Significantly, the assessor stated he had never rewarded another home with such a high score and found it difficult to find anything wrong.

Alexandra House is owned and operated by BEN, the 'not-for-profit' automotive industry charity and caters for former industry employees, their family and dependents.

This is a fully independent audit providing a complete review covering Standard of Accommodation, Quality of Care, General Residential Care, Health and Safety and Staffing.

The report is extensive but some key statements include:-
► Clean, well presented accommodation in an ideal location

► Excellent care quality due to well managed, dedicated, highly trained and caring staff

► Care is comprehensively planned, assessed and reviewed

► Suitable and varied activities are enjoyed and highly rated by residents

► The full report is available for anyone to read at Alexandra House.
Jan Habeck, Matron at Alexandra House, commenting on the audit results said:- "We are naturally delighted by this report and its endorsement of our facility, particularly as the auditor put great store by the positive comments and feedback from our residents. Our staff have worked hard to make our Care Centre amongst the best in this area and recognition is richly deserved. I would welcome enquiries from anyone looking for local care and the opportunity to show why we are so highly rated. Please contact Jean O'Donnell on:- 01704 543715 or send her an email."
Lord Mayor helps Downs Syndrome Liverpool
LIVERPOOL'S Lord Mayor Councillor Gary Millar has donated £1000 to Downs Syndrome Liverpool following his work with Young Lord Mayor Sarah Skelland. At a recent charity ball to raise funds and awareness of Downs Syndrome Liverpool, and celebrate the achievement of people who have this syndrome the Lord Mayor Councillor Gary Millar was moved to donate £1000. The Lord Mayor said:- "I have been working with students from the amazing Sandfield Park School and particularly two Young Lord Mayors. I was invited to join one of these Young Lord Mayor's Sarah Skelland at a recent charity ball and couldn't help but be moved to offer a much needed donation to this wonderful Liverpool based charity. I have met with Sarah and Pauline, her mother and trustee of the charity and presented a cheque for £1000. I know it will go a long way and I am glad that I have been able to help such a worthwhile charity." You can help the charity and find out more information about what they do by visiting their website.